The Best Indie Games to Play Right Now (That Aren't Among Us or Hades)
Let's leave real life and dive into a digital world for a while, shall we?
2020, what a year, am I right? While this year has been unpredictable to say the least, there's one thing that remains consistent: video games are your best friend. This year has given us bangers like Fall Guys, Among Us, Final Fantasy VII: The Remake, Animal Crossing, Persona 5 Royal, and so many others, and if you're anything like me, you have sunk hundreds of hours into them all. Video games are truly an epic way to leave this world for a while to immerse yourself into an entirely new one.
An independent video game (indie game) is a video game typically created by individuals or smaller teams -- or as I like to describe them, fan-freaking-tastic. Indie games just have a way of making you feel like the game you're playing is unlike any other. I've pulled together a list of some of the best indie games to play right now. What are you waiting for? Go! Play! Venture forth, warriors.
1. Ikenfell | Nintendo Switch, PlayStation 4, Xbox One, PC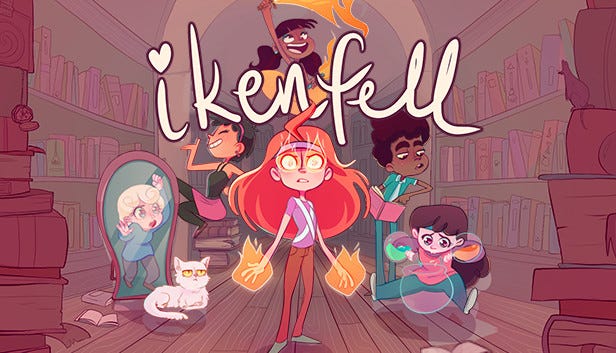 Alright, witches and wizards, this one's for you. Ikenfell is a turn-based RPG about a group of magic students, in a magic school, and in order to save your progress in the game you have to pet adorable cats (no, I'm not kidding). You play Maritte, an Ordinary or non-magical human, looking for her missing witch sister after she didn't come home from Ikenfell one summer. Between the adorable pixel art style, the beautiful soundtrack, and the addicting battle style, this is just the game you need to whisk you away from the outside world. Find friendship, trust, love, and loss in Ikenfell.
2. Ooblets | Xbox One, PC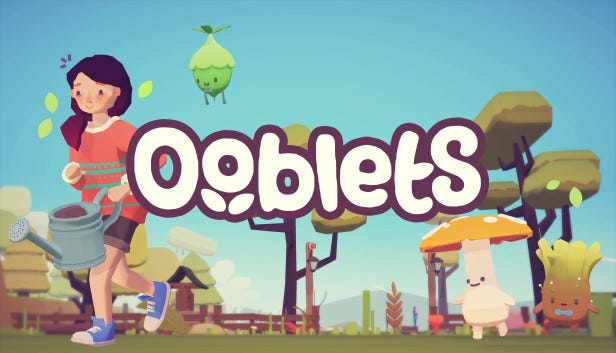 Where to start with Ooblets? The best way to describe this game is if you were playing Pokemon, Harvest Moon, and The Sims while simultaneously hosting a dance party all day, everyday. Intrigued yet? Create your character, expand and design your home, collect Ooblets (the most adorable, perfect creatures), farm, befriend townsfolk, complete quests, and challenge everyone to dance-offs. If you're tapping your foot while reading this, then I suggest you download this right now.
3. Genshin Impact | PlayStation 4, Nintendo Switch, Android, iOS, PC

If you spend a majority of your time diving into open world role-playing games like me, then trust me, you'll want to download this game. Did I mention it's free-to-play? The Breath of the Wild and anime inspiration of this game makes it enticing for any anime or LoZ fan. Collect new characters, switch between them in battle, cook, forage, complete quests, all while on a journey to find out what happened to your missing twin sibling.
Please note: while this game is free-to-play, there are microtransactions with a "gacha" model.
4. My Time at Portia | Nintendo Switch, PlayStation 4, Xbox One, PC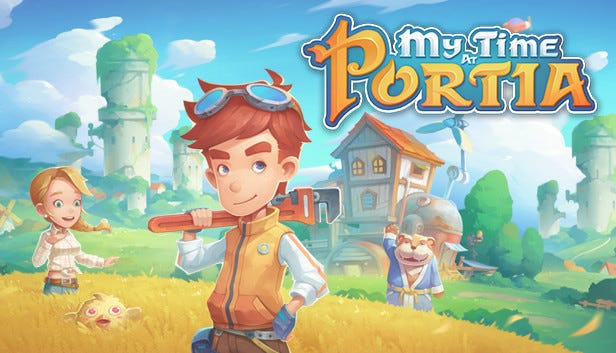 If you haven't been able to tell by now, I am obsessed with role-playing and simulation games. My Time at Portia is my go-to recommendation when friends ask what they should play next. It begins with you starting a new life by taking over your Pa's neglected workshop in the town of Portia - an adorable town in a post-apocalyptic land. Raise animals, grow crops, befriend the townsfolk, fulfil commissions, mine, and craft your way through this story. What makes this different than your average farming sim is on top of taking care of your farm, you're exploring and battling through dungeons and ancient ruins. Take this warning seriously: just because it looks cute doesn't mean you should try and pet it. While you're participating in everything else Portia has to offer, go on dates, and find romance, and be sure to tweet at us to let us know who your OTP is.
Happy gaming!