10 Black cosplayers you should be following
From Miles Morales to Uncle Iroh, these cosplayers nail their looks.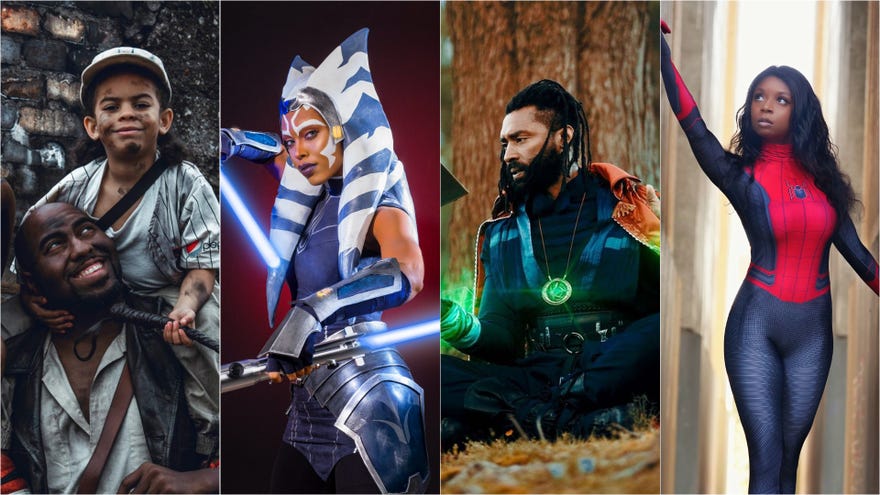 Black History Month is a time to celebrate and empower the Black community, from highlighting prominent Black figures to achievements throughout history. For many cosplayers, it is known as 28 Days of Black Cosplay, where Black cosplayers showcase their cosplays made over the years.
Here are 10 Black cosplayers in the community that you should be following.
Miss Kriss Kosplay
If you're in need of a superhero, then look no further than Miss Kriss Kosplay! Krystal is known for cosplaying many different Spider-Man characters in the universe including Spider Gwen, Black Cat, Miles Morales, Mary Jane, and even Spider-Man himself. In this photo, Krystal is sporting her new Spider-Man: Far From Home suit and completed the look with her very own EDITH glasses.
Super Robot Ninja
Super Robot Ninja is another cosplayer who has found his passion with cosplay through the Spider-Man universe. He is known in the community for not only cosplaying characters such as Miles Morales and War Machine, but he also makes and sells many of the cosplays he wears. He has made everything from spandex suits to 3D printed armor, which he sells over on his Etsy page to help other cosplayers with the craft.
Black Bettie Cosplays
Whether it's a cosplay from the DC universe or anime, Black Bettie Cosplay really rocks every one she does. Bettie has made dozens of cosplays over the years, ranging from every type of pop culture you can think of. In the last couple months Bettie made Flick from Animal Crossing: New Horizons, and did a fantastic job personifying everyone's favorite bug-catching chameleon.
RoyalTNoy
RoyalTNoy (aka LeRoyal) is living the life as a cosplayer, actor, and stuntman! LeRoyal has cosplayed characters such as Cloud Strife from Final Fantasy VII, Eijiro Kirishima from My Hero Academia, and Ruby Rhod from The Fifth Element. Aside from cosplay, LeRoyal enjoys doing lots of stunt work for movies and has even been a stuntman for actor Kevin Hart.
Kizuki Cosplay
UK cosplayer Kizuki Cosplay has so many incredible cosplays it was hard to highlight just one of them. Kizuki has cosplayed many different characters ranging from the Marvel Universe, Star Wars, Umbrella Academy, and even Avatar: The Last Airbender. Her Valkyrie cosplay from Thor: Ragnarok is always a delight to see, and we love how she went all out for truly being in character for the photos.
Jonathan Belle
If you need a Superman, then look no further than to Jonathan Belle. Jonathan has been cosplaying Superman for quite a few years now, and has also recently cosplayed Doctor Strange from the Marvel Cinematic Universe. What's most impressive is not only does he cosplay, but he also photographs and edits all of his own photos. He even has videos on both TikTok and Instagram explaining how he takes photos and edits them to help cosplayers who want to do their own self portraits.
Kristina Arielle
Kristina Arielle is a cosplayer, actor, and now the host of Star Wars: The High Republic Show. She has done many cosplays over the years, ranging from Disney princesses such as Belle to superheroes like Captain America and Wonder Woman. She looks absolutely powerful in every one of her images, and we can't wait to see what she has in store for the future.
CutiePieSensei
If there's a cosplayer who has become a power icon in the community, it's CutiePieSensei. CutiePieSensei is a self-taught artist who makes many of her cosplays and each one just keeps getting better and better. Her most recent cosplay of Ahsoka from Season 7 of Star Wars: The Clone Wars is certainly a sight to behold, from the handmade headpiece to the rest of her Siege of Mandalore look.
Venture__Bros
Venture Bros is a cosplayer who has cosplayed from so many different animes, shows, and movies that we wouldn't even know where to start. He has cosplayed everything from Mario from Super Mario Bros., Moff Gideon from The Mandalorian, and of course everyone's favorite Uncle Iroh from Avatar: The Last Airbender. His Uncle Iroh cosplay is so precious. Somebody get that man some jasmine tea!
Papa Bear Cosplay
What's better than cosplaying? Cosplaying with your family of course! Papa Bear Cosplay is known for his M'Baku and Hellboy cosplays, and has recently started cosplaying with his youngest daughter. This photo is of Papa Bear Cosplay as Indiana Jones and his daughter as Short Round. All of the photos from the shoot look amazing, and we would love to see more father-daughter cosplays in the future.
---
Popverse celebrates Black creators and characters for Black History Month