10 Exciting Booths to Check Out During New York Comic Con x MCM Comic Con's Metaverse
Miss getting lost on the show floor? These virtual booths can help!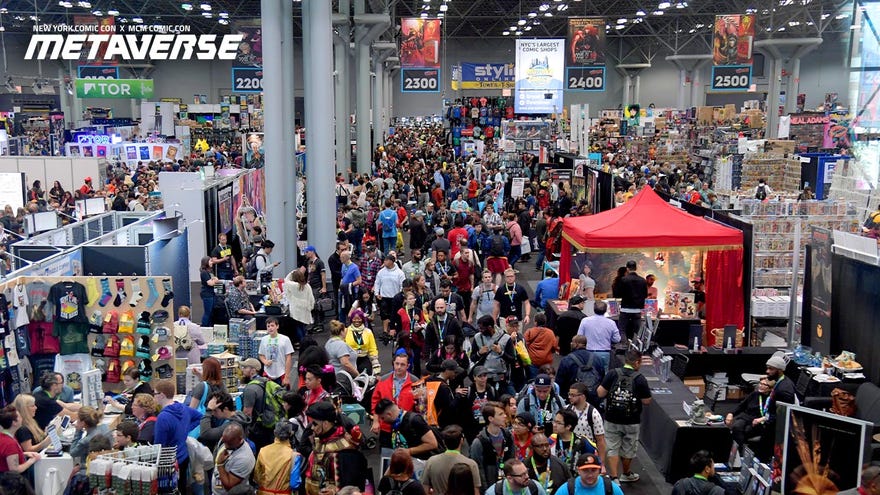 Presented by Bandai Namco Collectibles, you've come to the area of the show where you'll find those rare, unique items that excite all your fandoms. Whether it's D&D dice, fine art or collectible figures - you've come to the right spot.
Enter the Metaverse for dozens of exciting exhibitors and exclusive deals as part of this year's show. Check out 10 of our favorites below to fit all your fandoms!
Bandai Namco Collectibles (Bluefin)
Bluefin is a leading North American master distributor of toys, collectibles, novelty and hobby products. Bluefin's extensive catalog is highlighted by a diverse range of high quality, officially licensed products from leading brands and manufacturers from Japan, Hong Kong and the U.S.
Want to get up close and personal with Bandai Namco Collectibles? We've got you covered! Take an exclusive VR tour of their booth right from the comfort of your own couch. Featuring over 115 items on display.
Diamond Select Toys
Featuring licenses like Marvel, the Rocketeer, Godzilla and more - Diamond Select Toys & Gentle Giant's booth features unique and exciting collectibles. Visit their booth for some sneak peeks and first looks at toys and collectibles that will be coming to stores near you later this year and into 2021.
Want more? Watch the Diamond Select Toys & Gentle Giant Metaverse showcase.
PLAYMOBIL
Playmobil has entered the Metaverse! Known internationally for its line of creative playsets that inspire kids to explore the far reaches of their imaginations, Playmobil has continued to be a favorite for over 40 years.
PLAYMOBIL befriends a whole new generation of curious-minded kids and evokes nostalgia with parents with its Scooby-Doo ™ line, based on the classic Warner Bros. brand. The toy maker is joining in on the celebration of the 35th anniversary of the timeless Universal Studio Limited film, Back to the Future with the launch of a new line featuring a stunning recreation of the iconic DeLorean.
Sideshow Collectibles
For the last 26 years, Sideshow's artists have created high-end pop culture statues and figures, including fully licensed collectibles inspired by the worlds of Marvel, Disney, DC, Warner Brothers, and Lucasfilm, among others.
Sideshow.com has also become fandom's premiere destination for some of the finest quality collectibles in the world, working with multiple brand partners including Hot Toys, PCS Collectibles, DC Direct, Prime 1 Studio, Tweeterhead, Insight Editions, EFX, Quantum Mechanix, Royal Selangor, Iron Studios, ThreeA, Square Enix, Alex Ross Art, and many, many more!
DKE Toys
DKE Toys does about 4 conventions a year in which artists from all over the world create limited artist edition figures. Each piece is generally made out of hand poured resin and many are hand painted on custom printed (and sometimes hand drawn) card backs. Often as many as 30 different artists participate in a given show. Many have commented that the DKE booth at these various shows looks like a small art exhibition. While these figures are generally referred to as "bootlegs" they are far from pirated versions of mass marketed toys. Each of these artists use transformative properties in their work to communicate ideas that are often political, parody, or commentary about the pop culture world we live in.
Good Smile Company
Good Smile Company (GSC) was founded by Takanori Aki in May 2001 and is a Japanese manufacturer of high quality collectible figures, such as scale figures and the Nendoroid & Pop Up Parade lines as well as the figma brand by Max Factory. In addition to production and manufacturing, Good Smile Company is involved in the designing, marketing and distributing of their products. Not only are they involved in figure-making, GSC also produces animation and films under its associated holding company, Ultra Super Pictures. In the world of race cars, GSC owns its own professional team, Good Smile Racing, which competes in the Super GT GT300 race class. Aside from the main headquarters in Akihabara, Tokyo numerous GSC offices operate all over the world including the US and China.
Martian Toys
Producer of the Finest Designer Toys in the Universe! Working with internationally acclaimed artists like Dragon76, Quiccs, Jason Limon, Nouar & Tara McPherson to bring their art to life in 3D Vinyl form.
Popminded By Hallmark
PopMinded is Hallmark's pop culture assortment of ornaments, gifts, plush and other collectibles. Shop products across all your favorite properties including Star Wars, Harry Potter, Marvel, DC, Star Trek, Nintendo and more!
US and Canada shipping only
Toytastic
Toytastik was born in 2009 after many years of collecting, selling online and at conventions.
They specialize in modern day collectibles of comic book, movie and video game action figures from the year 2000 to current. An authorized retailer of Diamond Select toys, NECA, QMX and Funko, they also carry the newest products from Hasbro and Mattel.
Jewelry Brands
Jewelry Brands brings you officially licensed jewelry, pins, accessories and collectibles from Star Wars, Marvel, DC and more of your favorites.