Meet the cosplayers hoping to be the USA Semi-Finalist in the 2023 Cosplay Central Crown Championships
The winners of the Cosplay Central Crown Championships quarter finals at ReedPop shows are coming to Chicago's C2E2 2023 to chase the Crown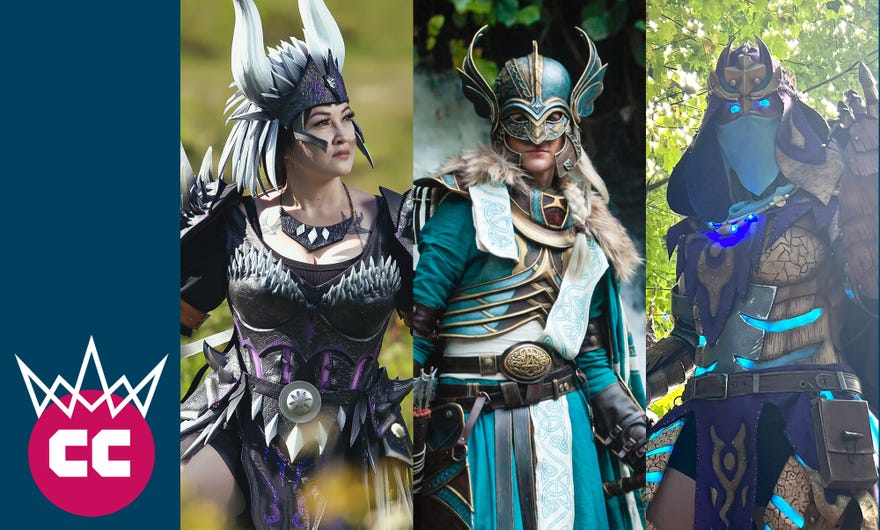 We've been talking to the finalists from all over the world as they get into 'con crunch' mode before boarding a plane and meeting for one last, epic competition at the 2023 Cosplay Central Crown Championships finals at C2E2, but before they take to the stage there is still one big decision to make – who will represent the USA?
Quarter finals for the USA have been taking place across ReedPop events since summer 2022. The show at C2E2 will run in three stages – one last regional quarter final, the USA Semi-final and then finally all of the Global finalists will take to the stage to try to claim the Crown. Today we're talking to the quarter finalists, who have already claimed their place in the national semi-final thanks to their wins at Emerald City Comic Con, Florida Super Con, and New York Comic Con.
May Jean Cosplay claimed victory at Emerald City Comic Con in her rendition of the Nergigante Armor from Monster Hunter: World.
Popverse: Welcome to the championships! Please tell us a little about yourself as a cosplayer?
May Jean: My name is Meaghan, also known as May Jean Cosplay. I'm from Washington State. I've been making costumes pretty regularly for over a decade, though my very first time cosplaying was in 2005. I started with sewing and armor fabrication, but my style is very mixed media these days. I like to explore different techniques and layer them into my builds. I'm mostly self-taught. I grew up drawing and painting for fun, so naturally, I love that there are so many cool things from different art and hobby worlds that work well for costumes. It has been an amazing creative outlet.
No matter how many times I compete, my goals will always be to have fun, challenge myself, and learn something in the process. Last year was my second time competing in the Crown Championships at ECCC, and it was so shocking and exciting to hear my name called as the winner. What an unforgettable experience.
What inspired you to make this costume?
Since I love playing video games, they usually end up being my main inspiration for cosplay. This costume was a recreation of my character from Monster Hunter: World, based on one of my favorite monsters (Nergigante) and several missions that I've played over and over again. I've wanted to make a variation of this concept and the master rank version ever since I first started playing MHW, and I finally built up the courage to tackle it. The game designs are beautiful and richly textured, so it's hard not to feel inspired by them. There is a lot of room for creative interpretation too.
Are there any details or features you would like to highlight?
This is one of the most complex builds I've made! I self-patterned and made everything myself, including all of my own 3D models. I built and programmed the lights and animatronics with microcontrollers. There's a variety of materials in this costume, including dupioni silk and organza for the garments, foam for the armor, and different types of leather. All of the armor attachments are made out of hand-tooled and dyed leather. I made my boots from scratch and 3D printed the rubber soles. The large horns on the helmet and some of the accessories were 3D printed as well. I made over 400 spikes by hand, hand-textured organic designs on the foam, and used different painting and airbrushing techniques. There are several meters of LED strips built into the armor with hidden connectors between pieces, as well as several smaller LED circuits in the props and accessories. My favorite part of this project is my fuzzy animatronic moth with motorized wings, which I built by hand and brought to ECCC last summer!
Have you been making any upgrades ready for the final?
I've been working on a bunch of costume and prop upgrades since last fall! I'm calling this stage of the project "Nergigante 2.0." I'm improving several aspects of my existing work and expanding on a handful of techniques, such as my needlework, leathercraft and electronics effects. My goal is to elevate this build to be the best version of itself, and this means I'll also be bringing some new surprise elements and rebuilding my props and accessories.
What are you looking forward to in Chicago?
This will be my first time going to C2E2, let alone Chicago, so everything will be new to me! I'm looking forward to spending some time exploring the convention and the city before competition day, and of course, it'll be awesome to meet my fellow competitors! Additionally, I'm excited that several family members and friends will be making the trip to attend the convention and support me as I compete. No matter what happens, this is going to be a really special experience.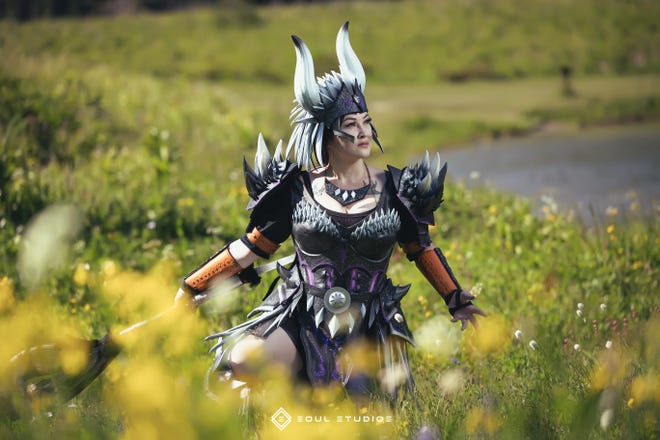 Dovah Design secured her spot in the semi final at Florida Supercon in an impressive creation of Eivor from Assassins Creed Valhalla
Popverse: Welcome to the championships! Can you tell us a little about yourself as a cosplayer?
Dovah Design: Absolutely! My name is Sam, and I've been cosplaying and competing since 2014. My first experience as a cosplayer was attending DragonCon in 2014, which as you can imagine was a totally mind blowing experience for a first time con-goer, cosplayer, and competitor. I wouldn't have it any other way though, as it really got me pumped and started me down a path I may have otherwise never known existed.
What inspired you to make this costume?
I've been a sucker for the fantasy warrior and viking genres since I started playing Skyrim back in 2011. I love going to Ren Faires and Highland Games, throwing axes, and tend to play warrior classes in RPGs, so when I heard Assassin's Creed was going to release a Viking-era game, I knew instantly I not only had to play it, but would also be on the lookout for my next competition cosplay. I found it in the Thor Armor set. This set is so over the top detailed, I knew I just had to take it on. It helped that I absolutely fell in love with the main character, Eivor, as well. She is so confident and headstrong, it's fun to dress up and just *grimace* at people, haha!
Are there any details or features you would like to highlight?
There are too many details for me to run through everything I'd like, but I'd say in general it would be hard to notice all the details I captured in the most period-accurate ways possible. For instance, I learned traditional tablet weaving to create the hanging belts as well as the gold trim on the cloak. I spent about 40 hours in total on just the woven trim and belts. I also hand made my own leather shoes, using the traditional "turn-shoe" method that was believed to be used during the Viking Age, custom dyed the linen for the cloak and cape, and hand treated and stamped every inch of the leather used. The entire costume took 900+ hours, not including improvements made since July.
Without going too much further down the rabbit hole, I'll just also point out that I hand sculpted the base of the helmet for this cosplay using Monster Clay, then cast it from a brush on mold. None of my work is 3D printed, although that is a technology I'm looking to break into and begin using later this year.
Have you been making any upgrades ready for the final?
I have! I finished a customized wig and also made Eivor's Mythical Raider Axe for a prop. I've also begun work on Mjölnir, because you can't just work through the whole game for Thor's armor set and NOT go claim Mjölnir! On top of the new prop additions, I'll also be making some general improvements to the costume, such as improving some connection points and replacing a few pieces to improve the proportions on me versus the look in-game.
What are you looking forward to in Chicago?
I am so excited to meet the other finalists and see their costume work! My favorite part of any convention is meeting other cosplay-nerds and geeking out about techniques and details. Being from Florida, I've also never been to C2E2, so it will just be exciting to attend a new, big convention and see what it is like!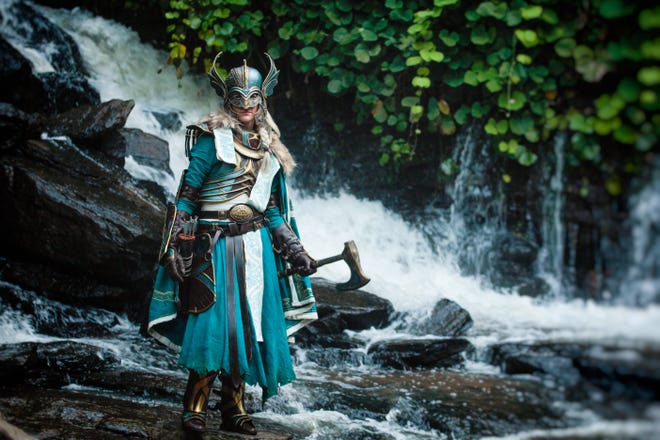 Proving that Monster Hunter continues to inspire cosplayers everywhere, The Gnome Queen claimed victory at New York Comic Con with her creation of the Somnacanth Armor from Monster Hunter: Rise
Popverse: Welcome to the championships! Please introduce yourself as a cosplayer?
Gnome Queen: Hi! My name is Justine and my cosplay handle is the Gnome Queen. I've been cosplaying competitively for a few years and really love the adrenaline and excitement that comes from competing. This was my third time competing at New York Comic Con and I am so honored to represent my fellow cosplayers from the North east as the regional winner.
What inspired you to make this costume?
I'm a big fan of the Monster Hunter franchise and I've found that the game really lends itself to the creativity of cosplay. The Somnacanth Armor immediately captured my interest because it requires a variety of skills to bring it to life. I love doing complex builds that challenge me creatively and I usually try to choose cosplays that require me to learn a new skill. In this build I've included foam craft, fabric manipulation, hand beading, airbrushing, sculpting and resin casting, electronics and a new skill for me, 3D printing.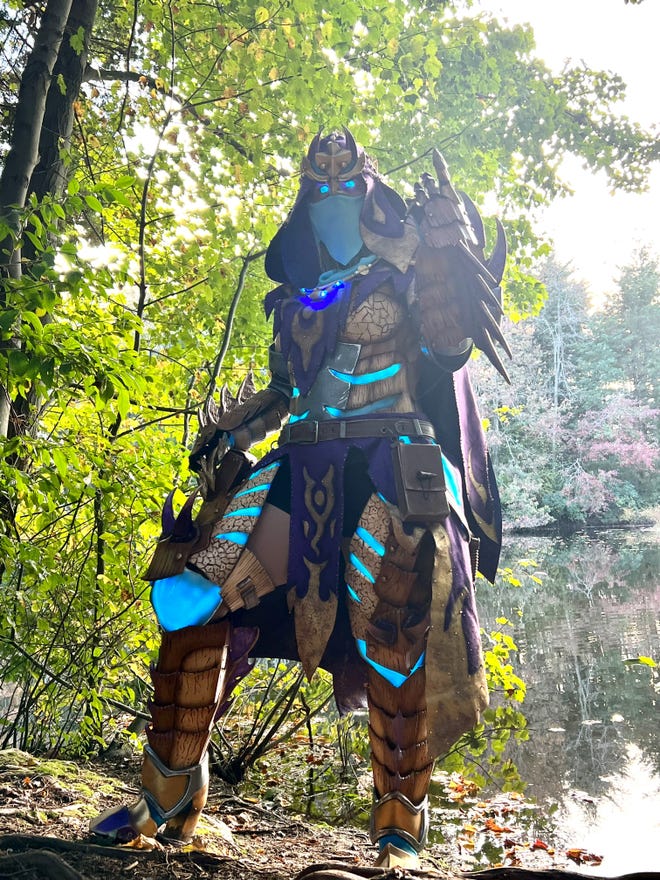 Are there any details or features you would like to highlight?
I love adding special effects into my cosplays; whether that's makeup SFX, lighting, electronics or animatronics. Figuring out how to bring these crazy 2D characters to life is what gets me excited about cosplay. This cosplay really showcases some cool effects. My greatsword has motion activated lights and sound and my daggers have lighting effects activated by magnets. But, my favorite prop is my Somnacanth head! It has LCD screens to create moving eyes, coded LEDs for lighting, and there's even a smoke machine.
Have you been making any upgrades ready for the final?
Oh my gosh, YES! New York Comic Con is a local convention for me, and when I made my greatsword, I didn't factor in the need to travel. I should know better! Because the sword is almost 7 feet tall, I had to start from scratch with a new prop. On the plus side, I'm using this opportunity to stretch my creative muscles by building on the 3D modelling skills I learned for some smaller parts of this cosplay. I'm excited to debut my brand new Insect Glaive at C2E2!
What are you looking forward to in Chicago?
I can't wait to meet new cosplayers from all over the country and the world! It's so awesome to be able to meet with fellow makers I've connected with on social media. I still haven't been able to attend as many conventions as I did pre-pandemic so I'm really looking forward to returning to the energy and excitement of the community.
---
The Cosplay Central Crown Championship finals will be one of many C2E2 2023 panels Popverse will be livestreaming this year. So tune in to see who claims victory in the C2E2 quarter final to challenge these impressive cosplayers for the national title.
Here is a round-up of everything Popverse will be doing at C2E2 2023.