8 Catwoman Cosplayers Sharing Her Iconic Looks In Film & Television
Check out these cosplayers as Catwoman throughout the years.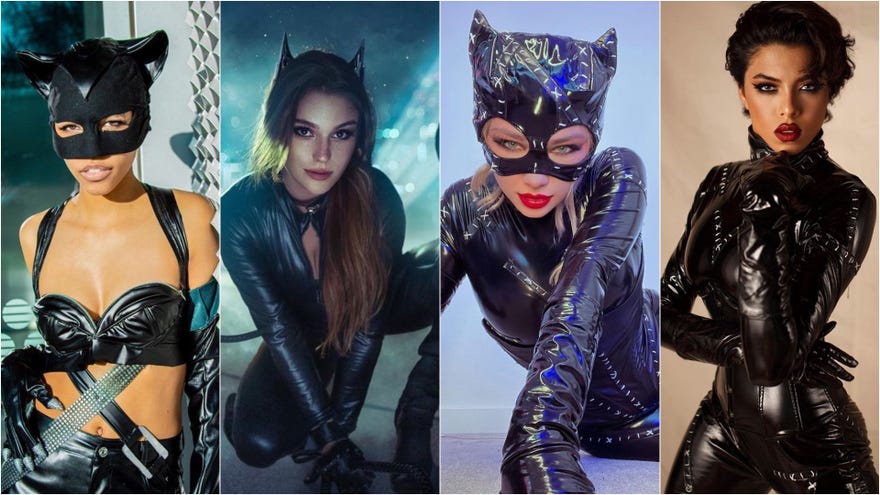 Me-wow, Catwoman has graced our screens since the 1960s as Batman's favorite femme fatale. Selina Kyle made her first appearance in the comic issue Batman #1 as the expert burglar who took to the streets to survive as a jewel thief. This anti-hero is not only one of Batman's prominent villains but also one of his main love interests.
However, Selina is more than a Batman side piece; she is a full course meal. As a clever, resourceful fighter, Catwoman has cat-like reflexes, balance, and flexibility and is known for her precise, agile attacks. She carries a whip, has a sidekick named Holly Robinson, and was once a mob boss. Selina has faced the brushes of death many times with nine lives but has always landed on her feet.
Catwoman's persona conveys independence, wit, and a flair for cats. In every adaptation of the character, a furry feline can be seen as a pet for the anti-hero.
Her costume is a black bodysuit, a stylized mask with cat ears, and typically accessorized with a utility belt. Since the character rose to popularity in the 60s, numerous versions of Catwoman have surfaced. Here are just a few to celebrate the diversity and complexity of the character brought to you by some phenomenal cosplayers.
Before we begin the television and film adaptations of the character, many notable comics and video game looks of Catwoman deserve plenty of recognition.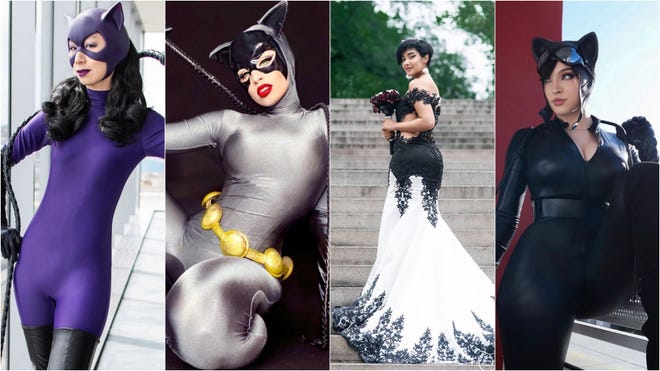 In the comics and the many video games featuring Catwoman, her character and relationship with Bruce Wayne are further explored than what can sometimes be captured in a two-three hour film. For example, they almost got married in Tom King's 2017 Batman comic series. The suit in the comics, animated shows, and games does not follow the typical black bodysuit rules and has branched into different colors like purple, gray, and even green. However, her personality is still that of a Gotham City siren who prides herself on the thievery of getting whatever she wants, when she wants.
Batman(1966) - Julie Newmar and Lee Meriwether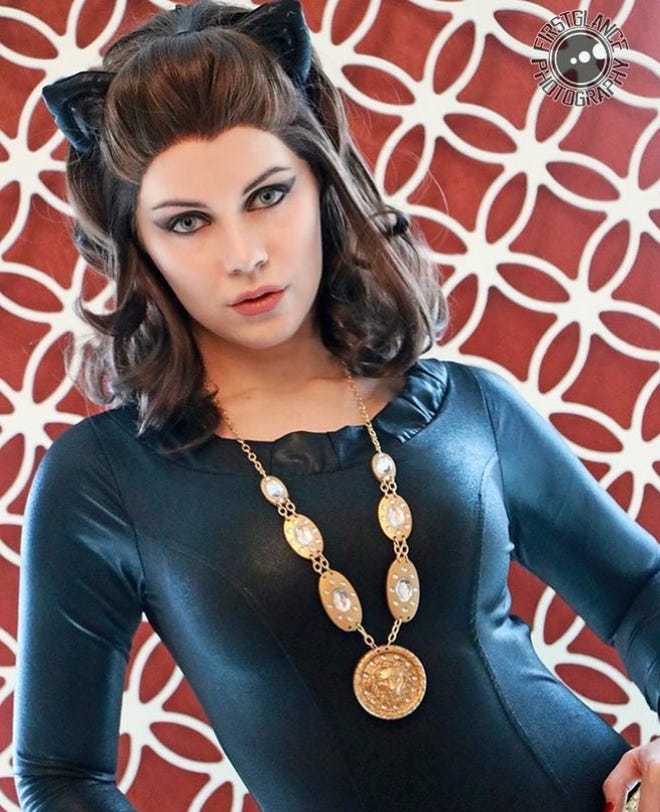 Batman (1967) - Eartha Kitt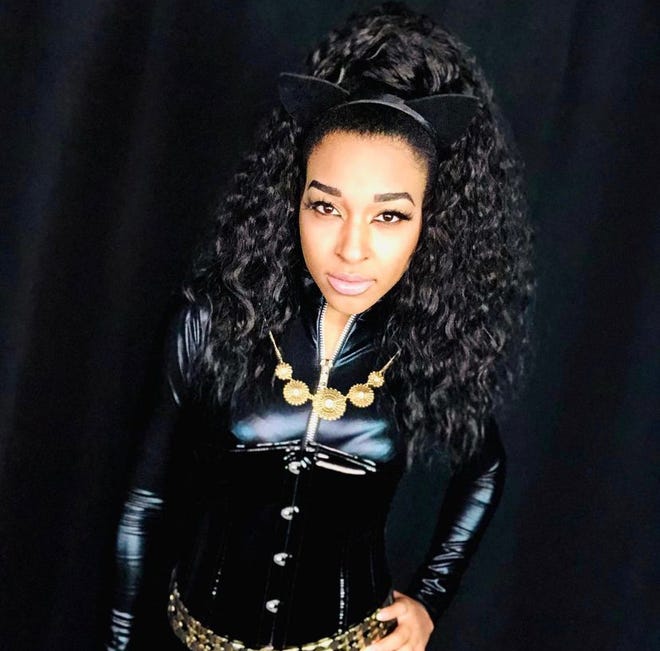 Throughout the 1960's campy yet thrilling television series Batman, Catwoman was played by three different actresses, Julie Newmar, Lee Meriwether, and Eartha Kitt. All donned a sparkly black ensemble accessorized with a gold medallion around the neck, and some versions wore cat ears. Newmar's makeup included whisker-like eyebrows, while Meriwether and Kitt wore masks.
Batman Returns (1992) - Michelle Pfeiffer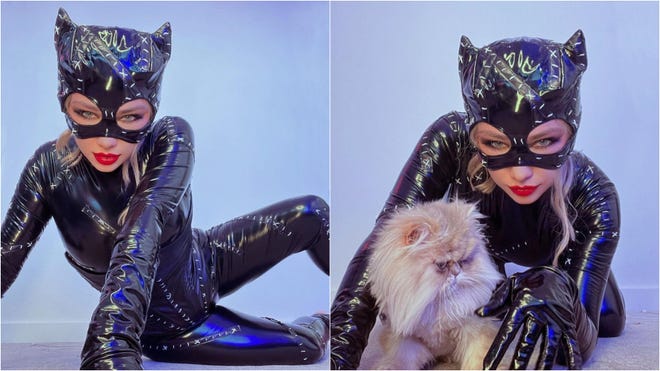 This is quite possibly the most iconic of the Catwoman suits. Fun fact, Michelle Pfeiffer had to be sealed into the latex costume each time she wore it, and there was a time limit for how long she could stay in the outfit. The original was built from a body cast, and after the suit was on, the costume crew would paint a silicon-based finish to give the suit a shiny exterior. Pfeiffer's look also came with long claws and her signature red lipstick. However, Caitlin Christine's costume comes with Miss Petunia, the cat, and it honestly can not get better than that.
Catwoman (2004) - Halle Berry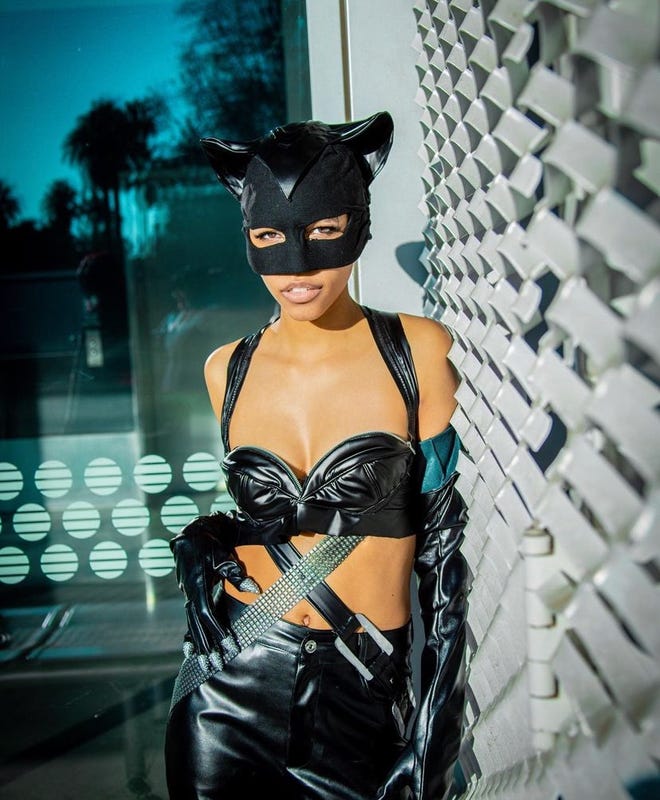 Halle Berry may have received a Razzie award for her performance in Catwoman, but she still looked good as hell. The Oscar award-winning actress wore leather bell bottom pants with claw mark patterns, long black gloves, and strappy black belts attached to a black leather bra. The costume strayed from the norms of Catwoman's look in the comics, yet it kept vital elements like the black cat mask, a whip, and essentially wearing all black. More than anything, Berry continuously commented on how she felt empowered in the suit, and if that is not what Catwoman is about, then we've got to check our sources.
The Dark Knight Rises (2012) - Anne Hathaway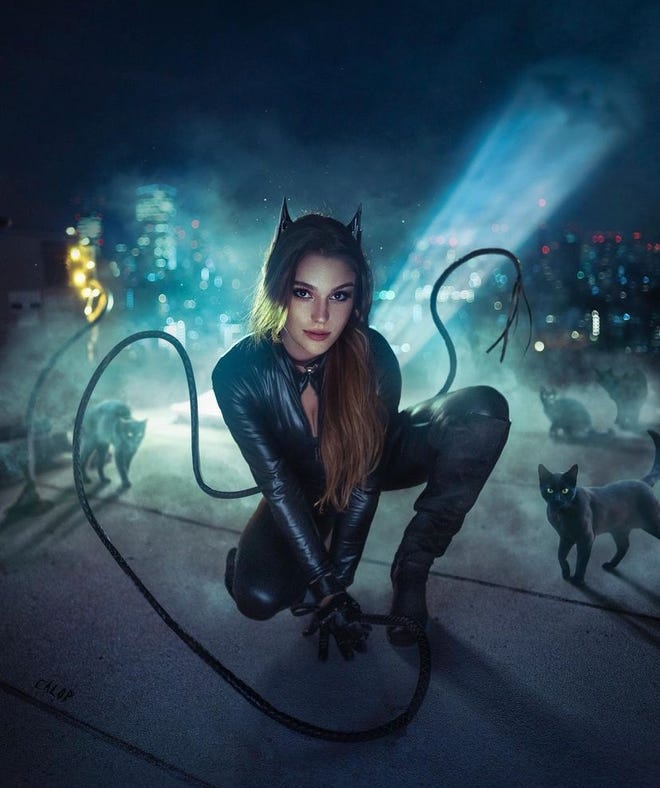 Anne Hathaway transformed into Catwoman for The Dark Knight Rises with more tech than ever. Her costume came equipped with night vision goggles, a motorcycle, and a more tactical look to the character to fit in Christopher Nolan's grittier, more modern Gotham. Although Hathway didn't get to use the iconic whip in the film, cosplayer Taya Miller utilizes it for her costume interpretation, and it's flawless!
We do not recommend looking up anything relating to the announcement of Anne Hathaway portraying Catwoman. The amount of misogynistic and disgusting articles written by men about the necessary sex appeal the character needs is too much sexism for anyone to endure. There is more than one way to describe a character other than over-using the word "sexy."
The Batman (2022) - Zoe Kravitz
In yet another complicated game of cat-and-bat, Bruce and Selina team up to take down Gotham's crime lords in The Batman. Now played by Zoe Kravitz, Catwoman has become a sensation amongst cosplayers and nerds everywhere. Audiences have applauded her take on the character, and we completely understand why.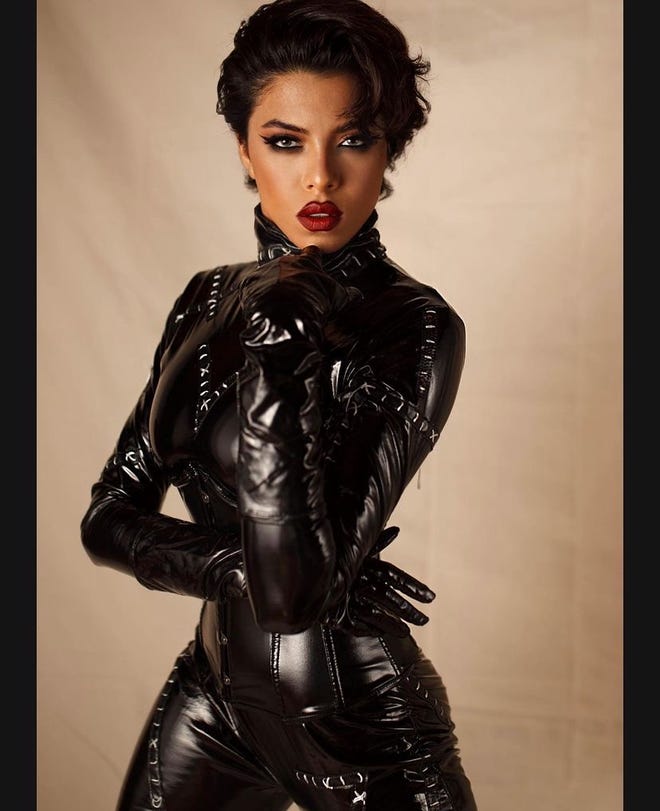 Kyso_lo, photographed by darion_ko, is wearing Michelle Pfeiffer's costume with a hairstyle of Zoe Kravits. We love a good mashup! This reminds us of how we all waited months to get the tiniest bit of a reveal of what Kravits costume looked like.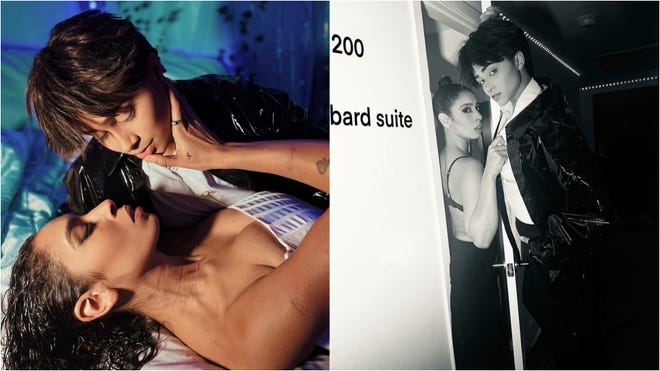 Robert Pattinson and Zoe Kravits modeling for Wonderland has to be one of the steamiest photo shoots we've seen co-stars do to promote a film, and we are living for it! Jasminepaigemoore and Caoimhe recreated the stunning visuals perfectly. And yes, this is important to the characters' costume backlog because…we say so. So do not disrespect our authority! (This is a joke we hope you understand).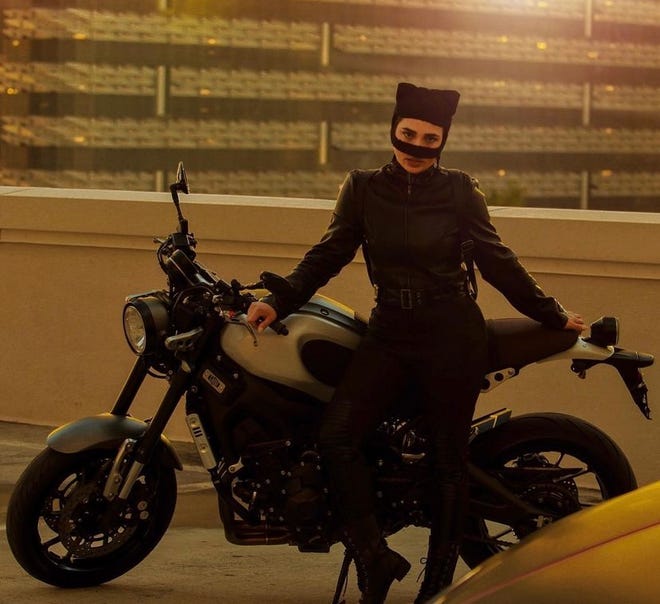 Finally, the most recent version of the Cat is stupendously perfect. Kravitz's Catwoman embodies all elements from the previous adaptation into one. The black bodysuit, the motorcycle, and the claws are all elements woven throughout the character's previous backstory. The leather suit also adds a sense of realism with how it looks lived in and is not perfect and sleek. Additional pieces like the DIY cat mask and her functional accessories like the durable backpack she wears make the suit unique.
The Batman is currently in theaters and will be streaming on HBO Max April 19th.