A big Marvel wedding is coming to Amazing Spider-Man
Amazing Spider-Man #31 will be a giant-sized wedding issue, according to Zeb Wells. But who will be walking down the aisle?
Get fitted for your tuxedos and gowns, because Marvel has just invited us to a wedding. On April 1st Marvel held a panel at C2E2 previewing the next phase of events in their Spider-Man comics, which included some fun surprises. During the panel, Amazing Spider-Man writer Zeb Wells told readers about the big plans he had for issue 31.
"Issue 31 will bring Tombstone back. This is a giant-sized wedding issue. Take from that what you will," Wells said cryptically. "This is actually an important issue because this is going to set up the next big event that will be happening a couple of months after – later at the end of the year."
It's worth noting that Amazing Spider-Man #31 will also be issue 925 if you're going by legacy numbering. This is probably why Wells is choosing this issue to tell a giant-sized wedding story. It also means that we're only 75 issues away from Amazing Spider-Man #1000.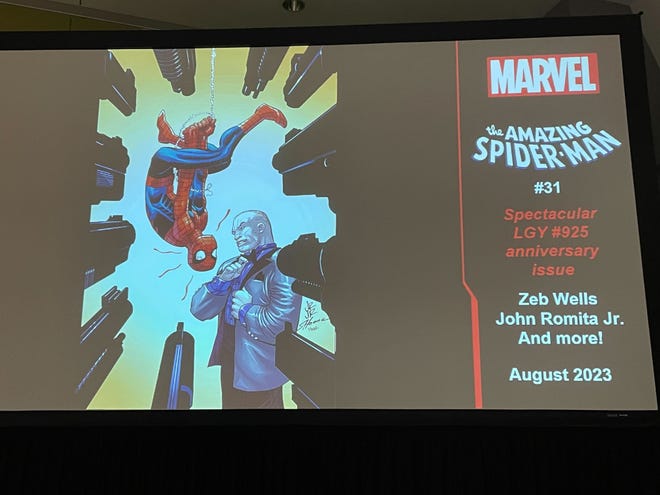 The cover for the issue was shown on the projector screen, which featured a John Romita Jr. image of Spider-Man battling Tombstone. According to the graphic, the issue is credited to Zeb Wells, John Romita Jr., and "many others." No word on who the mystery creators are, but Marvel loves bringing back Amazing Spider-Man alumni for anniversary issues.
It's also worth noting that Zeb Wells promised a wedding, but not a marriage. It's entirely possible that something could happen to disrupt the ceremony, preventing a marriage from happening. This is the Marvel Universe after all, where super villains attack weddings on a regular basis. But who will be walking down the aisle? Here are some of the candidates.
Peter Parker and Mary Jane Watson – Unlikely for many reasons. Mary Jane is currently with a man named Paul, and Marvel editor-in-chief C.B. Cebulski seemed to indicate that there are no plans to marry Peter and MJ anytime soon.
Mary Jane Watson and Paul – During the panel Zeb Wells referred to Mary Jane as Paul's husband, so it's reasonable to assume that they're already married. Perhaps we'll be getting their wedding in a flashback?
Peter Parker and Felicia Hardy – Spider-Man and the Black Cat have rekindled their romance, but the new relationship is still in its early stages. Felicia can be impulsive, but not enough to run off and get married.
Randy Robertson and Janice Lincoln – These are the most likely candidates. Randy and Janice got engaged at the beginning of Zeb's run, so a wedding would bring things full circle. The presence of Tombstone, who is Janice's father, is further evidence that they will be the happy (or doomed) couple. Since Tombstone is a mob boss, and Janice is a former supervillain herself, the wedding could be a target for the underworld.
According to the graphic shown at the panel, the issue is set to be released in August. We'll see you at the ceremony, and hope Spider-Man can survive the experience.
---
Will Marvel ever allow Spider-Man to get married again? C.B. Cebulski reveals the current company policy (or lack thereof).