Meet the real life inspiration behind A League of Their Own's wannabe cartoonist Clance Morgan
Clance Morgan is, indeed, inspired by America's first Black woman cartoonist, Jackie Ormes
Since the show's debut, fans of Prime Video's A League of Their Own have had suspicions about the inspiration for the show's wannabe comic creator, Clance Morgan — and now showrunner Will Graham has confirmed them officially. Clance Morgan is, indeed, based on none other than Jackie Ormes.
"People have figured this out, but Clance is loosely inspired by a few different black women who drew/worked in comics at the time, most notably the incredibly talented Jackie Ormes," Graham tweeted earlier this week, before sharing examples of her work.
For those who aren't familiar with Ormes, who died in 1985, she's widely recognized as the first Black woman cartoonist in the United States, with her first professional strip, Torchy Brown in Dixie to Harlem, appearing in the Pittsburgh Courier in May 1, 1937; she'd previously worked at the paper as an editor, writer, and proofreader. The strip, which centered around the eponymous Brown as she went from a Mississippi teen to a singer at the Cotton Club in New York City, ran for exactly a year before disappearing suddenly for reasons that remain unclear to this day.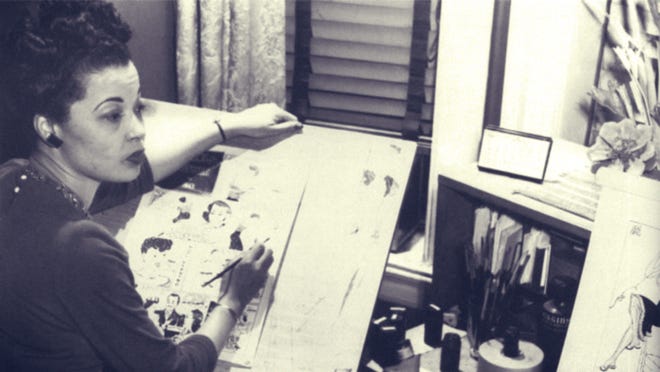 Four years later, Ormes had moved to Chicago and was writing for the Chicago Defender, one of the country's most successful Black newspapers at the time; at the end of her brief tenure at the Defender, she managed to create a single panel cartoon called Candy, which ran from March 24 through July 21, 1945. Little more than a month later, she had returned to the Pittsburgh Courier with another single panel cartoon, Patty-Jo 'n' Ginger, which ran from September 1, 1945 until September 22, 1956; arguably her most successful work, the two characters were sisters who offered Ormes the chance to mix fashion and good girl cartooning with political and social commentary. Beyond the strip itself, the Terri Lee doll company produced the Patty-Jo doll in 1947, which have become highly sought-after collectibles in recent decades.
Even as Patty-Jo 'n' Ginger was running, Ormes returned to Torchy for a new color strip for the Courtier called Torchy in Heartbeats, which rain from August 19, 1950 through September 18, 1954, and again allowed Ormes the chance to mix fashion illustration with social commentary. A daring mix of material from any creator at the time, Ormes' work was even more groundbreaking given that she was a Black woman cartoonist — something that's still, unfortunately, rarer than it should be.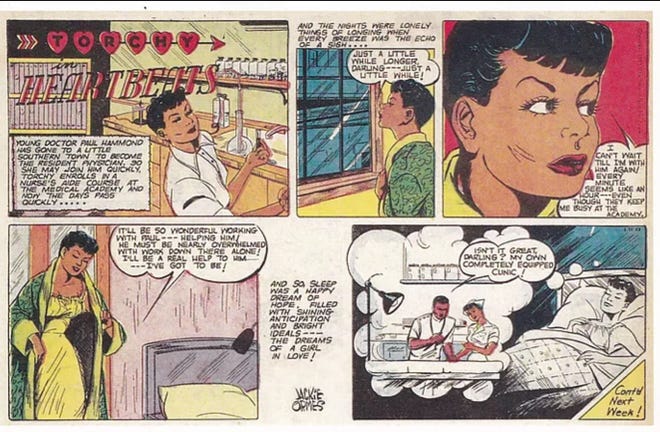 Ormes retired from cartooning in 1956, although she continued to work in illustration for a number of years afterwards. Her work and legacy have gone on to inspire a number of creators and organizations in the subsequent decades, including Afua Richardson, Brittney Williams, and writer Cheryl Lynn Eaton, who founded the Ormes Society to support creators of color in comics.
The fate of Clance Morgan is one of many unresolved plots waiting to be picked up by a potential second season of A League of Their Own. If there's any justice — something that we know that Clance would firmly support as anyone watching the show would agree there should be, if nothing else — then we can only hope that future episodes see her living up to the example of the real-life Ormes even more, inspiring others to find out more about the real deal.
---
Want more Black history? Maybe you should check out Reginald Huddling and Denys Cowan from Milestone Media talking about their anthology title Milestones in History.