Superheroes and super heels: How AEW embodies comic-book style superheroics
Wrestling is full of heroes and villains. Here's how AEW does it best and how Fight Forever gives fans a chance to play along
Thank you to AEW: Fight Forever for sponsoring this article. Popverse was paid for our time in creating this, but our decades of wrestling fandom and enjoyment of AEW made it a pleasure.
All Elite Wrestling (AEW) continues to make a tremendous splash in the professional wrestling scene since the organization's successful launch in 2019. Boasting a wide bench of bonafide wrestling superstars and colorful personalities, each with their own extensive backstories and sweeping storylines of shifting alliances and betrayal in their never-ending quest for glory in the ring. Unfolding with high levels of intrigue and intense drama, punctuated by some of the best pro wrestling spectacle in the world, AEW presents its roster and events like musclebound superheroes and supervillains duking it out in front of the audience.
Players can get in on the action themselves in the new video game AEW Fight Forever, released for all major consoles and PC. Featuring an impressive variety of gameplay modes, players can either step in the boots of their favorite AEW wrestlers or create their own to dive into the expansive, growing saga headfirst. From facing off against rivals across AEW Dynamite and AEW Collision to epic match styles including Casino Battle Royales and exploding barbed wire deathmatches, AEW Fight Forever captures all the triumph, tragedy, and action that AEW is widely known for.
Here is how AEW has burst out the gate with its own modern mythology rivaling superheroes and other established pop culture icons, the larger-than-life personalities and storytelling that makes AEW truly All Elite, and how AEW Fight Forever not only expands on the saga but gives players a hands-on immersion into its hard-hitting world.
And now you can watch as Popverse plays AEW Fight Forever!
The (super)heroes and (super)heels of AEW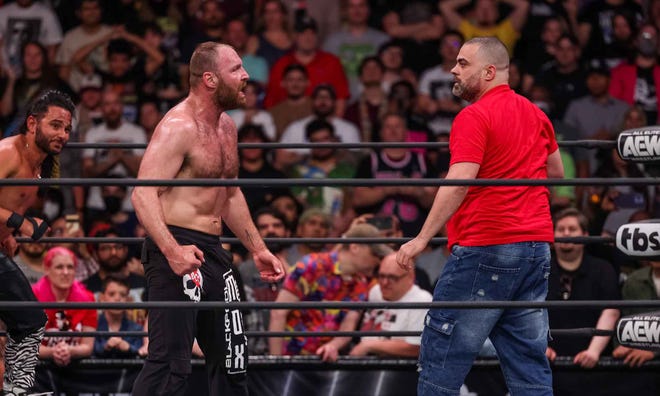 Like any pro wrestling league or superhero universe, an epic story needs an extensive roster of heroes and villains. Right from its launch, AEW has brought plenty of memorable faces to the ring, each with their own captivating backstories and rivalries as they contend for the championship titles. Among the wrestlers who have been leading the charge from AEW's origins is Kenny Omega, an early rival to AEW's most visible heel, Chris Jericho. Even the more brutal figures in AEW, like Jon Moxley, carry their own respective codes of honor, adding to the complexity and nuance as they decide how far to take their hard-hitting feuds among each other.
And if heroes exist, there must assuredly also be an equally compelling set of villains, with AEW boasting some of the biggest fan-favorite heels in the business. The heels of AEW all share an unabashed cockiness and swagger as they compete for the title, and most of these antagonistic figures have the might and technique to back up their claims. Jericho is very much one of the most prominent faces in AEW but there are plenty of other heels with their own agendas, including MJF. With a constant sneer on his face, MJF is ready to put down anyone who stands in his way, taunting them like the most biting schoolyard bully before putting the moves on them.
With so much riding on the title and so many wrestlers vying for it, these heroes and villains don't stand alone. Any good superhero needs to be part of a team and AEW is full of Dynamic Duos, from the Young Bucks to the Best Friends, who have wider alliances and feuds themselves. AEW Fight Forever gives players the chance to decide which teams they want to be a part of and which they want to fight against, choosing if they want to present themselves as a nobler hero or a vocally vicious heel.
Superhero levels of drama and action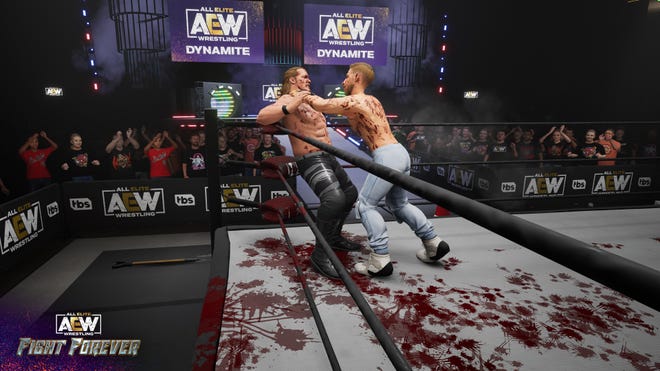 Any good conflict needs plenty of emotional stakes and AEW delivers on this in full both in the ring and backstage between its wrestlers. Bitter feuds and longstanding rivalries are born in the locker room and in the heat of combat, with epic betrayals and surprise team-ups to take down mutual enemies. From Don Callis betraying Kenny Omega during his fateful cage match against Jon Moxley to Konsuke Takeshita ditching the Elite to join forces with the Blackpool Combat Club, the levels of intrigue and drama at AEW are on par with the shifting alliances similar to the high stakes drama of the X-Men among Marvel's Merry Mutants.
These feuds culminate in epic matches, from AEW's annual Double or Nothing pay-per-view event kicking off the summer season or Winter Is Coming keeping fans warm at the end of the year. Events like Bash at the Beach or Battle of the Belts feel like sweeping comic book crossover events, with heroes and heels emerging from these fiery showdowns forever changed and the landscape of AEW significantly altered by its champions and losers.
Fans can get a chance to not only jump into the middle of these swirling stakes but help inform how these feuds and alliances unfold in AEW Fight Forever. With a full career mode, players can chart their own path through the various storylines and main events, ready to take a crack at the title for themselves. More than just the standard singles, tag-team, cage, or ladder matches, but also in AEW's signature events and specially themed matches to deliver their own memorable payoffs to the ambitious storylines.
All Elite references and personalities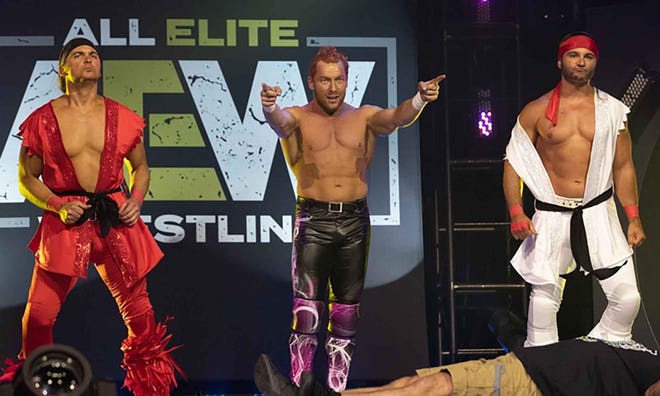 AEW has always worn its pop culture influences on its sleeve, from Kenny Omega leading the Young Bucks dressed as Street Fighter characters and attacking their opponents with Hadoukens to using a finishing move named straight from Final Fantasy. AEW knows it's bringing larger-than-life spectacle to the masses and leans into those common references to great effect as it thrills the audience.
AEW boasts memorable personalities of its own in the ring, who would feel right at home throwing down with costumed superheroes and supervillains. Danhausen is a gleeful heel, claiming to be evil for evil's sake, wearing horror-themed face paint, and boasting an over-the-top theatricality in and out of the ring. By contrast, Orange Cassidy is an unfailingly stoic figure who downplays his presence and technique to stand out from his louder and flashier fellow wrestlers.
And in addition to fostering a new generation of fresh fighting talent, AEW has steadily become a place where established veterans stand completely reinvigorated in the ring, reminding fans why they've endured for so long in the first place. Jericho led the charge and continues to be a major presence in AEW, while fan-favorites like the Hardy Boys and CM Punk have joined him in the ring.
AEW Fight Forever players can either create their own larger-than-life personalities, with their own pop culture nods and flourishes, or play as one of their favorites. The game provides a full dive into the AEW mythos, with even wrestlers no longer active in the organization, like Cody Rhodes, playable in the game, recognizing their role in truly making AEW All Elite for the fans.
AEW's rise on television and among the wrestling community has been meteoric since its launch and AEW Fight Forever is a full-on celebration of the organization's legacy while forging its future. From allowing players to set up their own epic matches between AEW's greatest heroes and merciless villains to creating their own to leap into the ring, AEW Fight Forever is a must-have for any pro wrestling fan. And in the never-ending war between heroes and heels, which side are you on?
Developed by Yuke's and published by THQ Nordic, AEW: Fight Forever goes on sale June 29 for PlayStation 5, PlayStation 4, Xbox Series X|S, Xbox One, Nintendo Switch, and PC.