Legendary fine artist Ai Weiwei to publish graphic memoir
Zodiac: A Graphic Memoir will be Weiwei's first dive into the comics form
There are few contemporary artists with a level of pop culture name recognition like Chinese artist Ai Weiwei. So it feels like a pretty big deal that Weiwei is heading into the world of comics with a very personal story - his own. Zodiac: A Graphic Memoir by Ai Weiwei with Elettra Stamboulis and illustrated by Gianluca Costantini will tell the story of Ai Weiwei's life from growing up in exile to his developing his art career.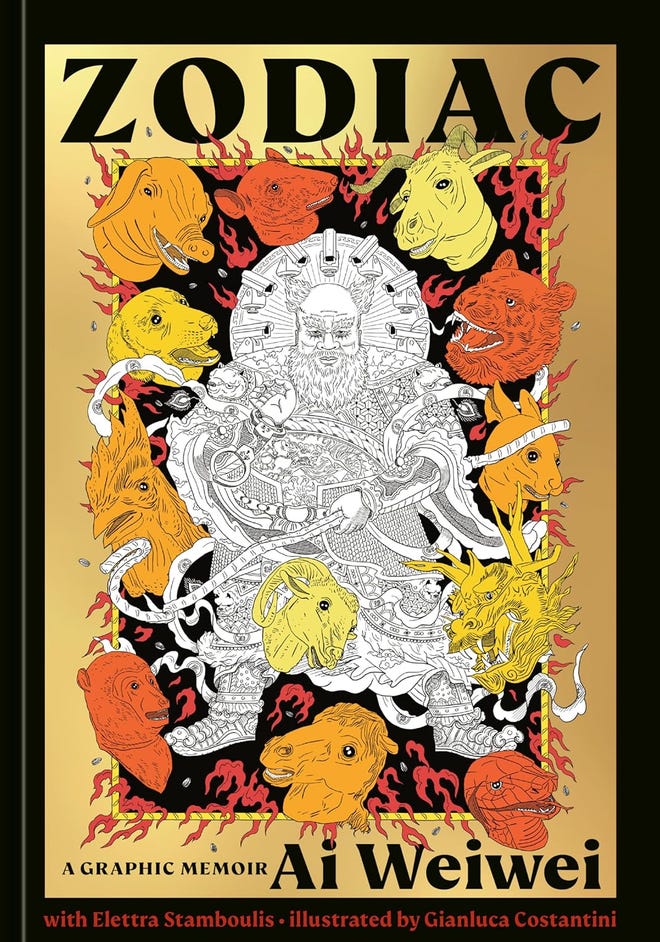 The offical blurb provided by Ten Speed Graphic reads:
"As a child living in exile through multiple anti-intellectual political movements, Ai Weiwei often found himself with nothing to read but government-approved comic books. Although they were restricted by the confines of political propaganda, Ai Weiwei was struck by the artists' ability to express their thoughts on art and humanity through graphic storytelling. Now, decades later, Ai Weiwei, co-writer Elettra Stamboulis, and illustrator Gianluca Costantini present Zodiac: A Graphic Memoir (Ten Speed Graphic; on sale 1/23/24), Ai Weiwei's first work of graphic nonfiction.
Inspired by the twelve signs of the Chinese zodiac and their associated human characteristics, Ai Weiwei masterfully interweaves ancient Chinese folklore with stories of his life, family, and renowned career in art and activism. The narrative shifts back and forth through the years—at once in the past, present, and future—mirroring memory and our relationship to time. As readers delve deeper into the beautifully illustrated pages of Zodiac, they will find not only a personal history of Ai Weiwei and an examination of the sociopolitical climate in which he makes his art, but a philosophical exploration of what it means to find oneself through art and freedom of expression.
Contemplative and political, with resonant wisdom for our complex times such as "There are never too many stories…especially when they explain who we are" and "We must not be scared of too much truth", Zodiac will inspire readers to return again and again to Ai Weiwei's musings on the relationship between art, time, and our shared humanity."
---
Zodiac: A Graphic Memoir by Ai Weiwei with Elettra Stamboulis and illustrated by Gianluca Costantini will be on sale in hardcover and paperback on January 23, 2024.
---