Alex Ross's Fantastic Four: Full Circle grew out of an unsuccessful 2017 pitch to Marvel
The first release from Abrams ComicArt's MarvelArts line started life as a proposal for the regular Fantastic Four comic
One of the most notable things about Alex Ross' new graphic novel Fantastic Four: Full Circle — out now from Abrams ComicArts as the first title in its MarvelArts line — is the way in which the artist, known for his lush painted artwork, has reinvented his visuals, mixing black and white line work with bold, black-light poster-inspired colors. Here's the thing, though: it's not actually a new thing. In fact, it's something he tried to get Marvel Comics to publish five years earlier.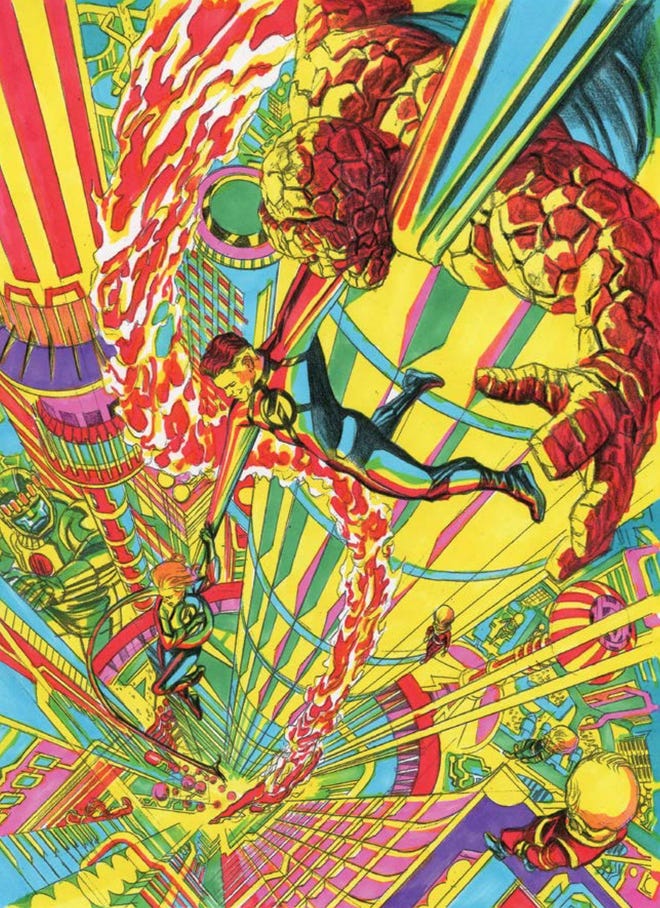 While Full Circle is, in itself, a new story written for Ross for the graphic novel, the project spins out of an unsuccessful 2017 pitch Ross made to Marvel for a Fantastic Four revival. Ross shared his plans with Back Issue magazine back in 2020, including artwork that looks pretty familiar to anyone that's picked up Full Circle.
What he submitted at the time, he told Back Issue, wasn't a pitch in the traditional manner. "I'd define it as kind of an aesthetic proposal," he said. "It wasn't linked to an outline or a story concept, but it was about the look of the thing, the graphic of it, a way to re-present these things in a bold fashion."
As for what that aesthetic was, he explained, "I was picturing the best way to depict the FF for a modern generation was to translate Kirby's work into a '60s pop-art graphic, combined with my realistic rendering, thinking that it's impossible to fully de-code Kirby, especially with my style, but you could apply abstract elements like the coloring being flat and vibrant like black-light posters with an interpretation of his faces that matches. With that, you could hopefully find the spirit of Jack's FF in there."
The look came from a series of unexpected sources: in addition to the obvious '60s pop art and design influences — even his proposed logo, which was later adapted into the Fantastic Four: Full Circle logo, was adapted from the teaser poster for the 1966 movie Fantastic Voyage — Ross cited both a recolored '60s Fantastic Four reprint from the United Kingdom and the 2017 Nick Fury series from Marvel, illustrated by ACO and Hugo Petrus, with colors by Rachelle Rosenberg.
Ross' proposal didn't move forward at the time because Marvel had other plans; Dan Slott had apparently already laid claim to the characters for what would eventually become the August 2018 relaunch of the title with artist Sara Pichelli. As the publication of Fantastic Four: Full Circle demonstrates, though, it's always worth holding onto a good idea, because you never know when you might need it.
More information about what Alex Ross planned, as well as a lot more of Ross' art from his 2017 proposal, can be found in Back Issue #118, published by TwoMorrows Publishing.
---
Dan Slott might not have brought the same visual influence to his Fantastic Four run, but that doesn't mean he didn't do a lot with Marvel's First Family during his time on the team; here are a few ways that Slott helped make the FF better off than when he started.