Check out an RPG game from the Alexandria RPG Library
"There's an RPG for everybody."
One of the busiest rooms of Emerald City Comic Con 2023 was on the fourth floor in the gaming section of the convention. Outside of this room was a welcoming table display staffed by smiling volunteers and several plastic bookshelves filled with books. These books are not meant for reading, though - they're meant for playing: Each book in the Alexandria RPG library is a role-playing game book.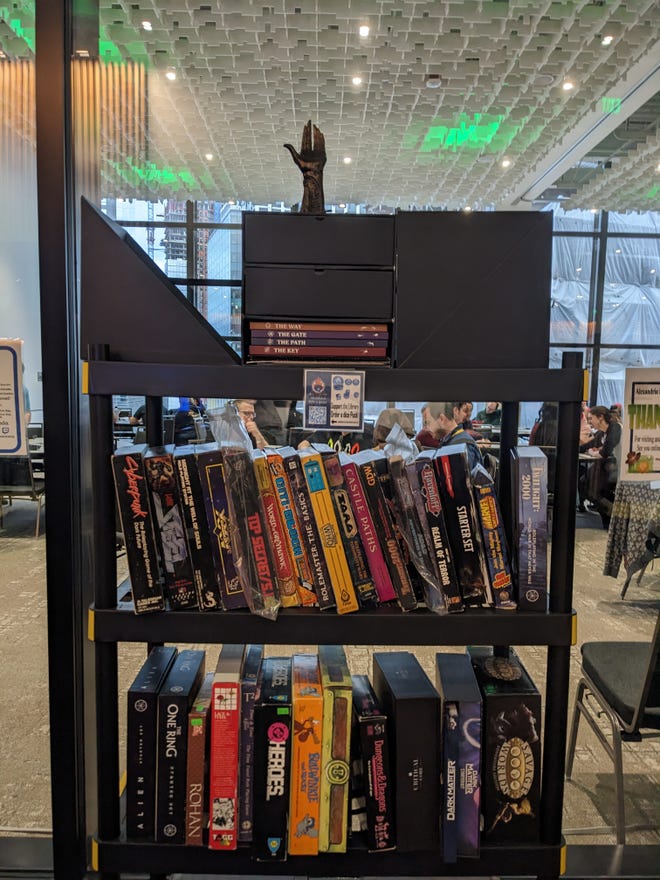 The Alexandria RPG library (named after the famous Library of Alexandria) was founded by David Carnahan in 2017 at that year's Emerald City Comic Con. The event went well, to say the least, and Carnahan was asked to bring the library to other events as well. What really inspired Carnahan to continue with the library, though, was the impact it had on young people. He tells two stories to illustrate this, one about a kid excited to find someone who can explain RPGs to his friends (one of his friends returned to the library the next day, saying that they had purchased the game and would continue to play) and another about a dad and his son and a group of his son's friends, who had a blast playing the game Carnahan had chosen (the father especially happy, as he had been trying to get his son to play RPGs for ages).
So it is the personal impact, as well as the personal touch that drives the RPG library. Carnahan always tries to tailor his recommendations to the person, asking them about their favorite movies and books. Dungeons & Dragons isn't for everyone, he says, but "there's an RPG for everybody." Though, Dungeons & Dragons did spark Carnahan's lifelong love for RPGs. His very first game was a first edition of the original Dungeons & Dragons, and that RPG book is still a part of the library collection, in case anyone is interested in checking it out.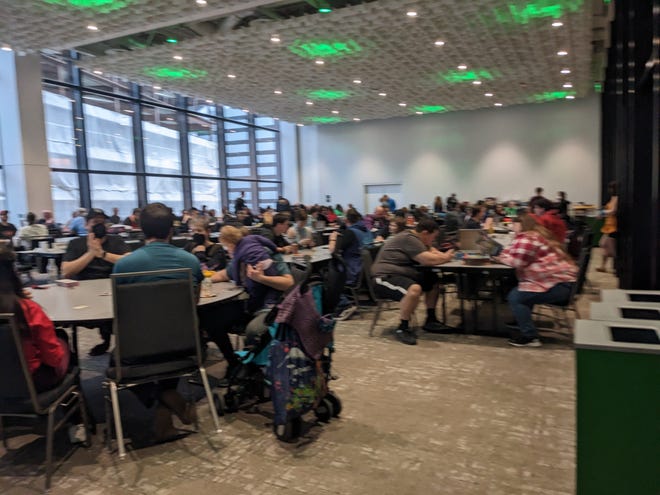 Just because the library is about the personal touch doesn't mean that it doesn't have a big impact. Last year, the Alexandria RPG library travelled to 17 events, and since the founding of the library, the collection has grown from 348 books to a collection of about 6,000. The library gained in 501(c)3 status in 2018 and reaches out to communities who might benefit from the community building aspects of RPG gaming including at-risk teens, the elderly, and veterans.
According to Carnahan, the library is run by "books, time, and money," so if you are interested in supporting their mission, the library is currently fundraising to upgrade their plastic display shelves into sturdier ones with a foldout display that will make bringing the hefty collection to events. They are also looking for GMs to volunteer and, of course, books. You can learn more about the RPG library here.
---
Popverse had a grand old time at Emerald City Comic Con. Check out everything we've been up to that weekend.