Meet AltF4cosplay, one of the 2023 Cosplay Central Crown Championships finalists
The winner of the Cosplay Central Crown Championships sem-finals from PAX Aus is coming to Chicago's C2E2 2023 to win it all
Every year, cosplayers from around the world show off their creations at conventions - and the best of the best compete each year in a global tournament called the Cosplay Central Crown Championships. Each major convention has a semi-final where a winner is chosen, and that winner wins cash, prizes, and a round-trip ticket to the yearly finals - which take place this year at Chicago's C2E2 2023.
And in the build-up to the 2023 Cosplay Central Crown Championships finals at C2E2, we're talking to finalists from all over the world as they get into 'con crunch' mode before boarding a plane and meeting for one last, epic competition.
Today we're talking to Alt4cosplay, who claimed her place in the Crown Championships with a stunning rendition of the Vertigo Valorplate from Godfall at the recent PAX Aus.
POpverse: Welcome to the championships! Please tell us a little about yourself as a cosplayer.
Alt4cosplay: Hi! I'm Stephanie and I've been cosplaying for about 9 years. I got started in cosplay after watching an awesome cosplay music video from Blizzcon and deciding I wanted to give it a go and attend my first con! So, I made a costume from DoTA 2 and wore it to my first ever con and had A BLAST!
Everyone was so nice, and I got to meet so many other cosplayers, it was a fantastic day and I had enjoyed it so much that I was already planning my next costume in the car on the way home. Since then, I've attended every convention here in Melbourne I can and even travelled to Blizzcon twice!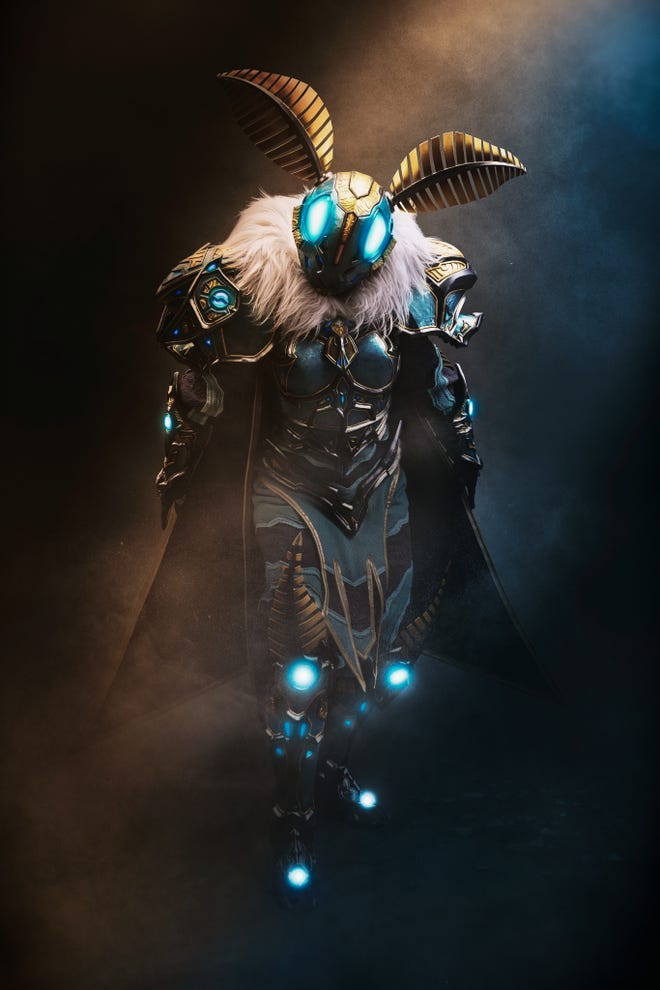 Popverse: Have you competed a lot before?
The first ever costume I made I competed in and won the novice category, so since then I was hooked! I've had the honour of representing Australia previously at C2E2 and I'm super excited to come back.
Can you tell us about your experience at your qualifier?
The Australian qualifier was full of such an amazing range of costumes and techniques, and I was already proud to just be on stage with some of the best crafters from Australia. It was also so exciting to be on stage again after it had been a long time since we could compete due to Covid. Everyone was very supportive of each other and I'm proud to be a part of such an uplifting community.
When they announced my name as the winner, I was hit with a wave of relief that the stressful day was finally over and very proud of what I had achieved.
What inspired you to make this design?
After competing for such a long time, I knew by now I had gained enough knowledge and skills to finally make a dream costume I had always wanted to make, and try to win once more.
How did you create the costume?
My costume was made using a variety of techniques, from foam to 3d prints and even some sculpting. It took approximately 7 months to finish the whole costume, including time researching and looking for fabrics etc.
Did you learn any new techniques while making this costume?
To paint this costume, I knew I wanted a very distinct look and paint wasn't going to cut it. So, after a bit of research, trials and tests, I managed to develop a way to paint with pigment in UV resin, and then topcoat with clear UV resin to create a bug shell appearance with some depth to it.
What is your favourite part of the costume? And Why?
My favourite part of the costume is the helmet, it's such a beautiful design and also makes a fantastic display piece on the shelves!
Are there any other details or features you would like to highlight?
I'm especially happy with how the giant resin casts turned out in the weapons, I went through a lot of pulls to get 2 clear casts and it was completely worth it!
What are you most looking forward to about the final in Chicago?
The thing I'm most looking forward to in Chicago is the people! I love meeting up with old friends and making new friends from the other side of the globe, cosplayers are the most welcoming and funnest people to hang out with and I can't wait!
Any advice for anyone thinking about entering a competition like this?
I'd say DO IT! I have had so many incredible experiences, met amazing people and had the chance to show my costumes and passion to so many people!
You can follow AltF4cosplay on Instagram and Facebook
---
The Cosplay Central Crown Championship finals will be one of many C2E2 2023 panels Popverse will be livestreaming this year. Here is a round-up of everything Popverse will be doing at C2E2 2023.