What's happened since Amazon's Comixology overhaul, how its actually affected sales
In February Amazon overhauled its digital comics service, but what's happened since?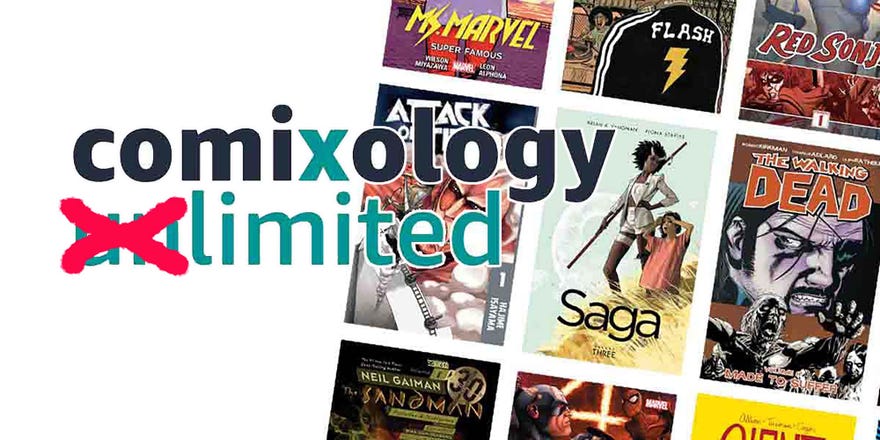 When Amazon merged its digital comics platform ComiXology into the primary Amazon.com web presence earlier this year, what was intended as the solution to one problem – how to bring ComiXology in line with the larger Amazon apparatus – ended up creating another, by destabilizing the digital comics landscape as it previously existed. What does that landscape look like now that the dust has settled, five months on?
Amazon's integration of Comixology
Amazon originally announced its plans to integrate ComiXology into the wider Amazon eco-system in September of last year, only to delay the move a couple of months later in response to what was described at the time as "feedback we received from our community." The change eventually took effect in February, with the ComiXology app significantly overhauled on multiple operating systems even as the ComiXology website – the main location for buying titles on the platform for iOS users, who had been barred from in-app purchases since early 2014 – was shuttered, redirecting customers to a new landing page for digital comics on Amazon.com.
It's fair to say that ComiXology customers were not impressed with the new status quo, with complaints flooding social media to the point where that became a story in itself. Complaints were varied, but centered around one simple idea: both the new ComiXology app and the Amazon.com storefront for digital comics were less useful than the previous incarnations had been; searching became more difficult, purchases had seemingly disappeared from fans' accounts, and users outside the U.S. were no longer able to subscribe to automatically purchase every issue in any given series.
Some of these issues proved to be simply teething troubles tied to the scale of migrating information from ComiXology to Amazon – missing purchases, for the vast majority of users, eventually reappeared, thankfully – but, instead of excitement surrounding the future of the combined ComiXology/Amazon digital comics reality, the feeling that followed the February switch appeared to be closer to an anxious uncertainty. Publishers wondered if the loss of international subscriptions and an easy-to-browse, familiar web interface would cost them customers, while fans seemed frustrated by the changes and functionality of the new app… but were they frustrated enough to quit using the platform entirely?
How sales have changed for publishers after the Comixology overhall by Amazon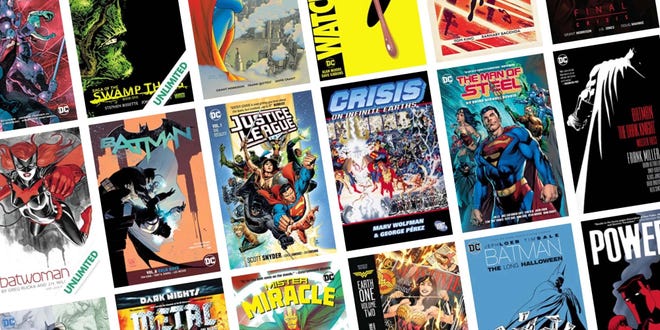 Months later, the good news is that at least some of those concerns appear groundless. While a number of publishers maintain that it's still too early to judge the true impact of Amazon's absorption of ComiXology – representatives for multiple companies told me they didn't have enough sales data to make a statement just yet – others are reporting that, despite the prevalent doomsaying of many industry watchers, sales have already bounced back to pre-changeover numbers. As a spokesperson from BOOM! Studios put it, "While we did see a dip in digital sales in Q1 and the early part of Q2 through ComiXology, we are seeing a strong rebound now, which is encouraging."
Part of the rebound might be due to the fact that customers have had time to get to understand the new system and how to navigate it, as well as the fact that Amazon and ComiXology have worked to improve some of the more obvious UI issues that initially appeared; both the Amazon.com web portal and the ComiXology apps have genuinely gotten more user-friendly and easier to navigate since February, in terms of giving the customers what they're looking for.
"We understand that the current experience needs improvements, and want you to know that we're working hard to get those out the door as quickly as possible," a Comixology representative wrote in a Twitter thread on June 15. "
However, there's another reason why fans appear to have returned to the platform; namely, they don't necessarily have any choice. As things currently stand, it's a simple fact that there really isn't an alternative to ComiXology for most fans if they want to keep buying their favorite books digitally. While both Marvel and DC have proprietary digital subscription services available – Marvel Unlimited and DC Universe Infinite, respectively – these services traditionally publish material on a delay from their print release, meaning that the Amazon/ComiXology day-and-date schedule is the only (legal) way to read up-to-date material digitally. That's even more true with regards to independent publishers like Image Comics, Dark Horse, and Dynamite; with no subscription offering, fans looking to read releases from indie publishers legally are forced to adapt to the current iteration of ComiXology or simply give up.
Not every independent publisher is willing to put all their eggs in one basket, however – especially a basket that they ultimately have no control over. Publishers like IDW Publishing and Dark Horse offer the ability to purchase and read digital editions via their own websites, while others go even further: both 2000 AD publisher Rebellion and Vault Comics make their digital releases available via DRM-free downloads.
"ComiXology is not now nor has it ever been a big priority for us, and we're focused on growing our digital business in other ways," Vault CEO and publisher Damian Wassel told Popverse via email in explaining the reasoning behind looking at alternatives to ComiXology and Amazon when it comes to digital sell-through. "They have not historically created any kind of level playing field for product discovery or promotion, particularly if you're a publisher who has not opted into their various 'Unlimited' programs."
Other publishers, opting to speak off the record, have echoed this sentiment, reflecting a belief amongst some that – while Amazon/ComiXology is a sales eco-system that can certainly benefit publishers or particular projects — managing to break through the noise to make an appreciable impact is the result of luck as much as anything else, making the process a particularly frustrating and, in many cases, fruitless one for publishers spending considerable time promoting ComiXology as a platform.
Continued changes for Comixology users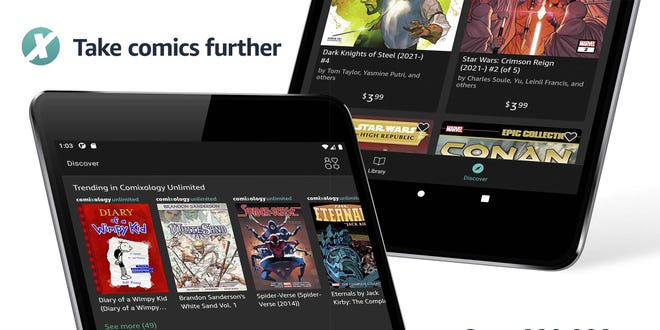 The appeal to publishers of having more control over their digital output was underscored by a further change to the functionality of ComiXology at the end of May, when users of the Android OS version of the app were informed that they would no longer be able to make in-app purchases as the result of updated policies on behalf of Android's manufacturer, Google. The new restriction, while not ComiXology's fault, merely underscored how removed publishers are from decision making in the digital space; their sales will likely be impacted as the result of a policy change taking place at two stages removed from them directly.
The loss of the Android in-app purchase option was actually the third distinct ComiXology change in almost as many months; beyond the February merger with the Amazon website, company co-founder David Steinberger announced in early March that he was leaving the company after 15 years to head up a new initiative elsewhere inside Amazon. Although he continues as an advisor for the digital comics platform, his departure means that ComiXology lost its most recognizable public-facing executive, making the company seem less approachable as a result; neither of his replacements as company leaders – Tom Ashley and Jeff DiBartolomeo – have made any kind of public statement since their promotion.
I asked, at the opening of this piece, what the digital comics landscape looked like now that the dust had settled; the reality is, with so many publishers still in a holding pattern concerning the longterm impact of the ComiXology/Amazon merger, and others exploring digital expansion outside of ComiXology's orbit, it's not entirely clear that the dust has settled just yet. The past few months have demonstrated the instability of the digital comics industry; now, more than in recent years, feels like a time where anything could happen there, and given the opportunity, probably will. Keep your eyes peeled and your devices charged, just in case.