Amulet creator Kazu Kibuishi says he "may" be working on an Amulet movie
After years of waiting, Amulet fans may finally get to see the Hayes family on the big screen.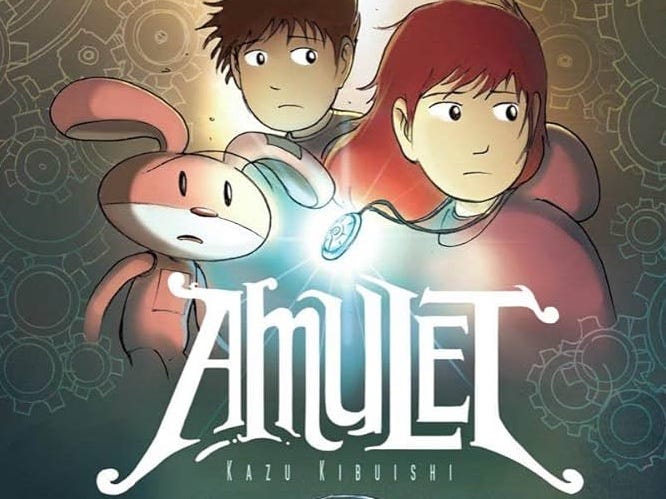 At NYCC's Titans of Graphic Novels panel, Amulet creator Kazu revealed that he is working on a film version of his beloved Scholastic graphic novel series.
Asked whether there are any pockets of the Amulet universe that he'd like to revisit, Kibuishi at first acknowledged that his own aspirations prevent him from possibly returning to the Amulet-verse.
"I have so many side stories that just didn't go into the book that could be great books, but I only have so much time," he said. "I have other series I want to do. There's a lot of others project that probably take priority. "
But then Kibuishi went on: "I can't talk much about movies related to Amulet, but it's possible I could be working on one," he said, to gasps of excitement from the audience.
"And it's possible I could be very involved in it," he went on. "And it's possible the writer and I are going through a lot of thing that I'd cut out of the story. and we're bringing it back in."
"It's possible that's happening," he said, laughing. "But I can't say."
In March, 2021 Kibuishi said on Twitter that the film and TV rights for his series had reverted back to him, and that he planned "to revisit the prospect of a movie after Amulet 9 is complete." The ninth and final volume of Kibuishi's best-selling series lands in stores February 6th, 2024.
---
Popverse will be providing wall-to-wall coverage of New York Comic Con 2023, with an all-star crew of writers, editors, and video producers there all four days (and nights), as well as in advance of the show. You can follow along to this coverage as well as the panels we're streaming with our
NYCC Popverse coverage guide
.