Anime Expo: What to eat near the Los Angeles Convention Center
In from out of town? A local wanting to try a new place? Check out our list!
Anime Expo is one of the busiest conventions in the country, so it makes sense that it's right in the heart of Downtown Los Angeles. Now, to be fair, Downtown Los Angeles is not bustling with restaurants and bars like other towns might be; however, good eats do abound, if you know where to go.
Here are some of our favorite places to eat near the Los Angeles Convention Center, organized by distance from the center (in case you want to walk instead of rideshare or drive). These are all within a couple miles of the convention center, so even if you want to jump on an electric scooter or something, you wont have to go too far.
A warning though, the closer you are the convention center (and to regular mealtimes), the more likely you are to find a long wait. There are a LOT of Anime Expo attendees who will likely be just as hungry as you are around lunchtime.
Food Trucks (Outside convention center)
Anime Expo always has a selection of food trucks outside of the convention center. They have not officially announced exactly which trucks will be there or where they will be, but they are likely to be located on Pico under the bridge between the two halls and sometimes located across the street. Expect long lines and a bit of an upcharge, but if you don't want to stray too far away from the convention center, the food is usually pretty good, and the location can't be beat.
Food Carts (Outside convention center)
Plenty of people turn up their nose at the hot dog carts that inevitably turn up at every Downtown LA event, but to them, I say: why not live a little? There really is nothing like heating a bacon wrapped hot dog covered in greasy peppers and onions after a long day walking around a convention center, and I stand by that. (Also, this will most likely be the cheapest meal you can get right outside the convention center).
Pine & Crane serves Taiwanese food including dan dan noodles, Taiwanese beef noodle soup, and panfried pork buns. The food is good, the atmosphere mostly casual, and there is usally a lot of seating. Though if you're getting buns or beef rolls, you could always order out and eat on your way back to the convention center.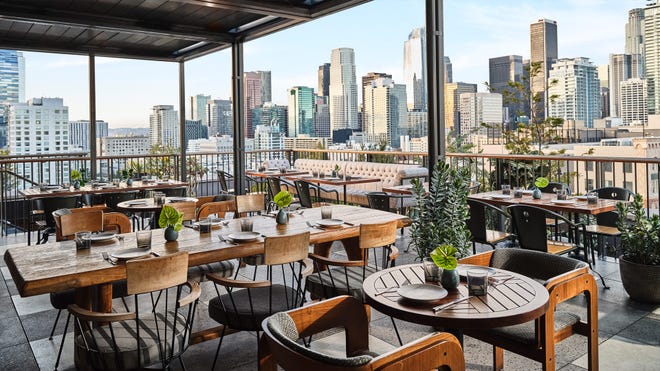 For the people who want a slightly fancier food experience, Cara Cara doesn't open until noon, but the benefit of that is that it stays open quite late - midnight to be exact, on Friday and Saturday, and to 11 PM for the rest of the week. This is a slightly fancier bar (your cocktails will be in the 20 dollar range), but a nice place to grab food, also in the 10-30 dollar range. The place is really pretty and has an incredible view of the city from the bar.

Donuts and fried chicken: what's not to like? Birdies specializes in made-from-scratch donutes of all sort and tasty chicken sandwiches. While there is no seating inside of the place, it's a good restaurant to stop by if you want something heavier on the go. They serve breakfast burritos in the morning and pretty good coffee all day.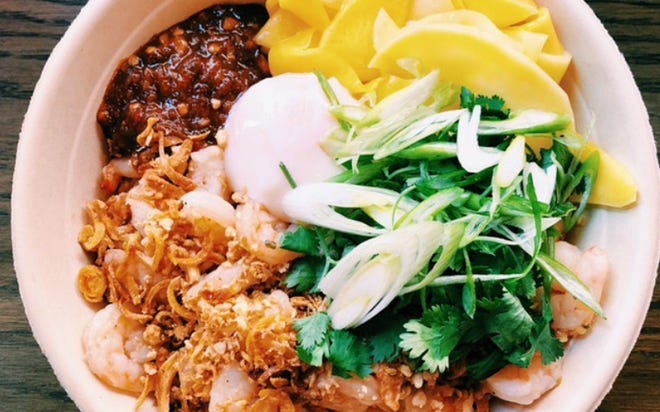 Convention dining isn't known for health, but eating a bowl is a great way to get those veggies in. Mighty Bowl specializes in Asian fusion themed bowls, so if pork belly (or tofu for vegetarians), bok choy, and Gochujang sound like an ideal bowl combination for you, Mighty Bowl is a great place to snag a lunch for under $15.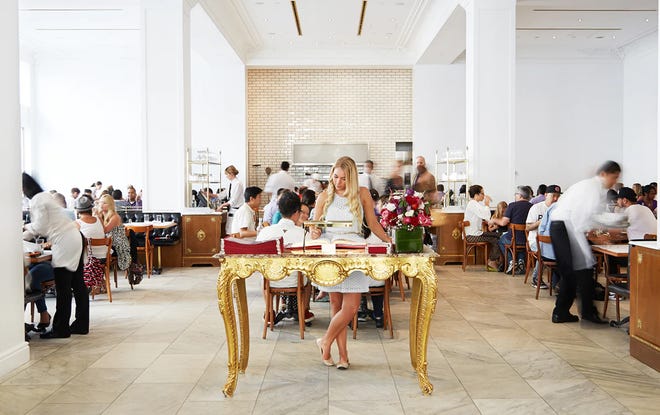 Delicious pasta, and a glass case full of dreamy pastries - what more could you want? Bottega Louie is a beautiful, very LA place to eat. It's chic and not shockingly expensive. ($24 bucks for a burger with fries, which is pretty much what you'd be paying at a food truck, though you can definitely go fancier with steaks and pastas.) It's a good place to go if you want to have a fancier lunch or dinner.

Jacks N Joe may be my favorite breakfast place in LA. (Sorry Roscoe's!) They have all sorts of different pancakes to choose from - I like the WTF?! and Brook's Blues - as well as French Toast, and they handle a savory breakfast with equal aplomb. The restaurant can get busy on weekend mornings, so keep an eye on that and call in to see how busy it is.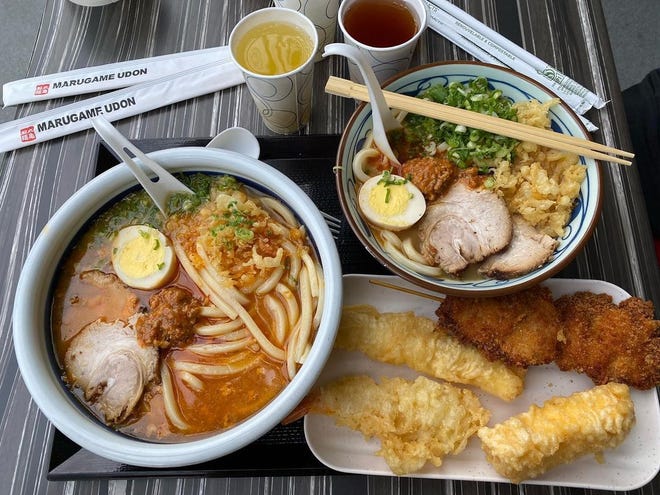 Marugame Udon is a very affordable and delicious udon restaurant (some of the cheaper dishes go are in the $5 range), and they also serve rice bowls and tempura. While there's not a ton of seating at Marugame, which is located in a shopping center called The Bloc, you may get lucky; who knows? Udon makes for pretty good takeout anyway.
Perch (1.1 miles)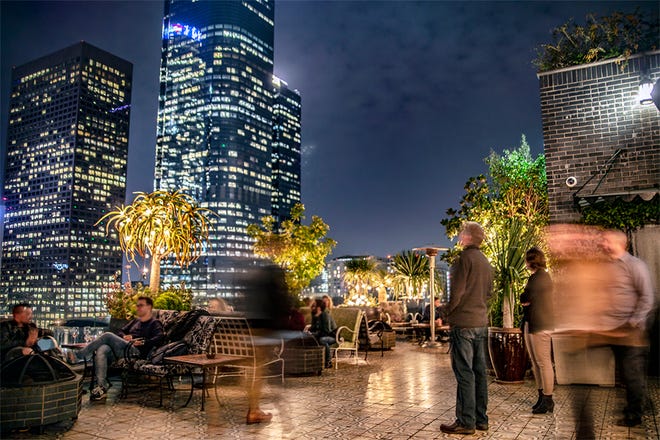 Perch is a great place for out-of-towners looking for a nice rooftop bar experience. Great cocktails, a nice long menu for food, and really really gorgeous views. It'll be hard not to feel like a Los Angelino when you're hanging out at Perch. Because Perch is a rooftop, and AX is happening during a busy weekend, I'd highly recommend making reservations.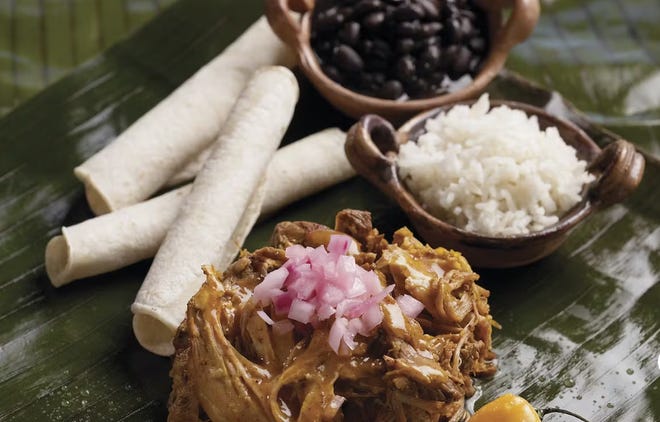 Chichen Itza is a food booth located inside the food court/shopping center called Mercado de Paloma. In the Mercado, there's a bunch of good eats to choose from, but Chichen Itza is by far the most famous, serving Yucatecan food like Cochinita Pibil and tamales. There's usually a bit of a line, but the food is definitely worth it, and if you make it out to the Mercado and think the line is too long, there's still another handful of delicious food stalls right there for you to try.
---
Popverse is covering our very first Anime Expo this year! We'll be covering what it's like to be attending one of the world's biggest anime conventions AS WELL as covering news through our liveblogs throughout the weekend. Check here to follow along with our AX 2023 coverage.