Archie has found its next heroine, dark academia style
A forgotten 80s hero is being revamped to be your next dark academia obsession
Imagine Wednesday, but as a superhero.
That's what we first thought when we learned about the star of Archie Comics' upcoming one-shot comic book, Darkling. Scheduled to hit stands November 22, Darkling #1 will debut a drastically reimagined version of the '80s Archie Comics superhero of the same name - who you might remember from Archie's Red Circle superhero universe.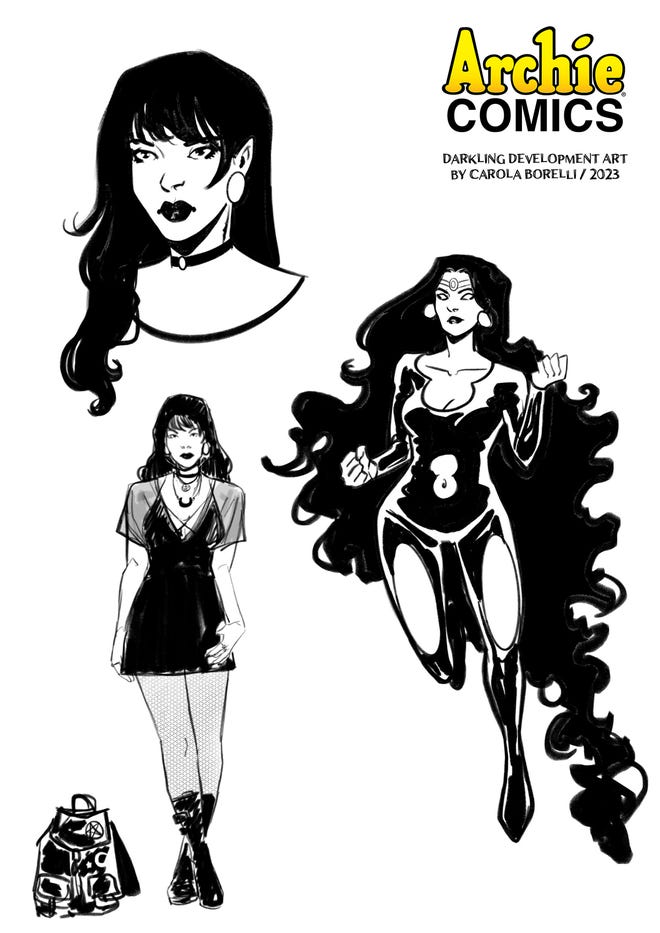 After being on the shelf for decades, the original version Darkling has begun to pop up in Archie reprints and also in the Archie newstands titles as Riverdale's token goth. But now Darkling is stepping up and getting with the times.
"Darkling's been popping up recently in some of our classic-style titles as Riverdale's resident goth queen--who just so happens to have powers that often put her at odds with supernatural entities and monsters," says Archie Comics' senior director of editorial Jamie L. Rotante. "We wanted to take that energy and bring it to a new audience, and Sarah Kuhn's impressive work on Shadow of the Batgirl and Girl Taking Over: A Lois Lane Story made her a perfect choice to tell the story of Darla Lang, a.k.a. Darkling."
November 22's Darkling #1 by Kuhn and artist Carolina Borelli will shine a light on this dark corner of Archie lore.
"This one-shot explores more of her life, demystifying the character who was once defined by being cloaked in shadows," adds Rotante.
Here's how Archie describes the issue itself: "From the outside, Darla Lang looks like a normal college student—save for the peculiar voluminous black cloak she wears everywhere. Her peers and professors chalk this up to Darla's eccentric, introverted, slightly creepy persona, but Darla is a young woman with a secret… and a mission. Darla's cloak is actually a mystical artifact that she can use as a melee weapon, trapping her enemies inside and teleporting them away. Darla's power and connection to the supernatural world have always been a curse, and now she's enrolled in Ivy Hollow University which harbors some dark secrets of its own. Will Darla find within its hallowed halls the answers to the questions about herself and her powers that she's been seeking?"
Archie's revamped Darkling slides in nicely on the growing shelf of 'Dark Academia' subgenre projects to include Netflix's Wednesday the book-turned-Netflix-show The Magicians.
"This story is so much more than a superhero tale," Rotante says, "it's sure to impress fans of the paranormal, true crime, and dark academia alike!"
Kuhn and Borelli will be joined on Darkling #1 by colorist Ellie Wright, letterer Jack Morelli, and cover artists Maria Sanapo and David Mack. Check out those covers here:
Look for Darkling #1 on sale November 22, 2023.
---
Archie and Me: How Riverdale brought me back home to Archie Comics.