Ashley Eckstein prepares us for a Disney-themed Her Universe Fashion Show at San Diego Comic Con
"We have so many just epic surprises," Eckstein says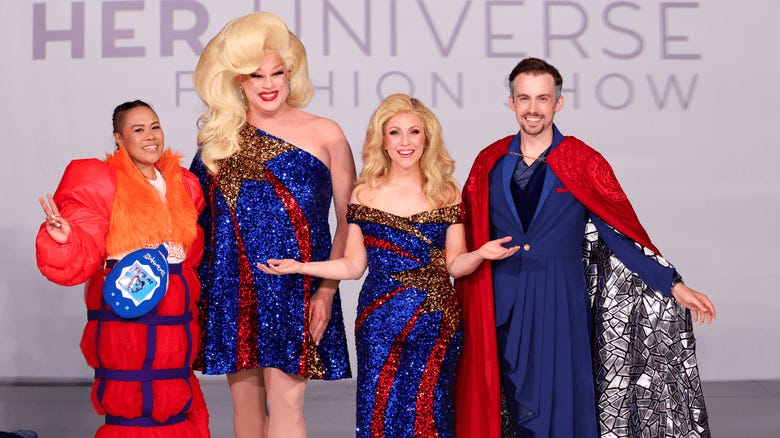 This Thursday at San Diego Comic Con, the 9th annual Her Universe Fashion show is set to bring geek couture to the catwalk at the Manchest Grand Hyatt. Fans from all over the world will pack this small room for an evening of celebration and style. Actor and Her Universe founder Ashley Eckstein (Star Wars: The Clone Wars), will be joined this year by Broadway actor (and current Genie in Aladdin) James Michael Scott. Last year marked the return of the Her Universe Fashion Show after a lockdown necessitated hiatus and this year is certainly shaping up to be the biggest and best yet.
The Her Universe Fashion show is a unique event among geek clothing lines. Per Her Universe's official website:
"25 pre-selected amateur designers will create one of a kind/not for resale couture designs, inspired by anything that is included in The Walt Disney Company family of properties. By the end of the night, two winners are chosen by the audience, and an expert panel of judges and awarded the opportunity to design a fashion collection with Her Universe."
Popverse's Ashley V. Robinson was happily caught up with Ashley Eckstein remotely on Enter the Popverse to get a hint of the magic that is come, what's special about this year's show, and get to the bottom of just how much Ashley Eckstein loves Disney.
"We have so many just epic surprises," Eckstein teases Popverse, "and prizes, and designs - the show is going to be so much fun this year!" She goes on to add: "Keep in mind that '100 Years of Disney' [the theme of this year's show] emcompasses everything from Walt Disney animation, to Walt Disney Studios, to Walt Disney himself, to Disney Parks, to Pixar, Star Wars, Marvel, National Geographic, and Fox."
Watch our full 12-minute interview here:
The Her Universe Fashion Show takes place in Thursday, July 20th in the Harbor Ballroom at the Manchester Grand Hyatt in San Deigo, CA and begins at 6pm PT.