August 2022 - This month in comic history, from 75 years ago to now
Shonen Jump debuts in the US, Swamp Thing lives, and the tragic passing of comic book great Mike Wieringo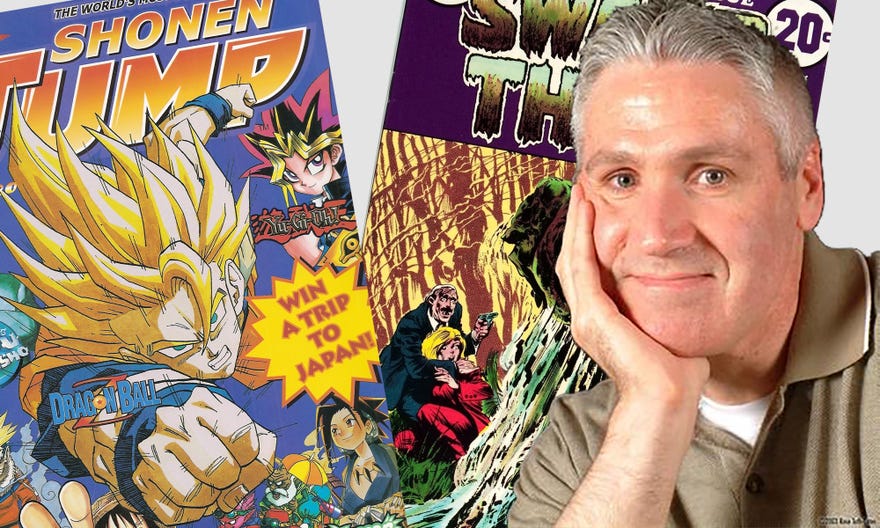 Ah, August. Memories of school breaks and summer camps, where boxes full of comics would show up in care packages at our doors. Back then, we traded Jughead Double Digests with each other like they were as good as currency. It's as true now as it was close to a 100 years ago: there's no finer self-given summer reading assignment than you'll get in a comic book.
This month in Comic History, we'll be looking back on the start of some comic book runs which changed the industry in every era, post-apocalyptic events, improbable crossovers, the creations of teams, characters, and worlds, and the American debut of a Japanese cultural staple. Happy 105th birthday, Jack Kirby.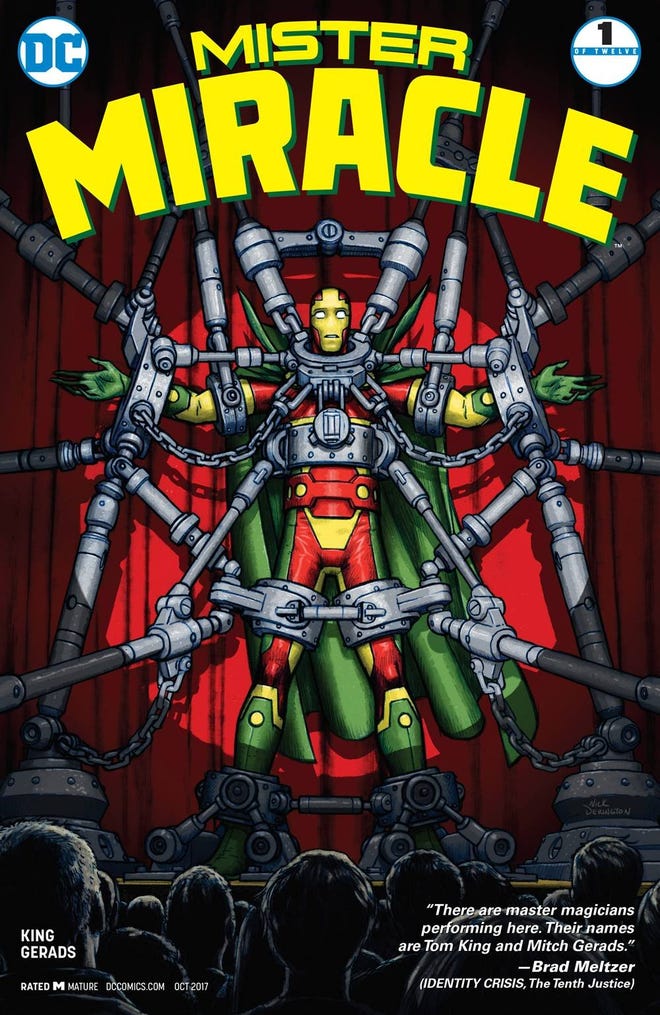 Five years ago in August 2017
Glitchy, disturbing art, haunting motifs, and heavy existential themes mark the debut of Tom King and Mitch Gerads' Mister Miracle #1, a series which breathes new life into the New Gods. A story of feeling trapped in one's own reality, the curse and blessing of family, and the always underestimated power of a veggie tray, Mister Miracle was the series which transformed King and Gerads into comic awards royalty. "Darkseid is, but so are we."
Also happening in the world of comics in August 2017...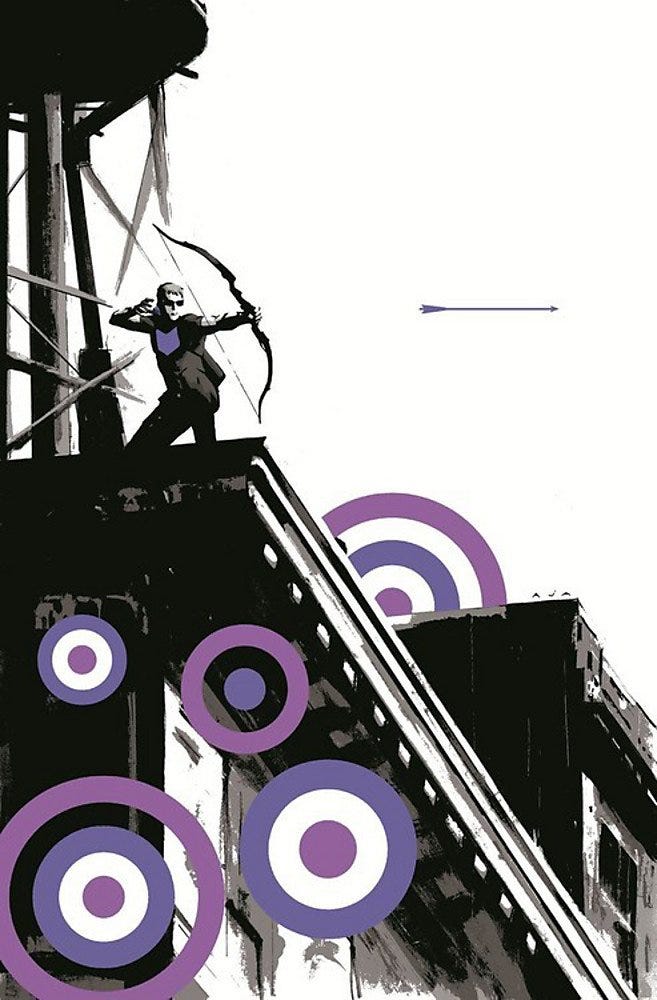 10 years ago in August 2012
"Clint Barton, a.k.a. Hawkeye, became the greatest sharp-shooter known to man. He then joined The Avengers. This is what he does when he's not being an Avenger. That's all you need to know."
With those words, so began the most memorable run of comics in Clint Barton's history, written by Matt Fraction and drawn by David Aja. The 2012 volume of Hawkeye took a third-string Avenger to one of the most exciting names in the Marvel universe, with a book which told grounded, hilarious, but always human stories about a local hero most people dismiss, who will do whatever it takes simply to protect his own apartment building from track-suited gangsters. It would eventually provide much of the inspiration for the Disney+ Hawkeye streaming series. As a book, it still holds way up as an introduction to the character, or even a reader's first comic.
Also happening in the world of comics in August 2012...
As part of 'The Summer of Valiant,' Valiant Comics reboots their signature dynamic duo, Archer and Armstrong.
DC's 'Rotworld' crossover begins, a post-apocalyptic event involving the more mature horror-tinged titles of the 'New 52' publication line, where Swamp Thing and Animal Man are the world's last hope against the encroaching force of decay known as the Rot.
Joe Kubert, the definitive artist of Sgt. Rock, Hawkman, Viking Prince, and many, many more, passes away at age 85. His legacy lives on through The Kubert School, an academy he founded where countless comic artists have learned their craft, and a family which remains active in the comic industry to this day.
Deadpool kills the Marvel Universe in Deadpool Kills the Marvel Universe.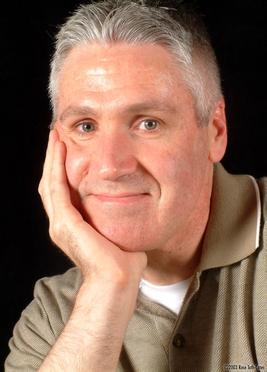 15 years ago in August 2007
Universally beloved artist Mike Wieringo, known best for his work on The Flash, Fantastic Four, Spider-Man, and his own original series Tellos, passes away far too soon at age 44. At a time when comics trended towards gritty hyper-realism, Mike Wieringo's light, cartoon-like style kept a sense of fun and wonder alive in comics, like soft light filling a darkened room.Ten years later, the Ringo Awards at Baltimore Comic Con would be named in his memory.
Also happening in the world of comics in August 2007...
In the wake of DC's highly successful maxi-series 52, a rich anthology exploring the lives of DC's lesser-known B-list heroes, an entire wave of spin-offs continues the stories within. Chief among these, perhaps, were Booster Gold, the greatest Geoff Johns run you've never read, and Black Adam: The Dark Age, which further defined Black Adam's turn towards heroism. (Even back then, Dwayne "The Rock" Johnson was in talks to bring Black Adam to life).
The life of times of Wally West's long run as The Flash reaches a turning point as Wally's own children, Jai and Irey West, debut as superheroes in their own right in The Flash #231.
In Action Comics #855, Superman film director Richard Donner and his protege, Geoff Johns, tell a new Bizarro story in 'Escape from Bizarro World.'
Stan Lee enlists John Romita Jr. to help finish the story of the first family in superheroism which he began with Jack Kirby in 1961, with 'The Last Fantastic Four Story.'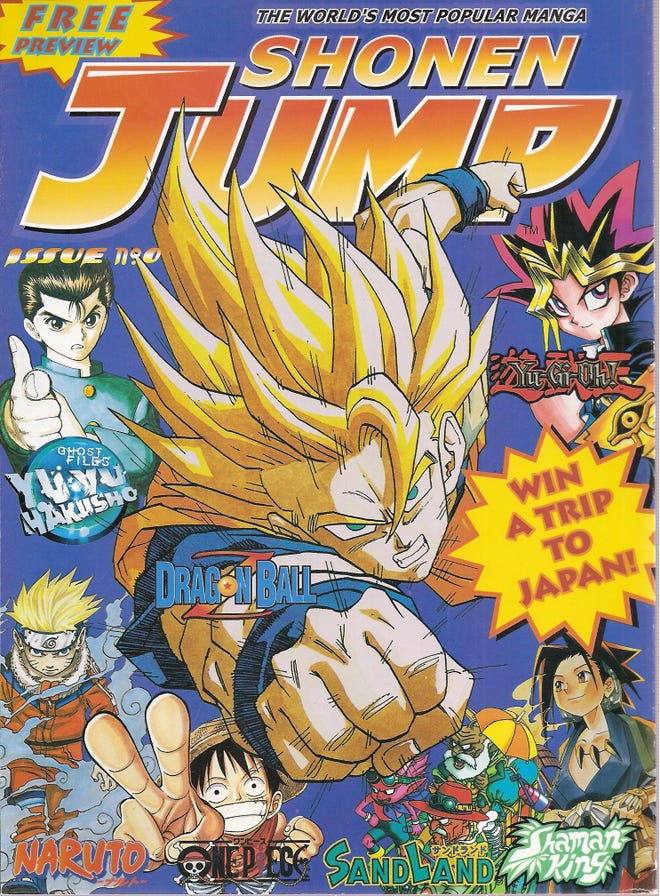 20 years ago in August 2002
At San Diego Comic Con, a special #0 issue of the Japan-based Shonen Jump magazine is distributed in English for the first time. Printed continuously in Japan since 1968, Shonen Jump has been the premiere anthology publication for much of the most prominent action manga in the medium's history. The presentation of Shonen Jump in English for the first time 20 years ago represented an openness of exchange between comic cultures which continues to impact the industry as a whole to this day, demonstrating the full global reach of manga in English reading audiences and the world at large.
Also happening in the world of comics in August 2002...
The Charles M. Schulz Museum and Research Center opens in Santa Rosa, California, exhibiting the original work of the cartoonist and exhibits by other artists honoring his most monumental work, the Peanuts comic strip.
Now under the auspices of DC Comics, WildStorm refreshes their flagship WildCats team with WildCATS Version 3.0, by Joe Casey and Dustin Nguyen. WildCATS 3.0 would run for 24 issues, and return with a fourth volume from 2008-2011. The team hasn't had a title since.
Marvel's Weapon X: The Draft story arc seeks new test subjects for their experimental super soldier program in a series of one-shots. The candidates: Emma Frost, Aurora, Rapture, Marrow, and Agent Zero.
They said it couldn't be done! In fact, they were warned not to do it! And yet, Bongo Comics couldn't resist finally mashing together the two properties they published into the same story, with the Futurama/Simpsons Infinitely Secret Crossover Crisis.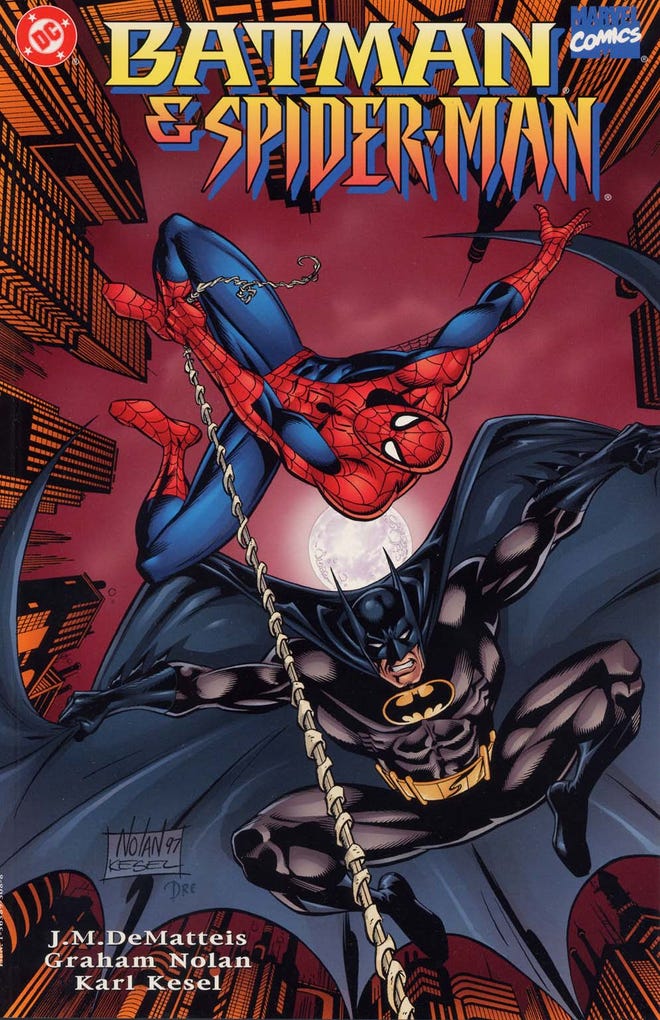 25 years ago in August 1997
Long before the Mouse made such events impossible, J.M. DeMatteis and artist Graham Norton were following up 1995's Spider-Man & Batman with the equivocally named Batman & Spider-Man, which saw DC and Marvel's two most popular heroes join forces against Kingpin and Ra's al Ghul. As was de rigueur since the '70s, these infrequent but always delightful Marvel/DC crossovers were set on an Earth where characters from both worlds had simply always coexisted, and just didn't make a big deal out of it. Although their worlds would collide again, Batman & Spider-Man would be the last Batman/Spider-Man two-hander ever published.
Also happening in the world of comics in August 1997...
Masatoshi Usune's post-apocalyptic manga Desert Punk debuts in the pages of Comic Beam. DC launches their Genesis event, a major crossover running through most titles released this month. Genesis deals with the effects of the 'Godwave,' birthing new gods, demigods, and metahumans throughout the cosmos. The whole thing amounts to another scuffle between Darkseid and Highfather. After being murdered by Kaine two years earlier, Doctor Octopus is resurrected by the cult of the True Believers in Amazing Spider-Man #427. Catwoman gets new cybernetically enhanced armor in Catwoman #50 to battle her 90s nemesis, Cyber-Cat. She ditches it immediately afterwards.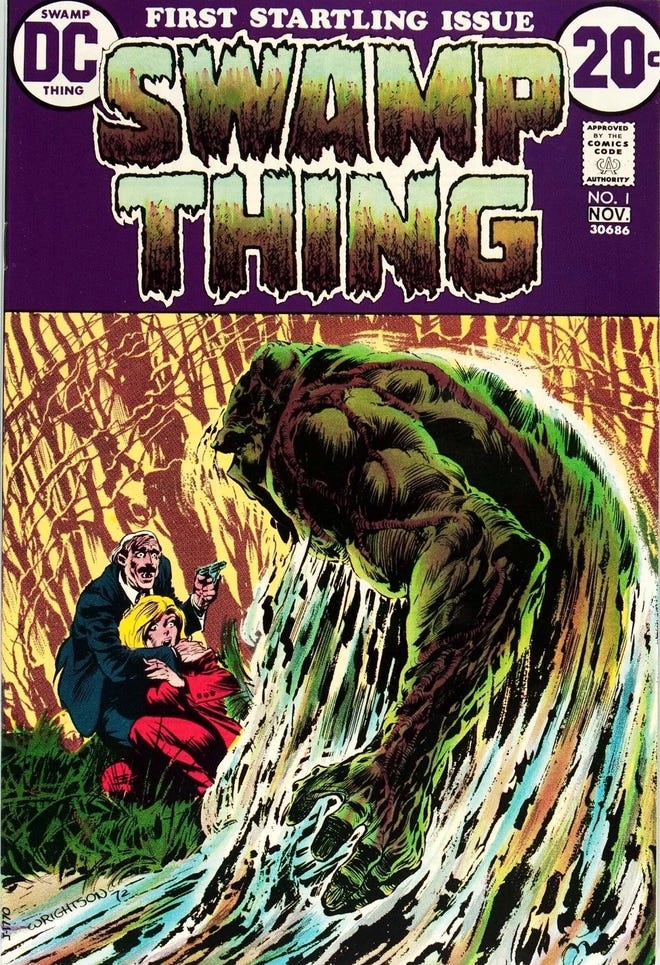 50 years ago in August 1972
After sketching a rough draft of their most iconic co-creation in House of Secrets, Len Wein and Bernie Wrightson introduce the world to Dr. Alec Holland and the terrible accident which leaves a monster in its wake with Swamp Thing #1. Since then, Swamp Thing has become such an icon of horror that many people forget he's even a comic character in the first place – but he's since transformed into one of extreme importance to the cosmology of the DC Universe.
Also happening in the world of comics in August 1972...
As the story goes, DC was looking to capitalize on the rampant success of the Planet of the Apes films by securing the comic book rights. Failing to do so, editorial enlisted Jack Kirby to create a similar concept from his own imagination to entice readers. From that assignment, Kamandi, The Last Boy on Earth was born.
Reacting to the women's liberation movement, Marvel attempts to capitalize on the feminist second wave by launching a line of comics aimed at the empowerment of female readers, including The Cat, Night Nurse, and Shanna the She-Devil.
After going by 'Black Leopard' for a few months to avoid association with the controversial Black Panther political party, T'challa gives up the ghost and just goes back to Black Panther again in Avengers #105.
The origins of William Burnside and Jack Monroe, the oft-forgotten Captain America and Bucky of the 1950s, are revealed in Captain America #155.
75 years ago in August 1947
All-Star Comics #37 presents the debut of the Injustice Society, a coalition of the greatest enemies of the Justice Society of America. Its founding members: Brain Wave, Per Degaton, the Gambler, Thinker, The Wizard, and Vandal Savage. The Injustice Society has continued to oppose the Justice Society in some incarnation or another through all the forms it's taken since, up to and including TV's Stargirl.
Also happening in the world of comics in August 1947...
Kosme the Cop, the first Filipino comic strip in English, begins its publication. Kosme's publication represents a watershed moment in burgeoning Filipino comic visibility, representing steps forward in a comics culture which continues to elevate talented Filipino comic artists into the mainstream industry today.
That's our roundup of comic book history for this month. As always, we do our best to cast as wide a net as possible in celebrating these milestones, but if we missed any important dates we'd love to hear from you. Here's to you archive divers and back issue bingers, and we'll see you next month!
---
If you know, you know. If you don't, that's okay too. Let us help you in
how to buy comics from comic shops
.