Avatar: The Last Airbender - Katara cosplays that bring the series to life
These Katara cosplayers are ready to take on the Fire Nation.
Avatar: The Last Airbender is one of the most beloved and popular animated series of all time. Set in a world divided into four nations: Earth, Water, Fire, and Air, 12-year-old Aang, the current Avatar and last survivor of the Air Nomads. Aang strives to end the Fire Nation's war against the other nations along with his friends Sokka, Katara, and later on Toph.
If you need more of a description, check out Avatar: The Last Airbender Opening Credits where Katara explains the situation their world is currently in. Created by Michael Dante DiMartino and Bryan Konietzko, the show is commercially successful and acclaimed by fans and critics alike. With three seasons, the show manages to balance mature themes of war, colonialism, grief, and genocide with humorous scenarios, sensational action scenes, monumental world-building, and profound character development that will leave you satisfied but still wanting more.
One of the most cosplayed characters from the series is fourteen-year-old waterbender Katara. She is described as a caring, brave heroine who, in many situations, acts as a mother figure to the gang. At a young age, Katara was forced to take on several responsibilities after the Fire Nation attacked her village and took her mother, as well as sending her father to war.
Katara quite possibly becomes the strongest waterbender by the end of the series and is bestowed with the status and title of "Waterbending Yang-style Master." No wonder everyone wants to cosplay this badass bender since she has been a role model to millions of kids since February of 2005. Without further ado, here are ten cosplayers who do Master Katara justice.
SPOILER ALERT: This article contains spoilers about characters and plot. Continue at your own risk or open a new tab and binge-watch the show on Netflix.
10. Victoriaecs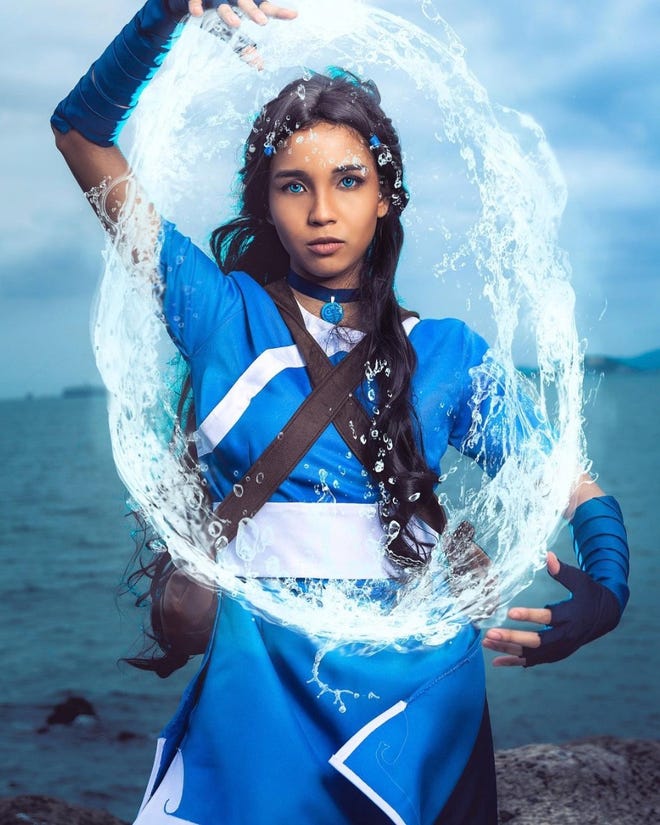 Victoriaecs is breathtaking in her portrayal of Katara. The movement displayed in this image creates a sense of flow that is expertly captured by photographer azazzelphotography. Along with the edit of the water, the calm and intent gaze from Victoriaecs is an excellent display of Katara's unrelenting power.
Katara learned her bending without a master. Her only bit of teaching came from an ancient water tribe scroll and from Aang while Master Pakku was training him. Knowing this makes her duel against Master Pakku that much more impressive. She puts up a great fight and, in turn, breaks down the sexist standards of women being only healers. They can be masters too.
9. Mayannecosplay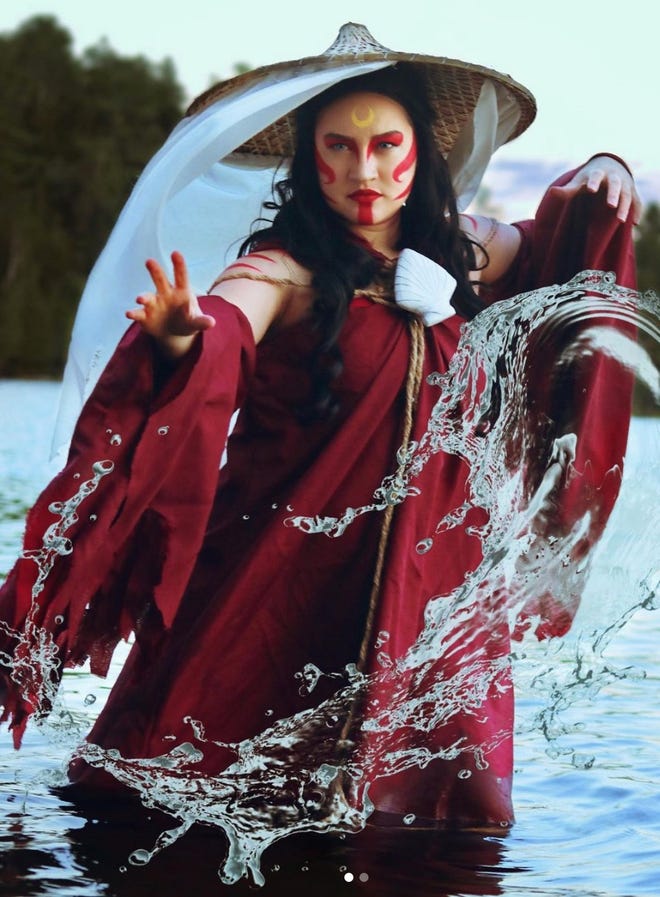 Mayannecosplay exudes tranquility and spirituality in a way that even The Painted Lady herself would admire. The Painted Lady is one of a few known individuals to transcend into the spirit world after her death because of her positive connection to spirits and her devotion to protecting nature. Mayannecosplay is an excellent example of someone who is multi-talented in the cosplay circuit. Supplementary to creating her cosplays, she also edits her images.
If you want a step-by-step primer of how to make an edit like this, click on her page and find her saved story titled "waterbending." We also want to commend Mayannecosplay on discussing topics like diversity in media and being open with her mental health.
8. Hollowqxween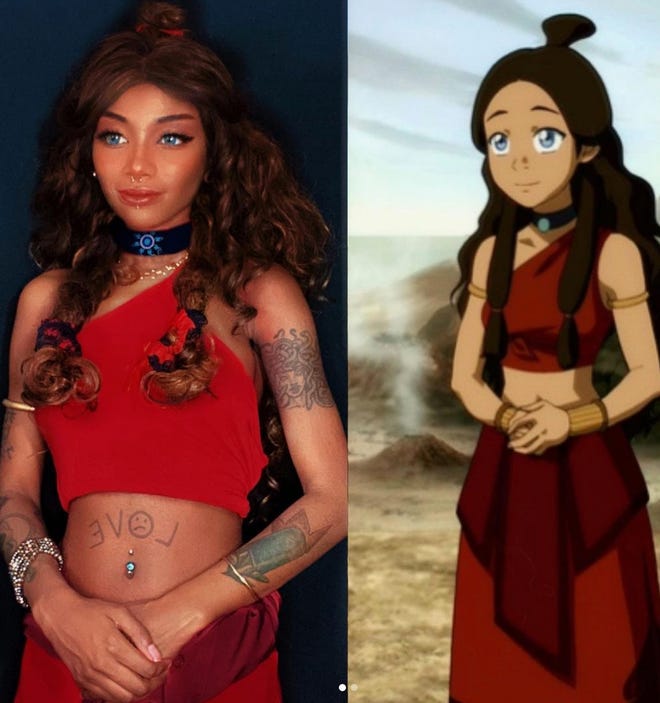 Any Hotman or Hotwoman would approve of Hollowqxween's Fire Nation cosplay of Katara. The accuracy of the hair is on point, and the addition of Hollowqxween's tattoos makes her depiction of Katara unique and fun.
Katara has had several rare experiences, including being in the presence of four different Avatars: Aang, Korra, Kyoshi, and Roku. Meeting Aang and Korra doesn't need an explanation; however, Kyoshi and Roku might. In Season 1, Episode 8 Winter Solstice: Part 2: Avatar Roku, The gang travels to Rokus island and is in a sticky situation with commander Zhao. Aang requires aid with his escape and channels Avatar Roku. Roku helps and also destroys his own temple. Katara and Sokka are spectators during this venture. In Season Two, Episode 5: Avatar Day, Katara witnesses Avatar Kyoshi when Aang transforms into her to tell the story of why she killed Chin the Great.
7. Itsjustadisgrace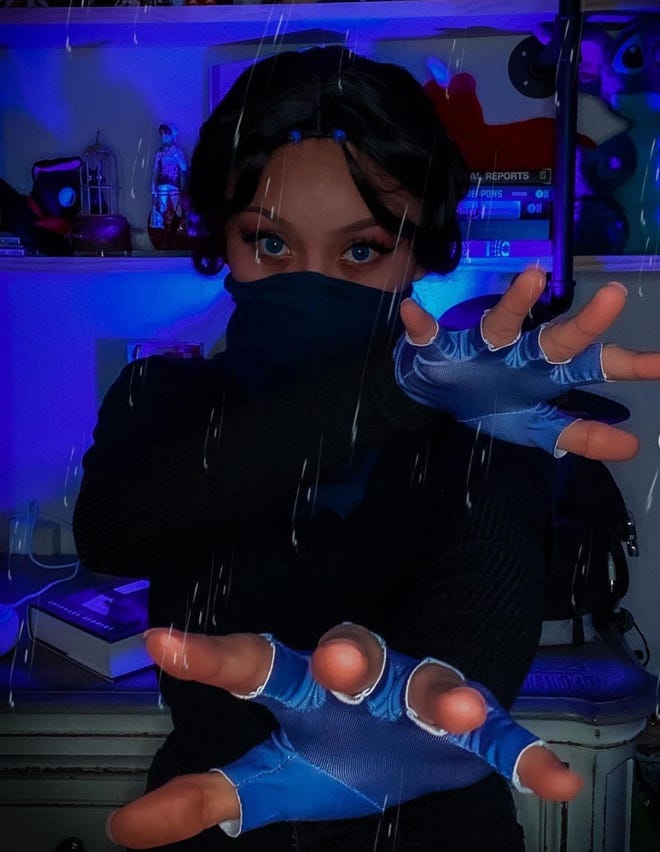 We could go on and on about complimenting this cosplay but what's more important than a look is the connection to a character. Itsjustadisgrace wrote in her Instagram caption why cosplaying Katara is so meaningful to her. She says, "I feel like with Katara, I can embrace a part of my culture- it may not be Inuit, but I wanted to express my Navajo culture with the choker, and I think it's such a sentimental addition to my cosplay. It brings me closer to the character because I always loved Katara. After all, she was indigenous and, not to mention, super strong."
Katara is powerful not only in her bending but with her emotions. One of the most significant arcs for Katara is not killing the man who took her mother away from her when she was a child. She instead resists and intends to move on instead of using her bloodbending to end the Southern Raiders' former commander, Yon Rha. Katara is one of five blood benders in the series. Later in her life, Katara helps outlaw bloodbending in Republic City.
6. Lexmayson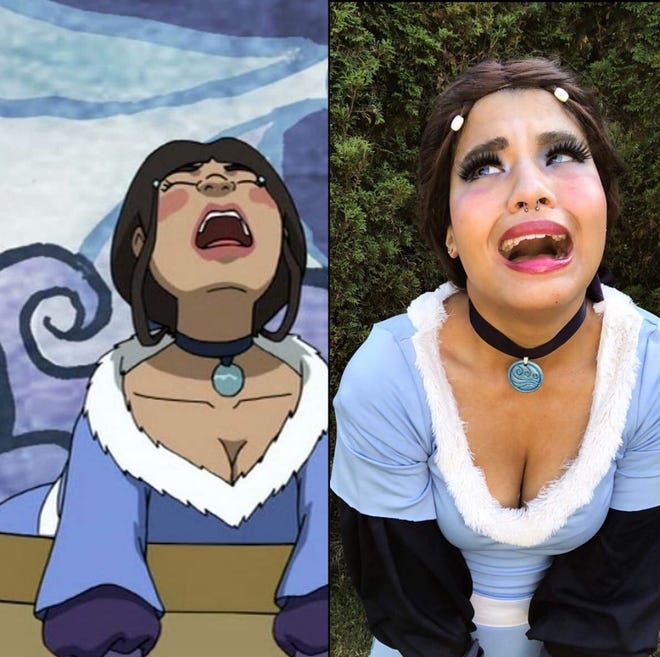 Lexmayson's cosplay of tearbender Katara is the best thing since egg custard tart (Aang's favorite food). Tearbender Katara is a caricature version of Katara brought to life with a play performed by the Ember Island Players. Lexmayson is a remarkable creator and deserves the title of a chameleon. They consistently produce new and exciting content with their skills in sewing and makeup.
Lexmayson also includes their dad in creating exemplary cosplay duos like Miles Morales and Jefferson Davis from Into The Spiderverse and Clementine and Lee from The Walking Dead video game. Here's to hoping we get Lexmayson's dad to cosplay Hakoda so we can see some awesome Hakoda and Sokka or Katara images.
5.Cosplaychoco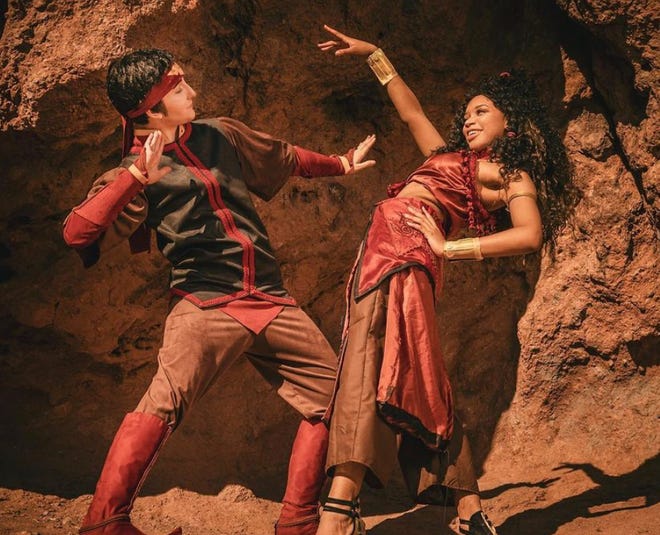 This is such a stunning adaptation of Katara's fire nation look. Cosplaychoco made this cosplay from scratch by using fabric she already owned. This isn't the first time Cosplaychoco has made a Katara cosplay. In 2018, she made her first draft of Katara's water tribe look and revamped it in 2019 with improved details that made the costume more functional and intricate.
After winning the judges award at connichiwaaz, Cosplaychoco heeded the judge's advice, improved her Katara once again, and won best in Novice in the Taiyou Con masquerade. Katara and Aang's dance during episode 2, The Headband, is based on Ba Gua Zhang and Northern Shaolin; both are forms of martial arts. Katara and Aang incorporate "bending" moves into their dance as well.
Plus, this image from Cosplaychoco and kaykay.ninja as Katara and Aang is pure perfection. #Kataang
4. Yasminjkassim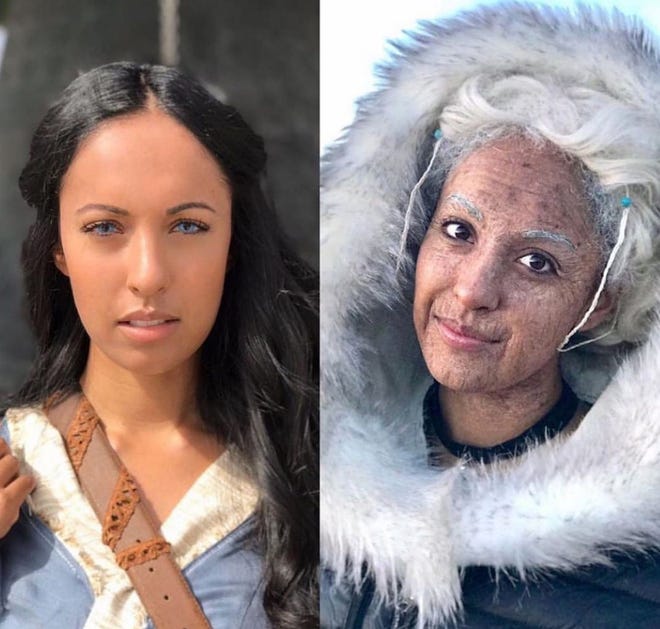 Both young and old Katara are strikingly beautiful. Yasminjkassim is an Australian actress, writer, singer, and stand-up comedian. Her cosplay of Katara is from when she was cast in the short film: AVATAR THE LAST AIRBENDER: Zuko vs. Azula directed by Josh Mabi. The short film is based on the Agni Kai between Azula and Zuko at the end of season three. Creator Nik Shaw is the founder of the production company RE: ANIME, where they recreate anime shows into live-action anime short films. Many fans agree that his short films are superior to most major studio remakes.
Those big studios misrepresent essential anime values and characters, where Nik Shaw stays true to its authenticity and culture. Aging up the character Katara is brought to you by makeup artist Kao Minamoto who expertly crafted age spots and wrinkles and took into consideration pigment melanin, which is the determining factor of eye color change as you grow older.
3. Cutiepiesensei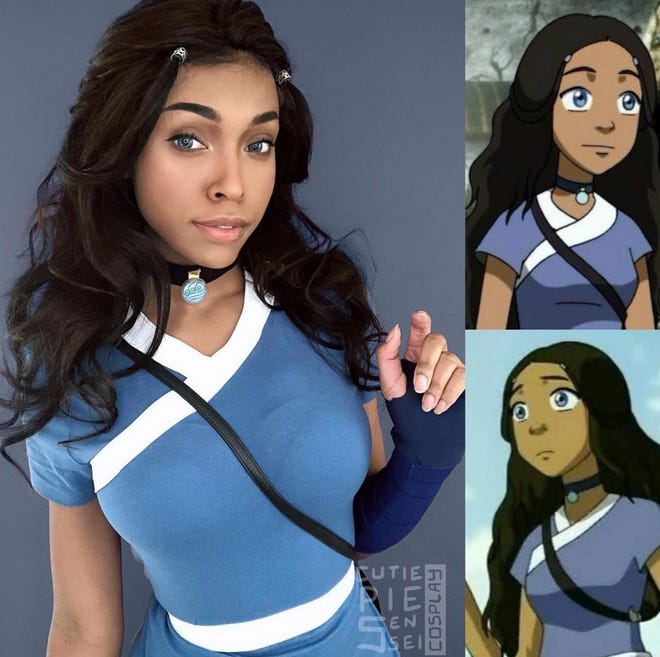 Cutiepiesensei is truly our senpai. Her side by side character panels are always on point. This cosplay, in particular, is from the comic continuation of the series, The Search, a ten out of ten recommendation to read. It takes place after the events of the 100-year war and is a prequel to Legend of Korra. The screengrabs Cutiepiesensei used in her photo show a mixture of the fire nation hairstyle with Katara's water tribe clothes giving us the best of both worlds.
Cutiepiesensei was first exposed to cosplay by her husband, who took her to a con during their first year of dating. Since then, she has delved into the world of cosplay, serving up looks from Black Panther, Wonder Woman, and League of Legends. She's received recognition for her various cosplays by Marvel, Syfy Wire, and Disney Plus.
Cutiepiesensei uses her creative outlet to promote positivity and encourage other cosplayers to dress as whoever they want regardless of their race or gender.
2. NimbleNoor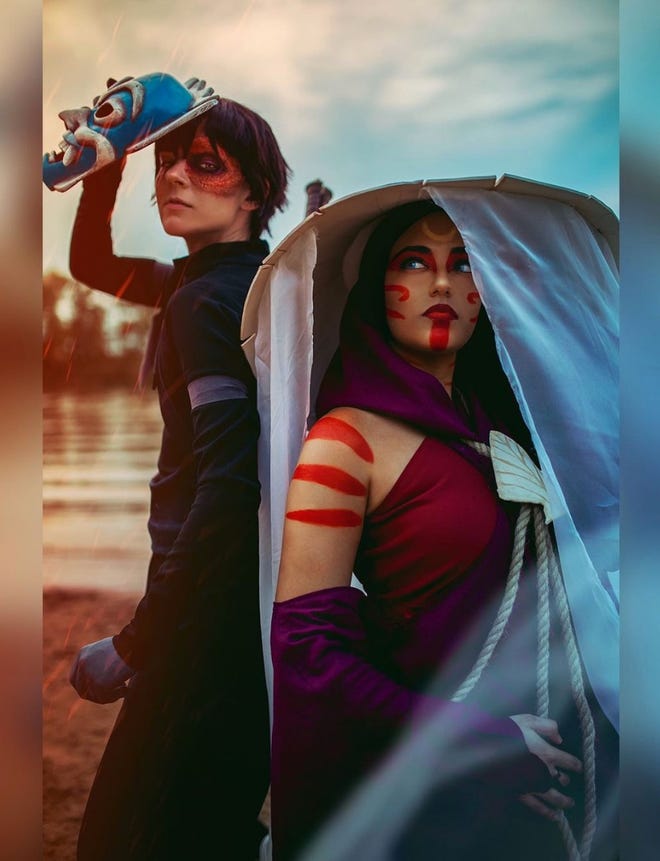 Imagine if the painted lady and the blue spirit worked together, oh wait, you don't have to because NimbleNoor and Siffy from the TheSistersMischief did it for us. Katara and Zuko are iconic characters, and the best thing about the two, regardless of their bending, is their willingness to do good.
NimbleNoor makes a majority of their costumes and is currently working on a historically accurate Princess Yue cosplay. At the end of episode three, in season three, Katara finds herself in the presence of The Painted Lady and is thanked for helping clean the Jang Hui River. The Painted Lady is a River Spirit and may have some relation to Princess Yue since she is the Moon Spirit, and both are connected to water.
1. Leiracosplays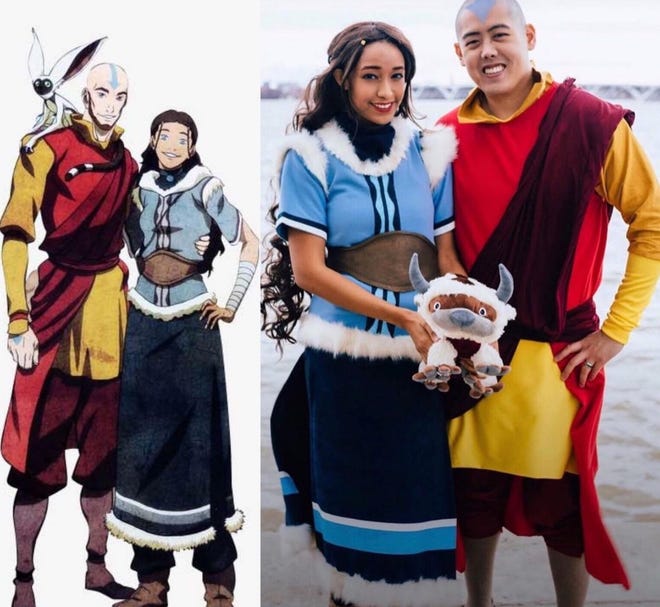 Leiracosplays and her husband are taking us through the cave of two lovers with this outstanding couple's cosplay. It just makes us want to sing Secret Tunnel on repeat. In all seriousness, this is the most adorable pairing ever. The fact that Leiracosplays convinced her husband to shave his head to transform into Aang and that this entire look is inspired from a photo we see in Legend of Korra shows real dedication. Speaking of commitment, Leiracosplays has even dressed as Pema, Tenzin's wife, which is very timely considering the cosplayer is pregnant.
The list of characters Leiracosplays has portrayed from the series goes on and on, but this one remains our favorite. According to Avatar creators Michael Dante DiMartino and Bryan Konietzko, Katara is thought to be the deuteragonist of the series and the narrator who is recounting the events. Huge bonus: here is how you can purchase your own Appa Plush, as seen in Leiracosplays' image.