Watch the Avatar: The Last Airbender reunion panel with Zach Tyler Eisen, Dante Basco, and Jack De Sena from C2E2 2023
Zach Eisen, Dante Basco, and Jack De Sena reunite to talk Avatar: The Last Airbender at C2E2 2023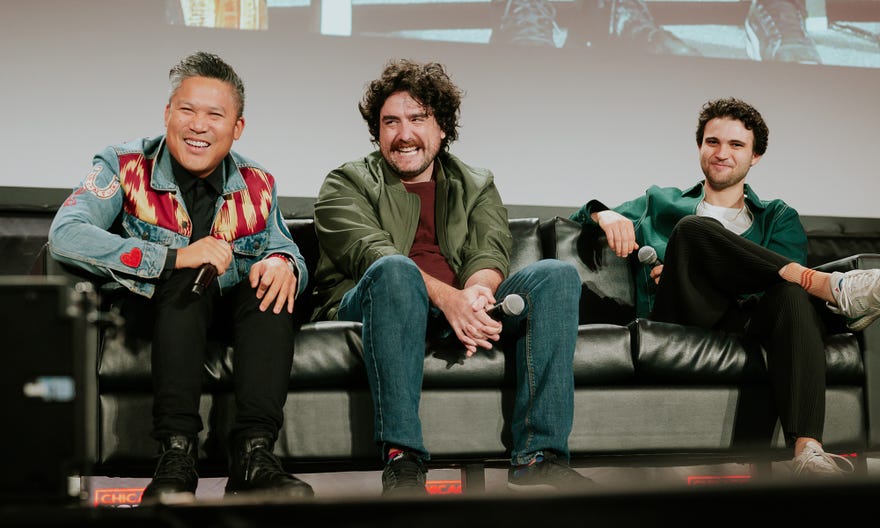 This crew hasn't been toether since Avatar: The Last Airbender ended recording in 2008, but 15 years later they reunited - Zach Tyler Eisen (Aang), Dante Basco (Zuko), and Jack De Sena (Sokka) - on the main stage at C2E2 2023.
With the upcoming Avatar: The Last Airbender movies - both in live-action and animation - there's a lot to look forward to in the ATLA franchise. For recommendations on what's coming and what you can watch and read while you wait, check out our Avatar: The Last Airbender recommendations.
Popverse is livestreaming this and many other panels from C2E2 2023. While some of these will be free-to-public, many will be for C2E2 digital ticket-holders and Popverse members (at Fan level or higher). The C2E2 digital ticket gives you access to all of the filmed panels from C2E2 2023, as well as access to long-form interviews and original reporting from the Popverse editorial team. The Popverse annual membership does that for the entire year, and would include live video panels from the upcoming New York Comic Con.
Watch the Avatar: The Last Airbender reunion panel with Zach Tyler Eisen, Dante Basco, and Jack De Sena live from the Chicago Comic & Entertainment Expo 2023 here:
And if you have a ReedPop ID member, you can comment on this post now through March 29, 2023 with a fan question you want asked and we'll try to include that question in the panel. If you don't have a ReedPop ID, don't worry... it's free! Sign-up for a ReedPop ID here.
If you've enjoyed this coverage, please give Popverse a shoutout by tagging us @popversesays on Twitter, Instagram, or Facebook, or linking to us at www.thepopverse.com.
Having trouble viewing this video? Read our streaming/VOD FAQ to find the answers you need.
Get fully immersed in C2E2 2023 with Popverse's coverage of the event. From filmed panels to backstage interviews, on-the-floor coverage, news, cosplay galleries, and more - we're tracking it all in Popverse's Chicago Comic & Entertainment Expo 2023 round-up.