Bagel, pizza, or cheesecake: David Tennant addresses New York's most important question
At his spotlight panel at NYCC, David Tennant learned about the food-transforming power of New York's water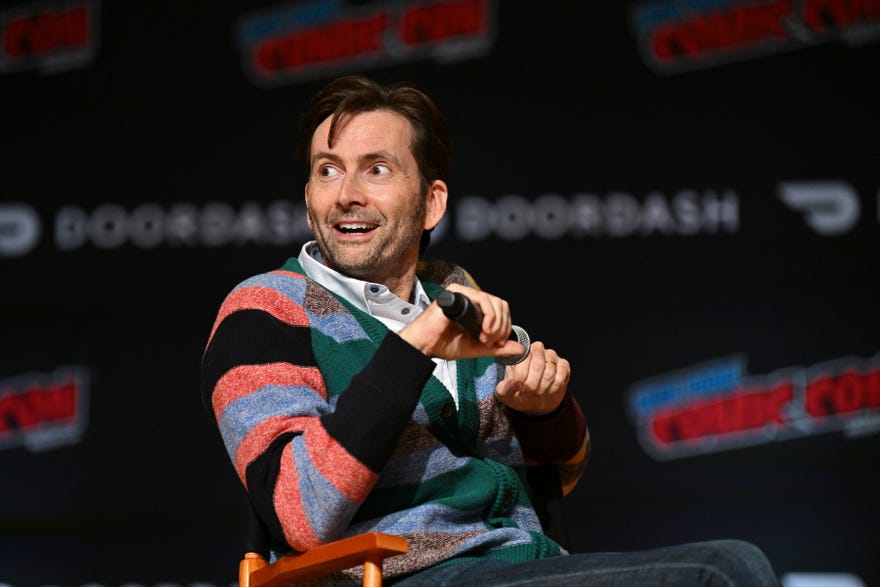 During a spotlight panel at New York Comic Con 2023 in which David Tennant and Popverse deputy editor Tiffany Babb had a wide-ranging conversation about his career and life, Babb posed to Tennant one of New York City's most important and vexing questions: Bagel, pizza, or cheesecake?
Hearing crowd reactions at the question, Tennant expressed hesitation about answering. "A real ripple of tension just went through the crowd," he told Babb. "I feel like I could get this very badly wrong." He also expressed a certain bafflement about the significance of say, New York thin crust pizza versus thin crust pizza elsewhere — a comment that provoked shouts about "the water" from throughout the massive crowd gathered to see him. "It's water?" he asked, still baffled. "What, in the dough?"
Upon hearing yes, in fact the New York water is what makes our food so good, Tennant finally revealed his answer: "I'm going to go with bagel," he said, to huge cheers from the audience.
He went on to describe his ideal bagel: "I'd like some kind of pastrami cheesy thing," he said. "Any kind of sandwich I like loaded up with stuff. I like it so it's really difficult to eat. I like pickles falling out of your mouth, juice dripping down your chin. I like there to be too much in it. Overstuffed is what I would have."
Applauded for his choice, Tennant noted, "It's the first time I've been applauded for saying 'overstuffed.' Thank you, New York."
---
This was, of course, Tiffany's second sit-down with David Tennant in front of thousands of people; let's revisit her first, from Emerald City Comic Con earlier this year.