Banned Book Spotlight: The Magic Fish shows how people communicate when they feel like they can't
Trung Le Nguyen's The Magic Fish weaves fairy tales into a story about a young man struggling to come out to his parents
Telling fairy tales is an age old tradition that permeates all cultures. We learn (and pass on) important lessons through these tales, and communicate bits of our history and culture from generation to generation. In Trung Le Nguyen's The Magic Fish, fairy tales take center stage as a boy named Tiến can't quite figure out how to come out to his parents, who are struggling to learn English, and he doesn't know the right words in Vietnamese. Instead, Tiến and his mother read a book of fairy tales together, beautiful and haunting stories about mermaids and princesses. And through those stories, they find images of themselves and a way to say to each other what they need to say.
The Magic Fish is an extraordinary work of literature, layered and changing meaning each time you read it. For those who haven't faced what Tiến has faced, the book serves as a peek into a different life and a different struggle. The story also serves a balm for those who have felt the way Tiến or his mother does, and that balm comes from Nguyen's specialized depiction of these stories. In his closing notes to the graphic novel, Nguyen writes, "As compassionate readers, we sometimes intellectualize difficult human experiences to keep them at arms length… In this way, immigrants seem to take on the flatness of a fairy tale archetypes, as interchangeable pieces in recurring stories of upheaval and diaspora. … All the quiet yearnings, the ambient heartaches, and the thousand other little indignities of feeling lost in your own tongue are overlooked in our best-intentioned efforts to be broad and comprehensive."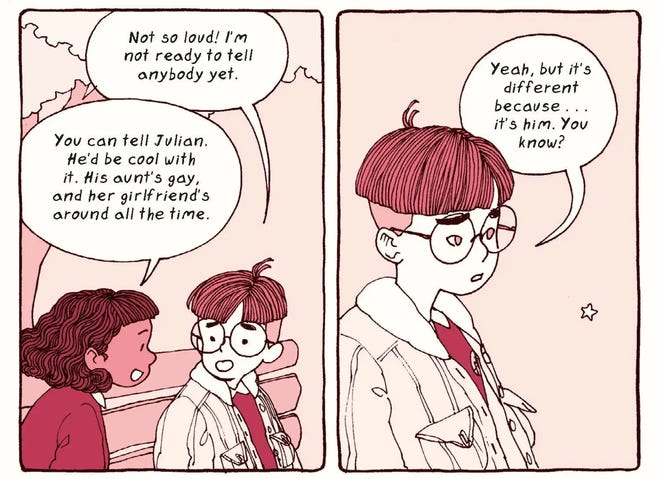 The story told in The Magic Fish is very much like my own family story. As someone who grew up in an immigrant household with a foot in four countries over three generations, there's a sense of fracturing, of fragmenting, and the struggle to connect with each other and our own selves from the past. Traditional stories are a wonderful lens to look at our lives through, and Nguyen wields them with power as he uses familiar (and then sometimes different) stories to subvert expectation and dive deep into the reality that exists both inside and outside of the fairytales he tells in The Magic Fish.
The Magic Fish is published by Random House Graphic and can be purchased on Amazon, Barnes & Noble, and Bookshop.org.
---