Banned Book Spotlight: Go With the Flow is a graphic novel that will make girls feel less alone
Go With the Flow by Karen Schneemann and Lily Williams talks about periods in a way almost no books do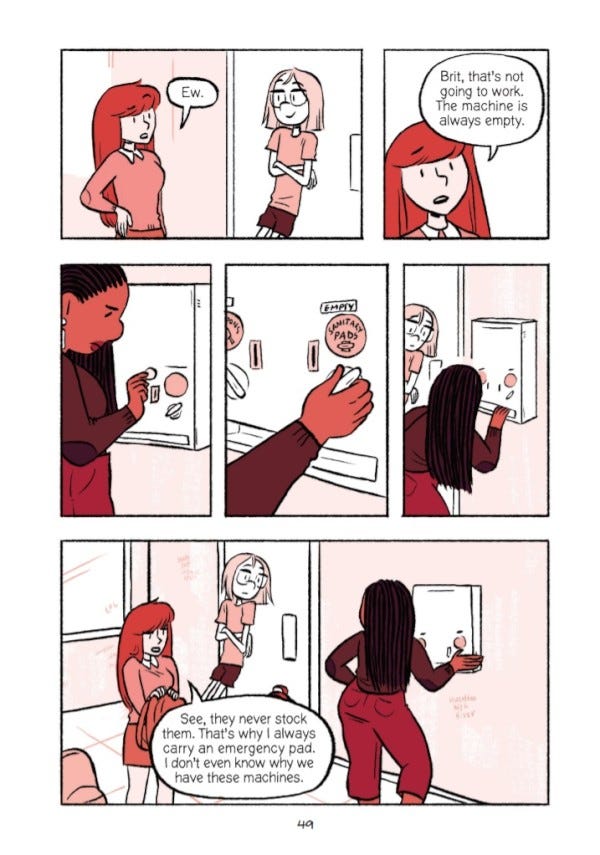 The weird thing about "taboo" is that you usually don't even notice it until it's broken and smacks you right in the face. That's what happened when I first read Go With The Flow. Not only did the Karen Schneemann and Lily Williams' graphic novel talk openly about the taboo around, and injustices regarding, period health and access to products, the graphic novel actually depicted period blood alongside the day-to-day impact that periods have on people who menstruate.
Go With The Flow is the perfect comic for anyone who has ever had to tie a sweatshirt around their hips to conceal a stain, make a makeshift pad out of toilet paper, or ask a stranger for menstrual products. I can also imagine that it would be eye opening for those who haven't had these experiences either. The book treats periods seriously, but also as a natural part of life of many people's lives.
Kids often learn about periods in hushed tones, through metaphor and sanitized language. Because periods are talked around instead of about, it's easy for people to feel shame around their periods. Not only that, sometimes they don't even learn what they need to know at all - and that can be scary. Go With the Flow breaks this pattern. It's a frank friend who is ready to talk about the stuff no one else talks about, and there's nothing more powerful than that.
When Go With The Flow was banned in Keller, Texas in 2022, the book's co-author and illustrator Lily Williams shared her thoughts about the book's banning and why the book's mission to start conversations is so important in a blog post: "It is the job of parents and educators to answer questions for kids so that they can learn. It is our duty as adults to provide safe spaces for kids to explore these complicated ideas without judgement. When we do not provide stories like that of Go With The Flow or any of the other amazing books on the NBC Texas Banned Books list, we limit readers ability to be seen, heard, and build empathy."
Go With The Flow is created by Karen Schneemann and Lily Williams and published by Macmillan.
---
Why banned books are the books your children should be reading .