Barbie: The cosplayers who celebrate Mattel's iconic doll-turned-movie-star
These Barbie cosplayers know the doll's impeccable fashion choices!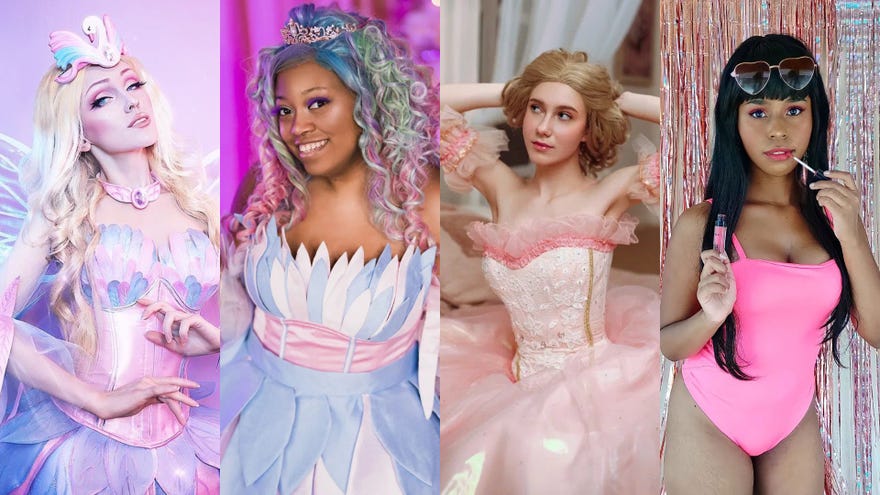 If there is one thing we can all agree on it's that Barbie is that girl. From her iconic dream house to her impeccable fashion sense, fans around the world have been enamored with this doll since March 9, 1959 when the icon was first conceived. With a hit live-action film in theaters now, it's high time (overdue even) to celebrate all that is Barbie from her movies to her holiday couture we're taking a look at some cosplayers that have proven life in plastic is indeed fantastic.
The One That Started It All
Every iconic toy has a beginning and this classic black and white swimsuit was just that for Barbie. Simple, but a moment that set this doll up for a lifetime of adoration.
At The Lake
While the 2000s gave the world low rise jeans, it also delivered major Barbie content in the way of movies like Barbie of Swan Lake. Fans now had another way to take on Barbie's looks and have flocked to the dreamy ways of Swan Lake for almost 20 years now.
Holiday Must-Have
If there was one thing that made my day in the '90s it was walking down the Barbie aisle at Toys R' Us and breathing heavily on the glass case that housed all the ones I could never afford, Holiday Barbie included. Barbie never failed to impress around that time of year, and apparently neither do the cosplayers who take on those one-of-a-kind looks like this one from 1994.
Strike a Pose
Simple yet effective because we all know just who this cosplayer is imitating with that pose in pink!
Princess Charm School Realness
If you've yet to look up the backstory to the Barbie character Blair Willows, do so now. It's a wild ride set in pinks, purples, and blue.
Rock Out!
Some may argue that the true renaissance of Barbie was in the late '80s and early '90s. She was truly doing the most during that time, like delivering hair, hair, hair in rocker looks like this one.
Popping Pauper
If there is a story we've seen done time and time again, it's this one inspired by Mark Twain's The Prince and the Pauper. You take a rich person and a poor person who look the same and have them switch places, but Barbie fans will argue her version is the best.
Holly Jolly Time
If you wanted to be the standout at your next holiday party, this 1995 Holiday Barbie look would make it so.
Fun in the Sun
Once it became apparent that Barbie and pink would forever coincide together for all eternity, she just had to have a suit fit for the summer sun.
Sugar-Plum Goodness
Barbie wasn't going to do a slew of movies and not to 'The Nutcracker,' and her fans weren't going to let the looks from this one go unnoticed. So many have done cosplays based on this Barbie movie, and this is just one of many that are breathtaking.
Vacation Babes
We're not sure if Barbie and Ken are still on the outs, but we love seeing them obviously enjoying one another's company here.
Biker Barbie
There is 100% a Harley Davidson-inspired Barbie out there, but this look celebrates her more environmentally conscious mode of transportation.
More Lake Please
We told you Barbie fans go hard for her rendition of Swan Lake, and we're doing the same because just one look from this movie was not enough.
Elegant Holidays
This Holiday Barbie look from '96 was beyond decadent and we're beyond impressed with how well this cosplayer executed it.
Simply Put
Not all of Barbie's looks are elaborate. Some of the best ones come through in everyday fashion that she always manages to make look pristine like this cosplayer working it.
Tell Us a (Toy) Story
When Toy Story dropped in '95 everyone wondered where Barbie was. Mattel swiftly got on board after seeing the success of the first, and Barbie was then a huge part of the sequel, and fans got a huge dose of Ken in the third installment. So yeah, Barbie and Ken's looks from the animated fan-favorite are aplenty but we couldn't help but fall head over heels for this fun, campy pair.
Serving Poolside
This cosplayer combined Barbie's initial look with a moment at the pool and we're living for it.
Fairy Tales
Barbie Mariposa would be proud to see this cosplayer take on her winged look.
Let It Snow
With Frozen dropping the same year as this Holiday Barbie, it's hard to say who inspired who but all we know is this cosplayer truly captured the wonders of winter.
Barbie Girl
All we can say is, "Imagination, life is your creation."