Barbie skates: Now available for the most stylish of Barbie fans
You too, can skate like Barbie, with a pair of licensed Impala x Barbie rollerblades
There are few movie releases coming out this summer that are as exciting as the Margot Robbie-led, Greta Gerwig-directed Barbie movie. The posters and trailers have been launched to great acclaim and meme-ification, and now, we're starting to get the merch.
Though the Barbie trailer just dropped recently, it's already become a bit of a cultural influence. Who can forget the already iconic outfits that Margot Robbie as Barbie and Ryan Gosling as Ken wear as they skate down the sidewalk in the real world? The matching neon pink outfits and highlighter yellow roller blades stand-out so much that the regular citizens of the Venice, California (which usually has its own share of wild outfits) can't take their eyes away from the skating pair.
But those Barbie skates aren't just for Barbie and Ken. In fact, they're not just for the movies either. Now, you can join in on the fun too with your very own Imapala x Barbie Lightspeed Inline Skates, available for $189.50 at Bloomingdales.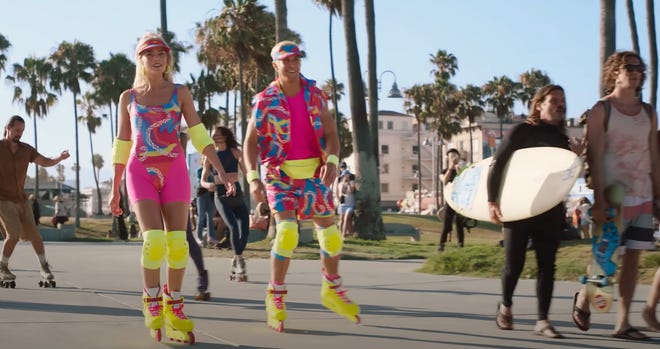 Bloomingdales' Barbie collection includes other fun wearables like platform sneakers and plenty of other pastel pink and blue Barbie-esque outfits (though none quite as exciting as the skating getup). And if clothes aren't enough Barbie for your shopping cart, you can also add a Barbie Dream House on your way to checkout.
---
Barbie hits theaters on July 21st. Buy tickets on Fandango or Atom Tickets.
---
Will James Gunn's Superman: Legacy casting buck the oddly fascinating Superman lead actor trend of the last 17 years?