Batfamily: Which Robin is the true Bi icon?
Tim Drake may be the only officially "out" member of the Bat-Family, but that doesn't mean he's the family's only bi-con
In 2021, after decades of fan speculation regarding Tim Drake's sexuality, it was confirmed that the third Robin is canonically bisexual. Yet for many queer fans of Batman and the wider Bat-Family, the jury is still out on the various other Robins that have fought crime by The Dark Knight's side. Are any of the Robins as straight as DC Comics would have us believe?
Not if you ask the speakers of "Can't Spell Robin without Bi," a lively and humorous panel held at this year's Flamecon. The panel, which con-goers were warned would be "explicit" for ages 18 and up, was enthusiastically moderated by Chris Ceary of the Gotham City Outsiders podcast, alongside co-hosts Bronwyn Kelly-Seigh and David R. Slayton, both of whom served as replacements for TJ Finecay, Ceary's podcasting co-host who was unable to attend. The guests of the panel were writer/artist SW Sondheimer, as well as writers Ben Kahn (Renegade Rule), and Josh Trujillo (Blue Beetle: Graduation Day).
True to the title of the panel, the idea that every character who has ever held the "Robin" name is bisexual was treated as a foregone conclusion. Instead, each panelist was given the opportunity to explain why they thought their favorite Robin was the true "Bi-Con" of the Bat-Family. Each panelist was given five minutes to make their case for their Robin. So let's take a look at those arguments, starting with Ben Kahn speaking on behalf of the Robin who started it all before growing into his current Nightwing identity, Dick Grayson. He only used one minute, though, in a galvanizing ode to many a DC fan's favorite male sex symbol.
Dick Grayson: Bi-con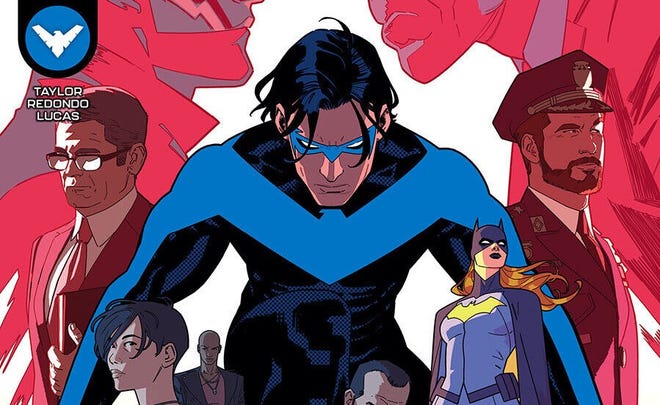 "You can't have a coming out story with Dick Grayson," Kahn said as fans cheered them on. "Dick Grayson doesn't come out, he just writes a note saying 'you're welcome'. This level of sexiness, and that ass, can't be constrained to a straight man… Dick Grayson is the multiversal avatar of all things sexy, and that means he smashes anyone who comes his way and can charm him… or that he can charm, which is anyone."
Much discussion was had about Dick's dubious costumes over the years, famed derriere (there have been a few comics where other characters recognize him by his buttocks alone), as well as his various long-term romances. "You tell me that Nightwing and Starfire isn't the most bi-for-bi couple in DC Comics."
Slayton added: "that couple saw you from across the room, and they're very interested."
Jason Todd: Bi-con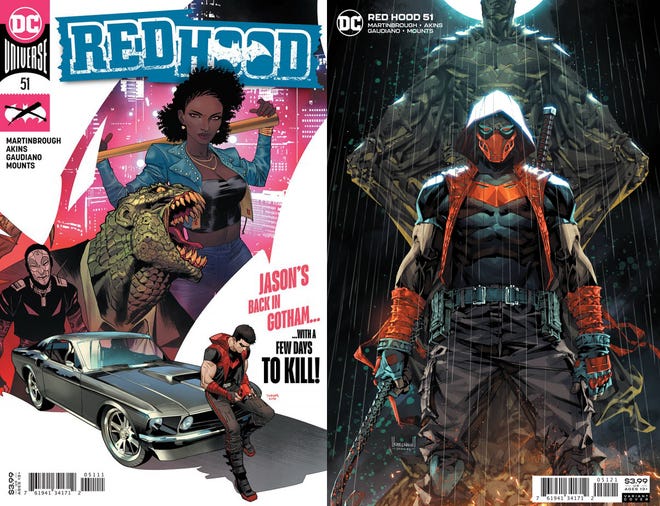 Next up was SW Sondheimer, who was tasked with explaining how the second Robin, now known as antihero The Red Hood, was the true bi-con. Once again, the crowd didn't take much convincing based on their consistent hooting and hollering.
"We've discussed Dick Grayson's ass, but have you considered Jason Todd's thighs?" Sondheimer began. "Observe the man not being able to sit properly in a chair. Observe also the horrendous brown jacket that screams 'nonbinary.' You know, he probably would be very happy being Dick and Kori's third. He could also be Roy and Kori's third… he's done a lot of things for Roy that only a partner or spouse would do."
Apparently, Jason's imagined pairings with other superhero allies is a popular pastime among his fans. "If you happen to look on AO3 to see how many fanfictions there are--there are more than 6000--of Jason alone, and an additional 2000 that involve Cori."
"Let's consider too that we all love being gay and doing crime," Sondheimer continued. "Putting aside that all the Robins are technically vigilantes, which I suppose is technically a crime, who among them has done other crimes, like carrying unregistered firearms, murdering people even if they usually deserve it, and, say, become a crime lord?"
"So sexy!" Ceary interjected.
"Extort people," Sondheimer added. "Sell weapons to terrorists, murder pedophiles… he's never been in a lasting relationship with any women, but he is really big on the respect-for-women train."
Stephanie Brown: Bi-con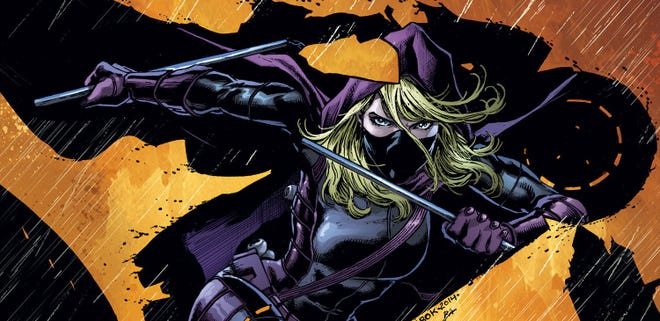 After an extended discussion of the various Robin's apparent preference for redheads, Josh Trujillo showed his support for a Robin who only held the title for a short time before adopting the Spoiler and Batgirl identities, Stephanie Brown.
"Stephanie and Cass," Trujillo said to cheers. "I mean, the one true pair of one true pairs, right? But the main things are like, her dad was the Cluemaster…"
"Sounds very gay," Ceary joked.
"Her weird romance with Tim Drake is very telling as well," he continued. "When your boyfriend's trying to clone his best friend, something's up! That's unusual. Her bisexual confusion over 'am I Spoiler? Or am I Robin? Or am I Batgirl?' She could do it all, but not for very long. And the classic Spoiler costume, what I love about it is that it's kind of intentionally sexless, right? Like she's willing to explore any direction you've got."
Tim Drake: Bi-con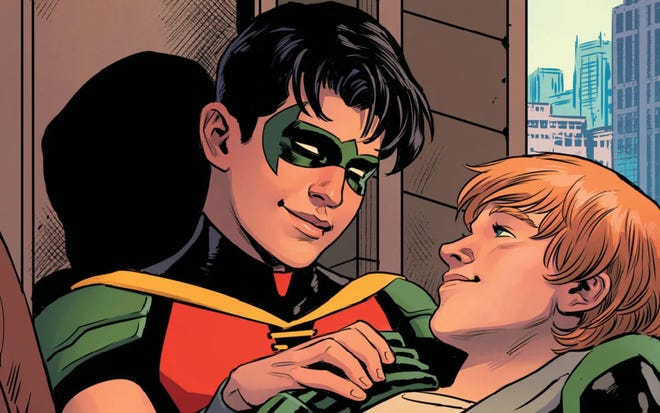 Following an uproarious discussion about Steph's relationship with fellow Batgirl Cassandra Cain, up next the third Robin, and the only one canonically acknowledged as bisexual, Tim Drake. In Finecay's absence, Seigh and Slayton argued on his behalf from notes he left them.
"So I know this is about which Robin is the bi icon, but it was my understanding that Robin is the bi icon just by the fact of being Robin," Seigh began. "But obviously it's Tim, and I can sum it up in one word: Con." (a.k.a. Connor Kent, better known as Superboy).
"So Tim is obviously canonically bi, which puts him in that camp" Slayton said. "We've seen all of his relationships, but when he came out, he said that something clicked. That felt so true to the character. Tim is my Robin, so I have a deep affection for him. And then when you talk about bonding over family trauma, again, 'My Two Dads,' When we think about the Red Robin series, and the girlfriend who's name I'm forgetting… Tim gets it all. He runs Wayne Enterprises, he's in therapy… he's a girlboss!"
"Tim may be bi, but you can't be a bi-con if you're so baby that holding hands counts as third base," Kahn argued to many laughs. Many laughs were also had at the expense of Bernard, Tim's first boyfriend. The consensus was that he's a boring character and a bit of a dork, but it's good for Tim to have a "starter boyfriend."
Damian Wayne: Bi-con

Finally, it was up to Ceary to make a case for the newest, youngest, and smallest Robin, and the biological son of Bruce Wayne himself, Damian Wayne. Since Damian is currently just a young teen, the conversation turned less risque, but Ceary made a convincing argument for why Damian is asexual and biromantic.
"He is bi, but not bisexual. He is asexual and biromantic… because there is no one in the Bat Family who realized as young as this kid that he was in love with Jon Kent. He was eight fucking years old!"
"He is the ace king of my heart, taking after his asexual father," they continued. "Because let's be honest: Batman loves justice, not women…Damian is amazing, and we all know he's a bicon because we all need to see biromantics, not just bisexuals! We don't get that kind of representation as ace people. We get ace-aro, which is good and important and we love it, but we don't get to see biromantics! We don't get to see people who are romantic and asexual, and he is being that for us. Look at this boy, he is eating cake! What is more asexual than fucking cake!"
In any case, the unspoken lesson of the panel seemed to be that while the Robins may express their sexuality in different ways, they're all equally deserving of our love… even if Tim can do better than Bernard.
---
Kevin Conroy was playing Batman, not Bruce Wayne