Inside the wedding of Batman and Catwoman
Batman and Catwoman have finally tied the knot. Here's how Gotham City's favorite couple has been heading this way for a long time
After years of will-they/won't-they hype, including the groom being left at the altar by the bride in a previous attempt at matrimony, Batman and Catwoman are finally married. The road to wedded bliss was a particularly arduous one, including plenty of deception, betrayal, and a dastardly plot by Bane to break the Dark Knight and take over Gotham City. However, love does indeed conquer all and in Batman/Catwoman #12, written by Tom King, illustrated by Clay Mann, colored by Tomeu Morey, and lettered by Clayton Cowles, Bruce Wayne and Selina Kyle finally exchange vows to become husband and wife.
Of course, a wedding certainly is only just the beginning of a marriage and Batman/Catwoman has offered readers a glimpse into the final days of Bruce and Selina's life together and what Selina does after dearly beloved passes away. Here's how Batman and Selina tied the knot, the final fate of their marriage, and the DC Universe's romantic history between the two fan-favorite characters.
The wedding of Bruce Wayne and Selina Kyle
Batman/Catwoman serves as a continuation of Tom King's run on the main Batman ongoing comic series that relaunched in 2016, with King writing issues 1-85 along with several specials and annuals during his four-year tenure. The emotional touchstone of King's overarching story was the rekindled romance between Batman and Catwoman, with Bruce proposing to Selina in 2017's Batman #25, illustrated by David Finch, and Selina accepting the proposal several months later in Batman #34, illustrated by Mikel Janin. In a nod to their shared history, the engagement ring features the diamond Catwoman tried to steal when she first met Batman at the start of her costumed career.
Batman/Catwoman has Bruce and Selina grow closer together while the 12-issue maxi-series unfolds across three distinctly different timelines: Years in the relative past during Batman's earliest encounters with Catwoman and the Joker, during present-day as Batman and Catwoman confront the Joker together, and decades into the future after Bruce succumbs to cancer and Selina navigates her estranged relationship with their crimefighting adult daughter Helena Wayne.
In the present-day timeline, Bruce and Selina reaffirm their loving commitment to one another and decide to get married in a cheap chapel with a novelty ceremony officiated by a man wearing an Adam West Batman costume. Their sole witnesses are Clark Kent and Lois Lane, with the couple arriving in Metropolis in a super-speed flash immediately after they're notified by Bruce.
Batman and Catwoman's rocky road to matrimony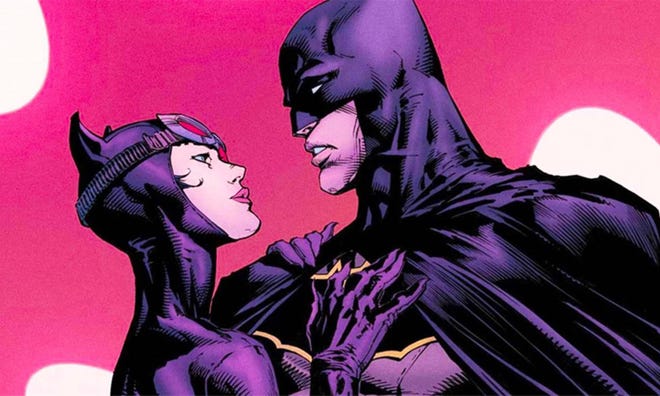 Bruce and Selina's path to exchange vows was hardly a straightforward one after their engagement, with supervillains emerging from the woodwork as Bane escalated his plans to take over Gotham. The Joker became particularly incensed when he learned about the impending nuptials, targeting weddings throughout the city to send a message to his longtime nemesis that he was enraged he wasn't invited to Batman and Catwoman's ceremony.
Catwoman ultimately decided to drop out of the wedding on the day of the event in 2018's Batman #50, illustrated by Janin, leaving Bruce a handwritten note claiming marriage would cause him to leave his inner darkness behind, effectively ending his important role as Batman. This was revealed to have been orchestrated by Bane, with Selina's best friend Holly Robinson working for the masked supervillain as part of his plan to definitively break the Batman.
After a harrowing encounter with the Flashpoint Batman, Bruce decides to spend some time outside of town where Selina helps him prepare for his final showdown with Bane for the fate of Gotham. The two rekindle their romance in 2019's Batman #78, illustrated by Mann, with the couple recognizing that Batman isn't fueled by pain and darkness but is motivated by the fight against it. The pair's romance continued in Batman/Catwoman, shaken by Catwoman's history with the Joker resurfacing as the Clown Prince of Crime squared off against the lethal antihero the Phantasm.
The Bat/Cat marriage's place in the DC Universe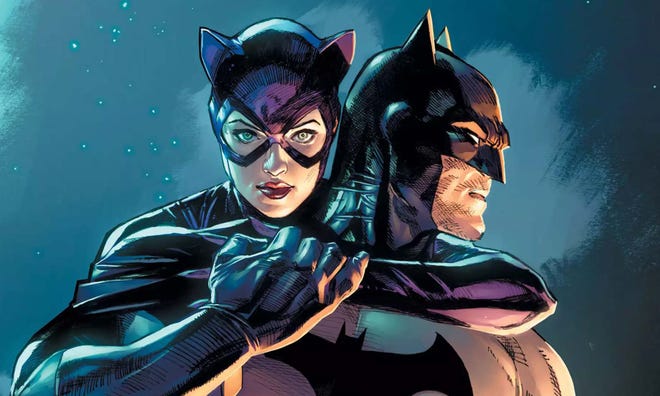 While Batman/Catwoman serves as a continuation of King's long-running Batman story, it is unclear if the maxi-series is considered canonical with the main DCU. James Tynion IV, who succeeded King as the writer on the Batman ongoing series, indicated that Batman/Catwoman was moving "outside the bounds of continuity." To underscore this point, the maxi-series was released through DC Black Label, DC's publishing imprint oriented towards mature readers, with its titles nebulously separated from the main DCU canon. For his part, King saw Batman/Catwoman as both a "culmination" and "standalone series" that allowed him to more ambitiously create a love story between the two characters.
Comparatively, in the main DCU, Bruce and Selina have decided to take a break on their relationship and amicably parted ways for the time being. Batman has since defended Gotham from a number of supervillains before resuming his work with his global crimefighting effort Batman Inc. while Catwoman has set up shop in her own part of town, continuing to toe the moral gray line as a cat burglar with a strong moral compass.
The romantic history of Bruce and Selina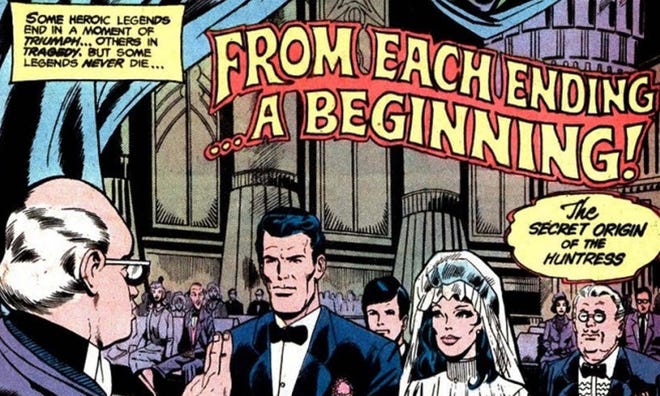 A marriage between Bruce and Selina has previously been explored in comic books prior to the 1985 crossover event Crisis on Infinite Earths. The Batman and Catwoman of Earth-2, an alternate universe where many of the DC heroes introduced in the '30s and '40s resided, similarly fell in love and were married after Selina reformed from her original criminal aspirations. The two characters had a daughter named Helena Wayne, with Selina's history on Earth-2 explored in 1983's The Brave and the Bold #197 by Alan Brennert and Joe Staton.
This marriage on Earth-2 would come to an end in a short story in 1977's DC Super-Stars #17 by Paul Levitz, Joe Staton, and Bob Layton. The story saw Silky Cernak, one of Catwoman's old criminal associates, resurface and blackmail Selina into donning her Catwoman persona once again. Catwoman was gunned down by one of Cernak's goons, dying in Batman's arms while declaring her love for him one last time. This tragedy inspired Helena to become Earth-2's Huntress, proving that costumed crimefighting ran in the family.
For all the loves in Batman's lives, the Dark Knight keeps coming back to Catwoman as the woman who has truly stolen his heart. Whether or not Batman can put a ring on it, Bruce and Selina's romance is one that has been championed by fans for decades, including the hopes of a thriving, healthy marriage. And while canonicity always seems to be an ongoing debate, Batman/Catwoman has delivered its own effective iteration on the costumed couple finally walking down the aisle together.
---
Make sure you've read all our recommended
best DC Comics stories
of all time.