DC's Robin is now an A.I., as Ultraman creators revamp the Batman family in Justice Buster
As DC partners with Kodansha to reimagine its biggest characters in manga, Eiichi Shimizu unveils Batman: Justice Buster in an interview with Popverse
The DC Universe is reimagined by some of the most celebrated manga creators in Japan in a collaboration between DC Comics and Kodansha Comics, with a set of manga series following the biggest icons in the DCU. Among the first wave is Batman: Justice Buster, written by Eiichi Shimizu and illustrated by Tomohiro Shimoguchi, with an English language translation provided by Sheldon Drzka. After working together in reimagining the seminal Japanese superhero Ultraman in 2011 to universal acclaim, the celebrated creative team of Shimizu and Shimoguchi chart a bold new path for the Dark Knight in an action-packed story that leads Batman to completely reevaluate his crime-fighting crusade.
Batman: Justice Buster has the Caped Crusader notice that crime in Gotham City has dangerously escalated in the face of his own crime-fighting efforts. In order to combat this rise in violent crime and the growing number of increasingly deadly supervillains menacing Gotham, Bruce Wayne develops an advanced artificial intelligence program, dubbed R.O.B.I.N., to help him on his superhero mission. However, this spurs severe consequences that not even the Dark Knight can anticipate as his adventures take an even more harrowing turn.
In an interview with Popverse, Batman: Justice Buster writer Eiichi Shimizu reveals how he approached the Batman mythos with his own unique take on the superhero, cites several influences on the story and insight on Batman's cultural presence in Japan and teases what readers can expect as Batman: Justice Buster goes on sale this September.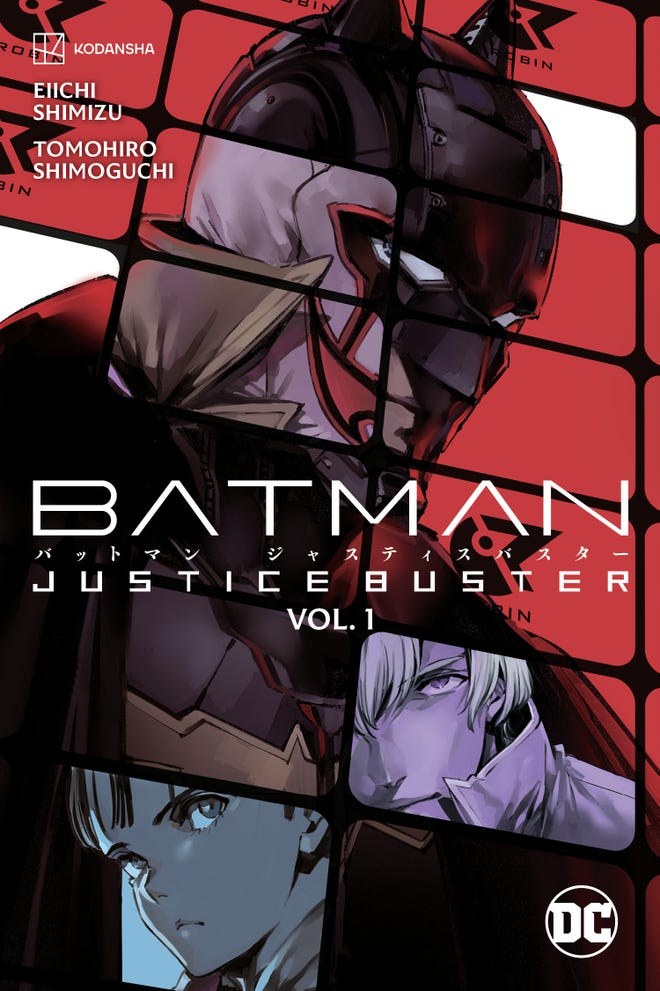 Popverse: Batman: Justice Buster focuses a lot on teamwork. What did you want to say about that theme and how it changes the usual Batman/Robin dynamic?
Eiichi Shimizu: I'm reluctant to give a straightforward response to that because the theme is what we're trying to depict in the work. However, I will say that the emphasis on teamwork and the dynamic between Batman and Robin are important elements that serve to crystallize our conception of Batman to an extent. As far as change goes, in the series, I suppose he's evolving into the Batman that many people are familiar with. We also focus on this idea that striving for perfection can be dangerous for Bruce and it's essential to acknowledge and affirm one's own imperfections.
With all the different continuities and interpretations of Batman, which version do you think this version fits the closest to?
While the appearance of the Justice Buster might make it similar to Endgame, there are also aspects of the storyline that are like reverse-engineering of The Dark Knight Returns. And then there are parts influenced by The Long Halloween and Year One, and if we look at more recent works, there are elements reminiscent of the Metal series. So it's challenging to identify which Batman story is most similar to this work.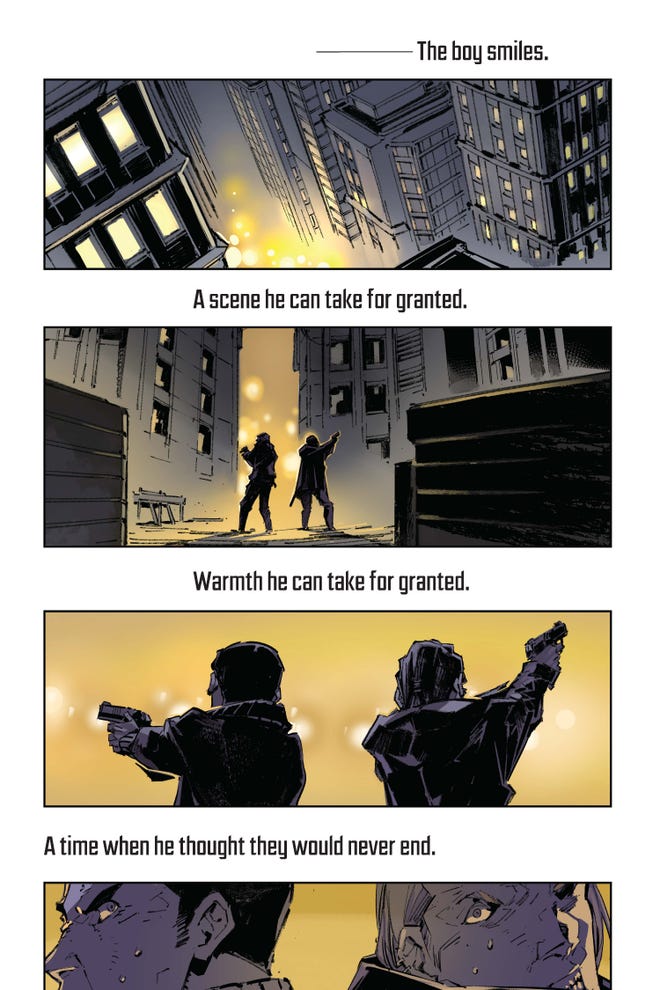 What inspired the decision to have Batman's version of Robin be an A.I. program rather than a boy in this volume?
You'll find out if you read the story till the end, so by all means, please do so!
You've both worked on Ultraman, repositioning such an iconic hero for a new generation. Did that influence how you wanted to approach creating your own version of Batman and his world?
No, rather, our portrayal of Ultraman was heavily influenced by various DC works, especially Batman. I could go on and on about it [laughs], but to put it succinctly, we felt a certain frustration with the established conventions of Japanese superhero works. Consequently, when we had the opportunity to work on the Ultraman manga, we aimed to disrupt these stale, traditional elements.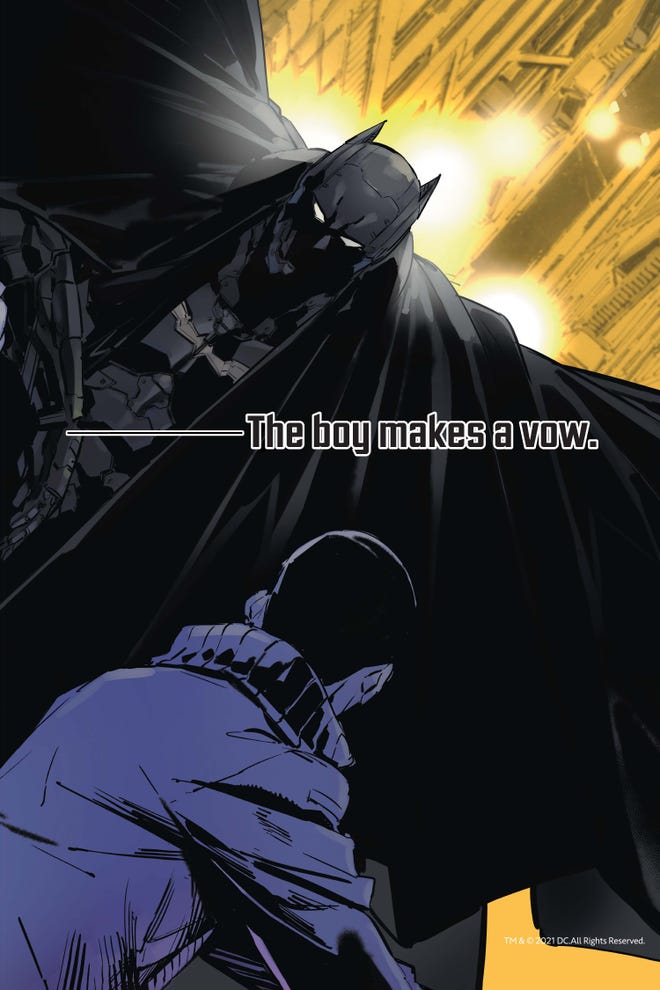 In comparison with Ultraman, how did you want to bring the action scenes and fights in this story to life?
Even if he wears a suit with cutting-edge technology, the person behind the mask is flesh and blood. He fights with his honed body and intellect. We emphasize this element when we plan the action sequences.
In Japan, is Batman more widely known for being a comic book hero or a movie hero?
Unfortunately, foreign comic book culture is not that widespread in Japan. While some translated editions are published, not all works are available. Consequently, I think the reality is that people here may have a vague idea about comic book heroes, but most have only seen them in their cinematic adaptations.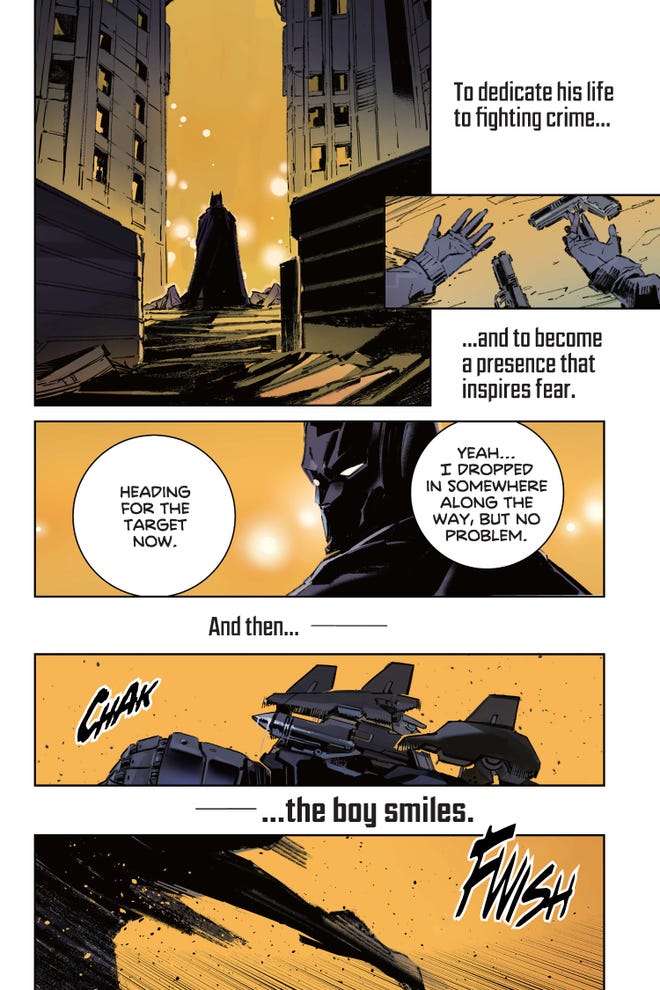 With the DC Universe being full of such rich and colorful characters, what other DC properties would you love to create manga for?
It's difficult to choose because there are so many characters that I love. I wish I could do a story featuring Nightwing, who of course is deeply connected to the Batman mythos. But I also love Dr. Fate and think it would be intriguing to do a reimagined Constantine story within the context of Japanese myths. It's too hard to just choose one! [laughs] But I'd be thrilled to have the chance to create a story starring any of these characters.
Written by Eiichi Shimizu and illustrated by Tomohiro Shimoguchi, Batman: Justice Buster, Vol. 1 is on sale now from DC Comics and Kodansha Comics.
---
Like this sound of this? You'll love our recommended best DC Comics stories of all time.