How green Is your Riddler? A look at Tom King and Mitch Gerads' upcoming graphic novel from DC
Get a sneak peek at The Riddler's Bad Day in a new exclusive preview
Starting next month, some of Gotham City's biggest threats are going to suffer One Bad Day – beginning with everyone's favorite question mark aficionado. You don't have to wait a month for a sneak peek at what Mister Miracle's award-winning creators Tom King and Mitch Gerads have in mind for the Riddler, however – Popverse has an exclusive glimpse inside Batman: One Bad Day - The Riddler #1 right now.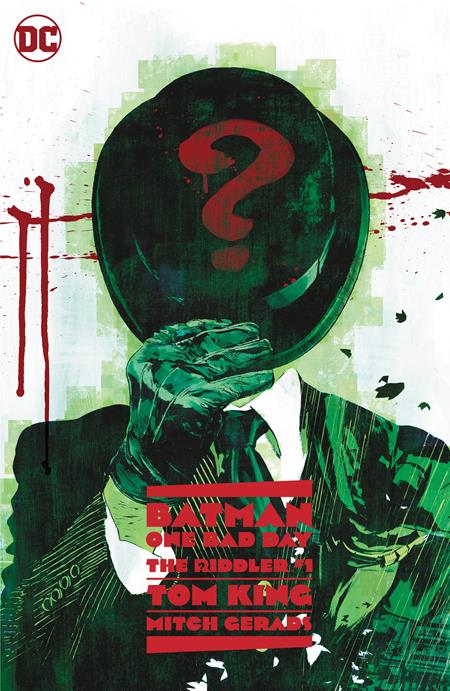 The 64-page graphic novel re-teaming King and Gerads – fresh off their collaboration in Strange Adventures, alongside artist Evan 'Doc' Shaner – is the first in a line of eight one-shot releases by talents including Mariko Tamaki, G. Willow Wilson, Joshua Williamson, Xermanico, and Ivan Reis, giving classic Batman villains the spotlight. (Other bad guys having bad times will include Two-Face, Catwoman, and Ra's Al Ghul.) However, as the two creators explain, it's also something intended to redefine just who the Riddler is, and just what he's capable of, going forward.
"This is exactly everything I've ever wanted to do, since I knew I could ever touch these characters," Gerads tells Popverse about the graphic novel. "I went back to the roots of everyone involved, of Riddler, Batman, Gordon, everyone that I wanted to use in the book. I remember at the start, I told Tom that there's all these tendencies to throw in 20 characters and all these Bat books, and I was like, no, I want this to be like an old animated series episode. It's Batman, it's Riddler, it's Gordon; that's it. And that's basically what we did. I just got this opportunity to do exactly what I picture when I think of a Riddler/Batman/Gordon book."
King shares his partner's excitement about the project. "It felt like the stakes were very high in terms of what we were doing, and the potential for what we could do," he says. "It's not a comic where you can just be like, 'okay, that panel doesn't work but forget it, there's another one coming out next week.' Maybe because of Mitch's art coming in, but I couldn't get that attitude about this comic. I just felt suddenly perfectionist about it. But yeah, it was a joy. It was a super fun challenge."
As can be seen from these exclusive pages, Gerads' art for the issue is something special, with the artist working up a new coloring treatment for the book that's in keeping with the villain's trademark costume colors while still allowing him to deliver the atmospheric visuals he's known for. "I draw Batman exactly how I want to draw him [in this book], without any constraints," he teases. "When he's Batman, I do a thing where you almost never see his skin tone. He's always just this walking evil shadow."
Here is an unlettered five-page preview of Batman: One Bad Day - The Riddler #1 by Tom King and Mitch Gerads:
Batman: One Bad Day - The Riddler #1 will be released August 16. Look for an in-depth conversation with both King and Gerads about the book here on Popverse closer to its release.