Beano artist David Sutherland dead at age 89
The beloved cartoonist drew The Bash Street Kids for 60 years
David Sutherland, the cartoonist behind some of the UK's most beloved strips — including The Bash Street Kids and Dennis the Menace, both of which appeared in The Beano on a weekly basis — has died, Popverse can sadly confirm.
Reports of Sutherland's passing at age 89, just weeks after being awarded an OBE for his "services to illustration" as part of the annual New Years Honours list bestowed by the British monarchy, started to appear on social media early Thursday. His death was confirmed by Beano publisher DC Thomson & Co. Ltd. via Twitter.
Sutherland's career started back in the early 1960s, with his earliest published work running in adventure strips before he inherited the iconic Bash Street Kids strip from creator Leo Baxendale in 1962, starting a run that continued up to his death. The humor strip — which runs two pages every week — centers around a group of kids who attend the Bash Street School and features a cast of 10 to 15 regulars getting involved in intentionally silly, over-the-top situations aimed to amuse its core audience. Sutherland had drawn more than 3,000 installments across his 60+ year involvement with the strip.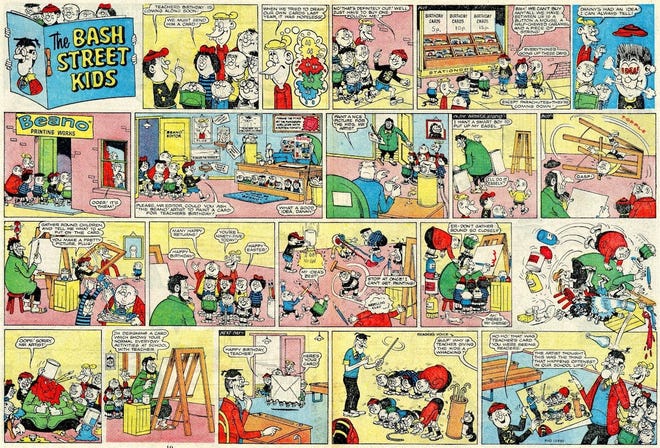 That wasn't the only strip that Sutherland was involved in for a significant period of time. In 1969, Sutherland inherited the Biffo the Bear strip that appeared on every cover of the best-selling Beano, and a year later, also took on the Dennis the Menace strip that would replace Biffo as cover star in 1974. While Sutherland left the Biffo strip after two years, he remained Dennis the Menace's artist for 28 years, finally stepping down in 1998 (during that period, he also illustrated the Dennis spin-offs Gnasher's Tale, Gnasher and Gnipper, and Rasher).
Sutherland kept working up until his death, on the above strips and more — he was also responsible for a number of Korky the Cat strips, as well as Fred's Bed and The Germs — becoming a mainstay in the childhood of multiple generations of British kids in the process. As DC Thomson's statement put it, "David viewed himself as a resident of Beanotown, living alongside our characters that he loved and he will live on there forever, and always be in the hearts of Team Beano and the millions of kids who have enjoyed his strips every week."