The real-life inspiration behind Beast Boy's new friend on Young Justice on HBO Max
Beast Boy and voice actor Greg Cipes has a wingman in Young Justice
When times get rough, we get by with a little help from our friends, and they say that a dog is man's best friend. This is true whether you're a man, or a green-skinned shapeshifting superhero like Beast Boy. If you've been watching Young Justice: Phantoms on HBO Max, then you would know that Gar Logan has been in bad need of a friend. This season of the hit animated show has seen Gar struggle with pill addiction, grief, and severe depression. Luckily he hasn't had to go through it alone.
The episode 'Ego and Superego' placed Beast Boy in a group therapy session alongside other metahuman teens. Black Canary, who is facilitating the session, notices the small canine by Gar's side and invites him to share this new development. "This little guy is my new emotional support dog Wingman," Gar happily states. "I named him after Wingman, the Crimson Avenger's sidekick – the very first superhero sidekick. We take care of each other. I give him food, he gives me unconditional love. We take walks together so he could do his business. Don't worry, I still do my business in actual bathrooms. But it gets me out of the house, puts me on a consistent schedule. I've been sleeping a little better, fewer nightmares, no pills – well, you know, except for my prescribed antidepressants."
Beast Boy is portrayed by voice actor Greg Cipes, and the introduction of Wingman was personal for him. Gar's canine companion was actuall yinspired by Greg's real dog Wingman.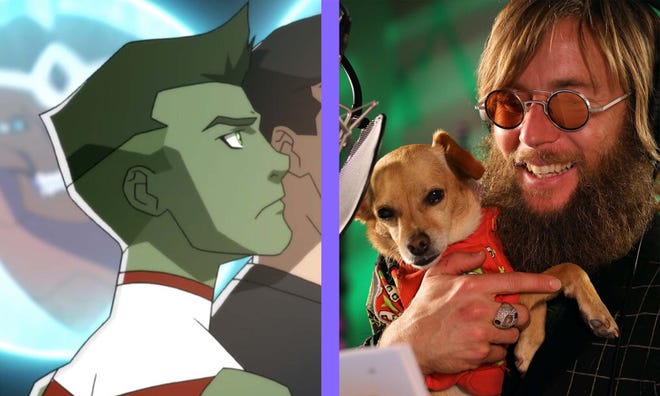 "Wingman is my dog. He's at every recording session, every business meeting, every comic con, and every flight," Cipes tells Popverse. "We're never apart. He was in the recording booth when we were doing all of the Young Justice recordings."
Not only was Wingman based on Greg's real dog, but it was Cipes himself who pitched the idea of bringing him into the series.
"As Beast Boy was going through these traumatic experiences, I said that he needs an emotional support animal. That will be the greatest thing that Beast Boy can receive to help him through his healing," Cipes explains. "Warner Brothers and DC loved the idea, and they helped bring it to life. I came up with the idea, and they executed it, and brought Wingman into the show so beautifully and perfectly."
Wingman has been an important part of Greg Cipes' life for years. Cipes has written multiple storybooks about Wingman, which can be purchased on his official website. There's even a cute Wingman plushie. Since it's debut in 2011, Young Justice has made conversations about mental health an important part of their show, so giving one of their superheroes an emotional support animal is a natural choice.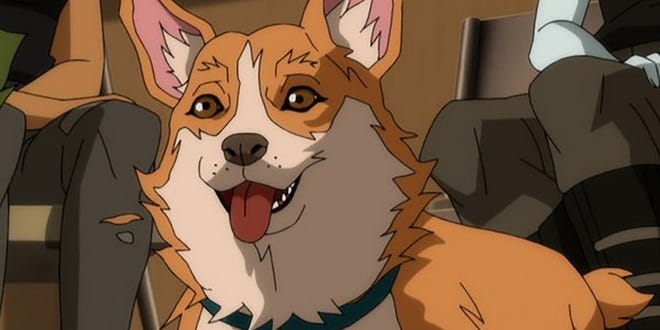 Cipes has played Beast Boy in multiple DC animated projects since 2003. The recent animated movie Teen Titans Go! & DC Super Hero Girls: Mayhem in the Multiverse is his latest project. The version of Beast Boy from that movie is a different animal (no pun intended) from the one on Young Justice, giving Greg a chance to try new things with a character he's been playing for almost 20 years.
"It's a situation where I need to be even more creative, take more chances, and try new things," Cipes says. "God willing I'll be playing Beast Boy until the day I move out of this body. It's really special."
---
If you like DC, you'll love our recommended best DC Comics stories of all time.