The 10 best Daredevil stories you'll find in comic books
Daredevil is on comic stands every month, and is now back in the MCU - get to know him, or just get re-acquainted, with our recommendations
They say that justice is blind, so it's only appropriate that Marvel's blind superhero would be a lawyer. An accident involving toxic waste blinded Matt Murdock as a child, but it also gave him a strange new gift. In the place of his eyesight, Matt Murdock now possesses a special radar sense, allowing him to interact with the world in a whole new way. Using his superhuman senses to fight crime, Matt patrols the New York City neighborhood known as Hell's Kitchen as Daredevil, the Man Without Fear.
Since his debut in 1964, Daredevil has led a remarkable life. He's experienced grand victories, and heart crushing tragedies. If you're looking to learn more about the Hornhead, or revisit some of his greatest adventures, we've curated a list of his most essential stories. From beloved classics to underrated gems, here are ten Daredevil stories that stand out above the rest.
Creative Team: Written by Jim Shooter and Denny O'Neil, penciled by David Mazzucchelli
An omnipotent being known as the Beyonder appears in the offices of Daredevil's law firm Nelson and Murdock. His proposition is an outrageous one – he wants to use their legal services to purchase the planet. As a retainer payment, the Beyonder restores Matt Murdock's sight. Matt spends the day enjoying the beauty of the world around him, but begins to wonder if this new gift will compromise his sense of justice.
This issue is often overlooked because it's a tie-in to the Secret Wars II event. Secret Wars II has a reputation for being one of the most needlessly excessive crossovers Marvel Comics has done, but this story was a true diamond in the rough. This wasn't the first time Matt Murdock had regained his sight, but this issue explored the idea in a way no other story ever had. Thanks to Shooter and O'Neil's script you can really feel Matt's joy, and Mazzucchelli's pencils add a great sense of heavenly wonder to Daredevil's experience.
Creative Team: Written by Mark Waid, penciled by Paolo & Joe Rivera and Marcos Martin
Daredevil has a new lease on life and is ready to take the world by storm. The Man Without Fear returns to New York City after a brief walkabout and resumes his law career as Matt Murdock. For a time his life as Daredevil had made him wonder if he should leave his life as Matt Murdock behind, but now he's put all that behind him. Although he continues to deny that he's Daredevil, the rumors of his double life threaten to taint the jury pool during his cases. This forces Murdock to get creative with a new approach – coaching his clients to represent themselves. As Matt adjusts to this new life in the courtroom, Daredevil takes on foes like the Spot, Klaw, and Bruiser.
Mark Waid's arrival on Daredevil was a welcome breath of fresh air after years of dark and gritty storylines. There wasn't anything wrong with the previous runs or their tone, but it was time for the pendulum to swing the other way. Waid took Daredevil back to his swashbuckling roots, reminding readers that Matt Murdock's life is allowed to be fun. Rivera and Martin's artwork electrified the series, giving readers a fresh take on Daredevil's radar sense in action.
Creative Team: Written by Ann Nocenti and penciled by John Romita Jr.
Typhoid Mary is a women with schizophrenia and a unique set of talents. When she begins to loot the Kingpin's empire, the crime boss decides to weaponize her against Daredevil. Fisk hires Mary to infiltrate Murdock's life, with the ultimate goal of seducing and crushing him. Mary exploits Matt's emotional weaknesses, making him putty in her hands. Matt soon finds himself helpless against the temptation he has for Mary, and worries that it could doom his renewed relationship with Karen Page.
If there's one word to describe this story, it would be 'intense.' Ann Nocenti tells a gripping story that combines the genre of crime noir with psychological thriller. At its core, the storyline is character driven, with some great moments like Matt and Foggy reuniting for the first time since 'Born Again' (more on that in a bit). Romita Jr.'s artwork really gives you the sense that Mary is dangerous, and that Daredevil is in trouble. Nocenti and Romita Jr. were truly one of the greatest creative teams the title ever had.
Creative Team: Written by Karl Kesel, penciled by Cary Nord with various others
One year after faking his death, Matt Murdock returns to public life and resumes his career as a trial attorney. His return comes at an interesting time as the Nelson and Murdock law firm receives an offer to join forces with Rosalind Sharpe's firm. Sharpe has a successful reputation in law, but her cold demeanor turns everyone off, and Matt is shocked to discover that she is Foggy's estranged mother. Matt and Foggy also adjust to the changing dynamics in their friendship now that Foggy is aware of his double life, while Karen gets a mysterious new job.
Karl Kesel's time with Daredevil may have been brief, but it was one of the best runs the character ever had. Daredevil is mostly known for being a dark and gritty character, making it rare for a creative team to lean into his fun side. There are plenty of laugh aloud moments, and the energy never slows down. The superhero stories are compelling, and Daredevil's supporting cast get some compelling subplots of their own. This is a run that everyone sleeps on, which frankly deserves more attention.
Creative Team: Written by Frank Miller and penciled by John Romita Jr.
A young boy named Matt Murdock must adjust to a life without eyesight after an accident involving toxic waste blinds him. Matt soon finds that he's developed a strange radar sense, and turns to a man named Stick to help him navigate this new world. After Matt's boxer father is murdered for refusing to throw a fight, the boy begins to crave vengeance. The road to becoming Daredevil isn't easy, but Matt is willing to do whatever it takes.
After revamping Daredevil twice over, Frank Miller returns to the character for a reimagined look at his early days. Daredevil: The Man Without Fear expands upon the events of Stan Lee and Bill Everett's Daredevil #1, while adding in early encounters with characters like Elektra and Stick. Romita Jr. continues to prove that he's the perfect artist for Daredevil, as his dynamic penciling adds a sense of crime noir that enhances the storyline. As he did with Batman: Year One, Frank Miller succeeds in making an iconic version of an established superhero origin story. Everything you need to know about Daredevil's backstory is here, and it's an addicting read that will leave you craving more.
Creative Team: Written by Kevin Smith, illustrated by Joe Quesada and Jimmy Palmiotti
When the long-time villain Mysterio learns that he's terminally ill, he decides to give one last grand performance. The master of illusion targets Daredevil, gaslighting the hero into thinking he's caring for a cursed baby. Before long the lives of Matt's friends are turned upside down as Karen is diagnosed with AIDS, and Foggy Nelson is arrested for murder. In the end Matt is able to unravel Mysterio's plan, but not before Karen is tragically murdered by Bullseye.
'Guardian Devil' was not afraid to shake up the status quo, killing Mysterio and Karen Page, two characters that had been around since the Silver Age. Kevin Smith proved that his hiring wasn't a publicity stunt, with his scripts making it clear that he loved and understood the character. Joe Quesada and Jimmy Palmiotti's art stood apart from everything else on the shelves at the time, and it's no surprise that both of them became comic superstars.
Creative Team: Written by Ed Brubaker, penciled by Michael Lark and Stefano Gaudiano
What happens when you put Daredevil, Kingpin, Bullseye, and Punisher in the same prison block? Pure chaos and an action-packed storyline. Matt Murdock is imprisoned on Ryker's Island for his actions as Daredevil, and there's no guarantee that he'll live long enough for his trial. Plenty of other prisoners have their own beef with Murdock, leading to a series of jailhouse brawls. As Matt Murdock navigates life behind bars, a mysterious figure has begun masquerading as Daredevil. Who is this imposter, and will their stunt be enough to clear Murdock's name?
Brian Michael Bendis and Alex Maleev were a hard act to follow, but Ed Brubaker and Michael Lark hit a home run right out the gate. The tension on Ryker's Island continues to build, making the story hard to put down. Matt Murdock is taken to places he's never been before, as his new status as an inmate offers numerous story possibilities and challenges the character. Through all of these shake-ups, this never stops feeling like a Daredevil story, and what a story it is.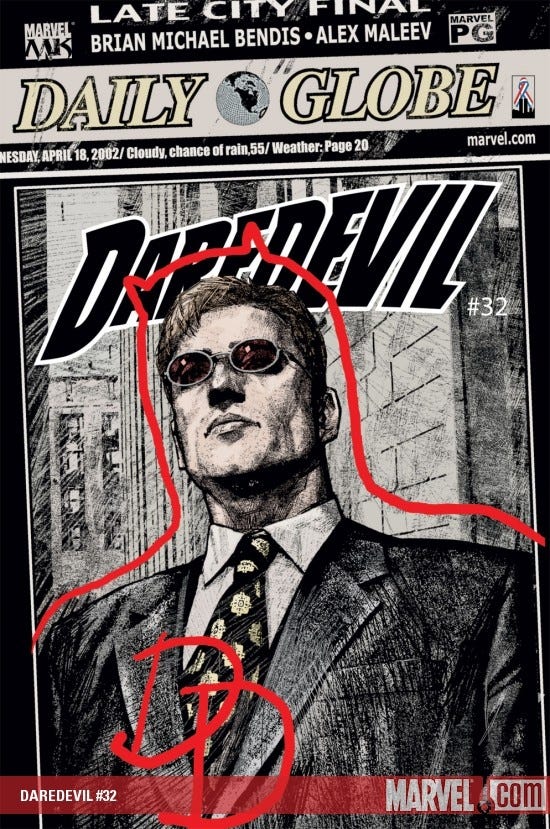 Creative Team: Written by Brian Michael Bendis and penciled by Alex Maleev
A disgruntled FBI agent sells Daredevil's secret identity to the tabloids, turning Matt Murdock's life upside down. Now Matt has to deal with a media circus, threats to his legal career, and criminals anxious to take advantage of the news. If Matt admits the truth, he will be disbarred and every criminal he ever put away will have their cases thrown out. Not to mention the threat of prosecution. The stakes have never been higher, as Matt finds himself unable to function as a lawyer or a crimefighter.
Many times a comic book storyline will promise that nothing will ever be the same, but this is usually hyperbole. Bendis and Maleev delivered, giving the biggest status quo change the comic series had seen in decades. Daredevil's outing was a big gamechanger for the series, and this time he couldn't fake his death or make up a twin brother to get him out of it. This storyline explores the consequences of a hero being outed in a way no other comic has before. When Foggy lays out all the legal complications, you'll understand why Matt is really in trouble. Have you ever binged a Netflix series you couldn't turn off? That's what it feels like when you read Bendis and Maleev's Daredevil run. It is one of the most addicting comic book runs you will ever experience, with each cliffhanger pulling you in for another issue.
Creative Team: Story and art by Frank Miller and Klaus Janson
After escaping from priso,n Bullseye learns that Elektra has taken his place as the Kingpin's number one assassin. Seeking to regain his spot in Fisk's criminal empire, Bullseye hunts down Elektra, fatally wounding her. Before succumbing to her wounds, Elektra makes her way to Matt Murdock's home, where she dies in his arms. Matt doesn't take this development well, which leads to a series of denials that send him spiraling.
During his time on the title, Frank Miller revamped the character in a way that has defined him ever since. Almost every creator after Miller has been chasing him to a degree, with most of his characters and concepts being regularly utilized. The death of Elektra was one of the high points of Miller's first run, and for good reason. As emotional as her death was, the aftermath is what really makes this story stand out. Matt's deteriorating emotional state, which culminates in exhuming Elektra's corpse, is heartbreaking. This isn't your run of the mill death story, and there's a reason it has stood the test of time.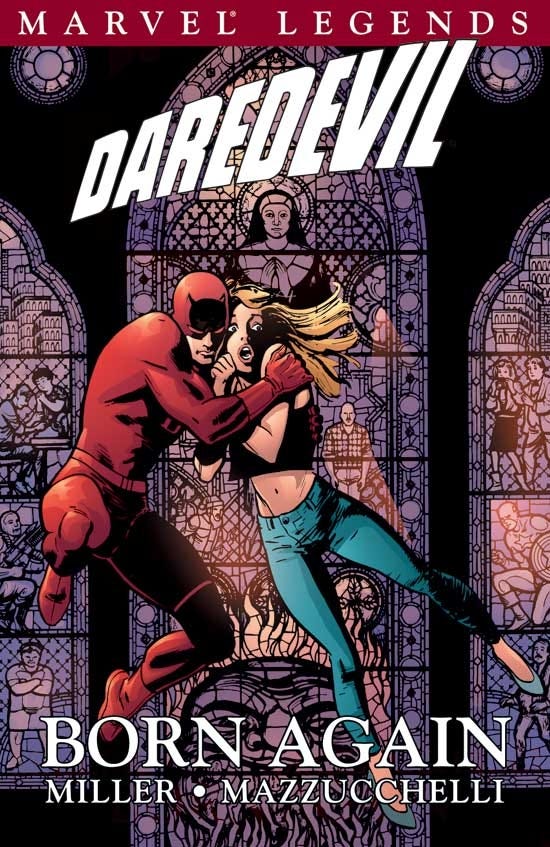 Creative Team: Written by Frank Miller and penciled by David Mazzucchelli
Once she was Matt Murdock's secretary and fiancée, now Karen Page is a heroin addict who has fallen on hard times. Seeking money for her next fix, Karen sells Daredevil's secret identity. This information makes its way to the Kingpin, who wastes no time putting it to use. Before long, Matt Murdock has lost everything. His law practice is gone, his assets are frozen, and his home has been destroyed. Pretty soon his mind begins to go as well. Can Daredevil put his life back together again, or did something break that he can't repair?
Entire essays can be written about the themes and the impact of 'Born Again.' Frank Miller's first run on Daredevil completely revamped the character, and he did it all over again with 'Born Again' – this time with more intensity. This story deconstructs Matt Murdock both figurately and literally as every part of his life is stripped away. By the end of the story a new Daredevil emerges, and its clear things can never go back to the way they were before. It's a story about forgiveness, survival, and rebirth, and it's quite possibly the most impactful Daredevil comic ever published.
Whether he's arguing a case at the courthouse or trading punches on the rooftops, Matthew Murdock has never stopped fighting for justice. His ability to persevere under extreme tragedy makes him one of the most inspiring comic book characters ever created. He's inspired some of the best comic creators to produce their best work, and in turn they've taken his character to bold new places. There is no doubt that the next great Daredevil story is just around the corner, and I can't wait to see which ones make it onto future updates of this list.
---
Interested in diving into the world of comics? All around the world there's shops specializing in comics books and graphic novels, but it can be daunting if its your first time (or you had a bad experience). We're here to help with our
comic shop guide
.