Black Panther says goodbye to Wakanda (and John Ridley)
John Ridley's Black Panther run concludes with T'Challa exiled from Wakanda
John Ridley's groundbreaking Black Panther run has come to an end, and the final chapter brought some big changes to the world of Wakanda. T'Challa has finally defeated the terrorist Jhai, but the cost was high. Black Panther has alienated the other Avengers, he's lost one of his oldest friends, and he's no longer welcome in Wakanda. Suffice to say, it's not a good day to be T'Challa. Let's unpack everything that went down in Black Panther #15 (written by John Ridely and penciled by German Peralta).
Warning: Spoilers ahead for Black Panther #15!
Why was Black Panther banished from Wakanda?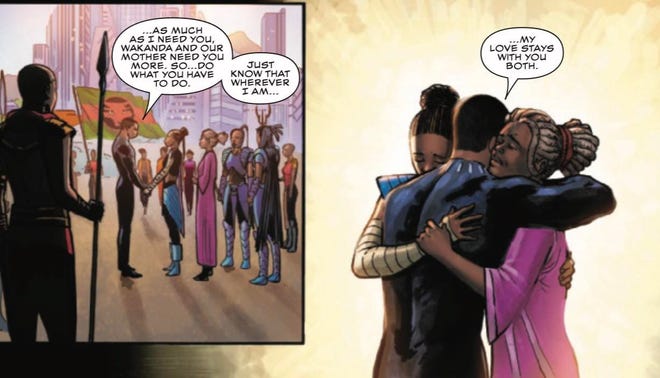 The short answer is T'Challa screwed up big time. Years ago, T'Challa set up a network of sleeper agents around the globe. The idea was the agents would protect Wakanda's interests, and defend the nation if the world ever turned on them. This group was led by Jhai, one of T'Challa's oldest friends. T'Challa kept this network a secret from everyone, including Wakanda's leadership.
Jhai eventually went rogue, and turned the sleeper agents into a full blown terrorist cell. Jhai and his agents began using T'Challa's training and Wakanda's technology to threaten the global economy. The Avengers were infuriated to learn Black Panther's role in the origin of their new enemy. T'Challa's relationship with the group is currently strained as a result.
However, the anger of the Avengers was nothing compared to the fury of Wakanda. As detailed in Black Panther #14, Wakanda turned to Atlantis for help. Namor, the ruler of Atlantis, agreed to join forces on one condition – T'Challa must be banished from Wakanda forever. Wakandan Prime Minister Folasade didn't give it a second thought.As far as she was concerned, their former king had betrayed them, and Namor would be their salvation. She agreed to Namor's terms, and revoked T'Challa's Wakandan citizenship.
How does John Ridley's Black Panther run end?
Jhai has reservations about Wakanda allying itself with Namor. Jhai may be a villain, but he loves his country. Fearing that Wakanda will crumble without T'Challa, Jhai offers to use his resources to return Black Panther to his throne. "For the first time in my life I have the strength to walk away," T'Challa tells Jhai. "The throne's not mine Jhai. I can't claim it. I don't deserve it. And I will be king no more, forever."
Black Panther's refusal shatters Jhai. The terrorist realizes he has nothing left to fight for, and throws himself at T'Challa's mercy. T'Challa refuses to kill his prisoner, stating that he bears responsibility for his friend's downfall. Jhai's ex-lover Omolola doesn't share Black Panther's hesitation. She decapitates Jhai, and forces T'Challa to look at the severed head. "You and your lies did this T'Challa. Look!"
The rest of the issue deals with the new status quo for Wakanda. Namor and the Atlantean army will protect Wakanda. Imani Kolawole will serve as Minister of State. Okoye, Ayo, and Aneka will train a new army in case future conflicts arise. Omolola will serve as the Wakandan government's secret weapon, conducting covert ops missions.
Not everyone will be sticking around. Tosin, Buffalo Soldier, and the group known as the Emancipated have all departed Wakanda. Shuri considered leaving with her brother T'Challa, but has opted to stay behind to head up Wakanda's Ministry of Science. It's a new beginning for the people of Wakanda, but what will become of their former king?
What is next for T'Challa?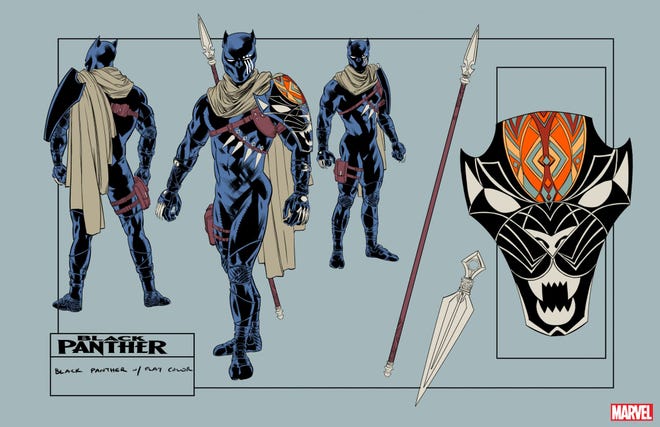 The next chapter of T'Challa's life begins this June with Black Panther #1 (2023). This relaunched title will be written by Eve L. Ewing, with art by Chris Allen. Ewing previously wrote the ongoing series Ironheart, and is currently writing the limited series Monica Rambeau: Photon. Ewing will be the first woman to write the main Black Panther title. Allen is known for his work on X-Force and Miles Morales: Spider-Man.
Speaking with ComicBook.com, Ewing expressed excitement at the idea of building off of the end of Ridley's run. "When I had my first conversation with Wil Moss, who edits Black Panther, and I found out where the Ridley run is going to end, I had to laugh," Ewing said. "No spoilers, but the status quo is going to be more than a little disrupted. But I've always believed that the fun of writing these characters is not completely ignoring or undoing what your predecessor did, nor is it simply continuing with their storyline – it's taking the reins from the place where they left the story, and accepting the challenge to make it your own. In this case, I can say that I'm extremely geeked about the ways we're picking up where he leaves off."
Black Panther's new costume was previewed during a segment on The Today Show. "It's much more edgy and kind of homespun. It's not so sleek and slick," Ewing told the Today Show. "Not giving too much away from the story, he's trying not to be seen. He's kind of working incognito. What I can say, honestly, is that we will be seeing Wakanda in a way that we have not seen it ever before."
Now that we know how Ridley's run has ended, we have some extra context for some of Ewing's hints. It appears that T'Challa will still try to protect Wakanda, despite his banishment. Since he'll be hiding in the shadows, that could be what Ewing means when she says we'll be seeing a new side of the iconic nation. T'Challa is no longer a monarch, and this might force him to see new sides of the country that he once ruled.
Keep your eyes peeled here to Popverse as we continue to bring you the latest news on Black Panther, and his Marvel Universe allies.
---
Read more about how Namor became protector of Wakanda.