Watch Wile E. Coyote scamper across these new limited edition animation themed pencils
Limited edition pencils inspired by animation feature a neat animated trick
Any pencil collectors in the house? Pencil company Blackwing has just released the information about their newest limited edition volume—and the theme is animation!
This new volume, Volume 7, is inspired by the analog aspects of classic animation. These pencils, which are red and white, feature a black matte ferrule, gold clip, and an orange eraser. And more excitingly, if you stack them up side by side, and use the special viewfinder that comes with the box, the pencil images create a 'picket fence' style Chuck Jones animation of Wile E. Coyote.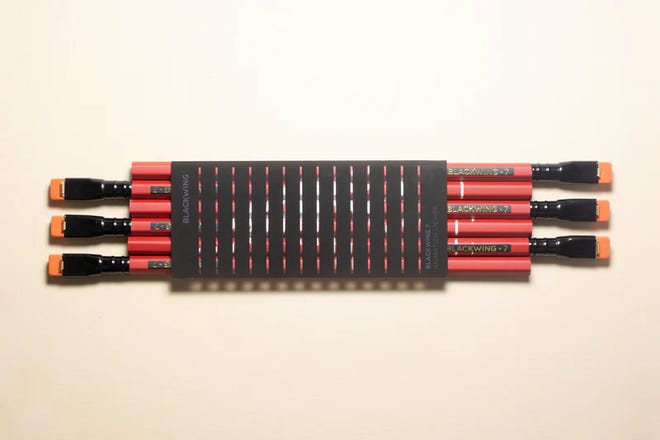 According to Blackwing's website "Animation itself operates as an optical illusion that uses a series of images shown in quick succession that tricks our brains into seeing a continuous motion picture…The Blackwing Vol. 7 is inspired by this analog evolution in storytelling and utilizes an animation trick called Picket-Fence or Barrier-Grid popularized in the 19th and 20th century. This animation-type is created by taking illustrated frames and turning them into an interlaced pattern that looks like a series of lines when seen with the naked eye, but turns into an animated design when viewed with a striped overlay."
You can watch a video on how it works here:
For those unfamiliar with Blackwings, the fabled original Blackwing 602 was once produced by the now defunct Eberhard Faber company and was favored by luminaries like John Steinbeck, Stephen Sondheim, and Chuck Jones. The current Blackwing company (originally called Palomino) is more of a reboot than a rebrand, selling high quality pencils that are very similar in style to the original Blackwing and carrying on the name (though the company has no relationship to Eberhard Faber). Over the past few years, Blackwing has had a lot of success with their limited-edition themed volumes (themes included libraries, Bruce Lee, and Bauhaus) as well as non-volume special edition pencils including these Paper Girls pencils which debuted at Comic-Con International: San Diego this year.
For those eagle eyed pencil fans who are thinking 'Wasn't there already a Chuck Jones-related Blackwing?'—you're not wrong. In 2014, Blackwing released a Chuck Jones numbered limited edition pencil, which was more of a throwback than a 'volume' style release, with a classic pink eraser calling back to the pencil that Jones would have used.
You can purchase Blackwing Volume 7 on Blackwing's website now.
---
Cartoonist Jeffrey Brown chats about republishing his iconic memoirs, Star Wars, and comedy for kids.