Who is Blade's daughter? Get to know the Bloodline, Marvel's newest vampire
Everything you need to know about Bloodline, the daughter of Blade
Brielle Brooks is a teenage girl from Atlanta with an unusual hobby. While most teenagers are scrolling through TikTok or playing video games, Brielle spends her nights hunting vampires. Of course, when you're the daughter of Blade, then vampire hunting runs in the family. Brielle is currently starring in Bloodline: Daughter of Blade, a five-issue series written by Danny Lore and penciled by Karen S. Darboe. This means it's a perfect time to get to know Marvel's next generation vampire hunter. Who is Bloodline, and what does her Marvel Universe future look like?
Warning: Spoilers ahead for Bloodline: Daughter of Blade #1!
When did Blade get a daughter?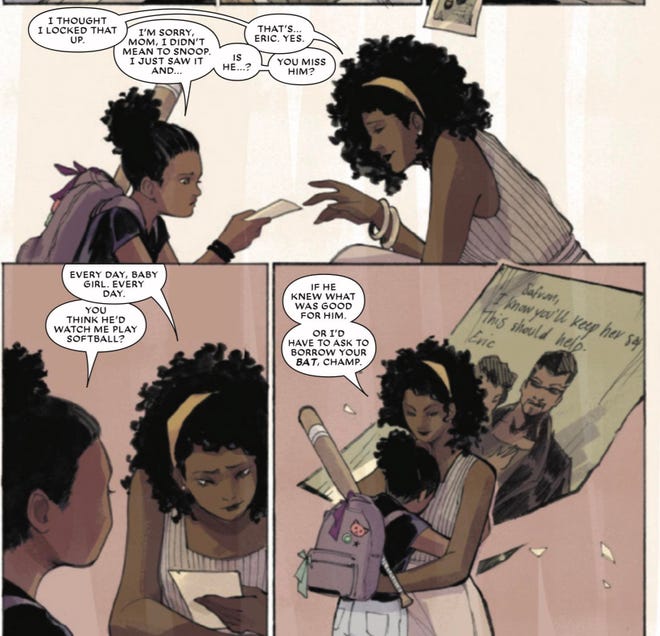 Bloodline is the daughter of Safron Caulder and Blade. Safron was Blade's love interest, who was constantly seen by his side when the Vampire Hunter was featured in the Tomb of Dracula title. Safron was eventually dropped as Marvel refocused Blade, giving the character a larger presence across the Marvel Universe. Brielle's existence is a retcon, since there was no hint of pregnancy or a child during Safron's relationship with Blade.
Brielle's backstory is still being written, but it appears she grew up without her father. It seems that whatever happened to end Safron and Blade's relationship was amicable. Blade left Safron with a cache of weapons, and a note saying he knew she would protect their daughter. This indicates that Blade is aware of Brielle's existence, but is choosing to stay away. Perhaps he thinks it's the only way to keep her safe. It's also worth noting that Brielle is using the surname Brooks (taken from Blade's real name Eric Brooks) instead of Caulder.
Who is Bloodline?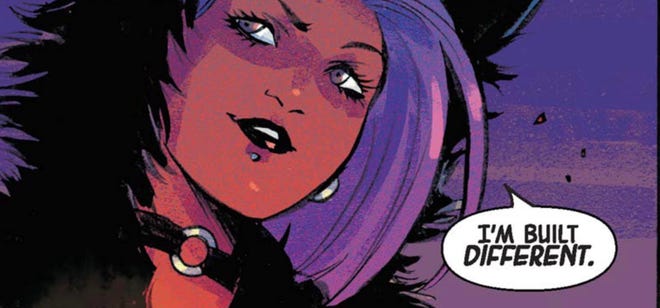 Before the debut of her mini-series, Brielle Brooks made her first appearance in Free Comic Book Day 2022: Avengers/X-Men #1. The story established the basics, that she was the teenage daughter of Blade, and she hunted vampires just like her absentee father. Brielle also appeared in Crypt of Shadows #1, a horror based anthology. Those two appearances, which were both written and penciled by Lore and Darboe, set the stage for her solo title. Bloodline: Daughter of Blade #1 (2023) revealed more details about Brielle's backstory, and how she became a teenage vampire hunter.
Brielle grew up unaware that her father was a vampire, but she couldn't escape her destiny forever. She spent most of her life in Atlanta, excelling in school and baseball. One day while she was practicing at the batting cages, she swung the bat so hard that she shattered it. After a bit of trial and error, Brielle learned that she had special abilities, but they only worked at night.
Brielle decided to devote her time to hunting the supernatural. She scoured the internet to find vampire sightings in the Atlanta area. Other times, the vampires found her. Brielle initially kept her nocturnal activities a secret from her mother, unaware that she had some experience with monsters as well. Without anyone to mentor or guide her, Brielle relied on internet rumors and her gut instincts to defeat her attackers. It's worth noting that although her character is referred to as Bloodline in the title and marketing, Brielle has not that used that name within the story itself. That will probably change before the conclusion her mini-series.
What are Bloodline's powers?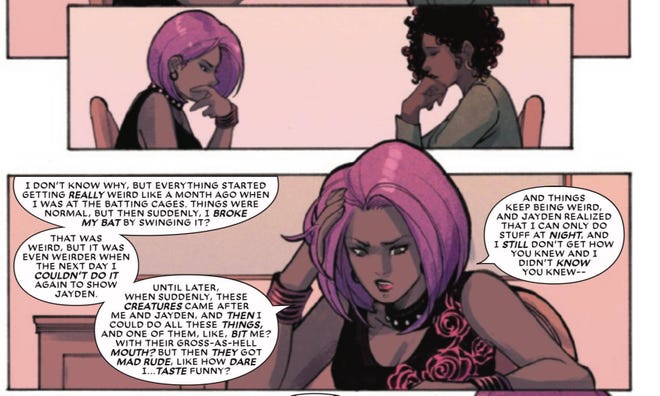 Brielle is a vampire-human hybrid, even if she doesn't realize it yet. This means that she has some of the abilities Marvel's vampires do, but she doesn't share some of their weaknesses. It's worth noting that her father Blade is also a vampire-human hybrid. It's possible that as a second generation hybrid, Brielle may have abilities her father and other vampires don't have. As of now Bloodline is still learning the extent of her powers through a system of trial and error.
Brielle has super-strength, and acute reflexes. Brielle has enhanced vision, allowing her to see in the dark. These powers only work for Brielle at night, and they haven't always been consistent. This has caused Brielle to speculate that there may be a pattern to her abilities that she isn't aware of.
Brielle does not seem to share all the weaknesses that pure vampires have. For example, in Free Comic Book Day 2022: Avengers/X-Men #1 Brielle weaponized silver against an attacking vampire. The silver burned the vampire's skin, but Brielle was able to hold it without being harmed. Unfortunately, it appears that Brielle did inherit one of the worst parts of vampirism – hunger. While she hasn't displayed a thirst for blood yet, the next issue teaser for Bloodline: Daughter of Blade #2 indicates that it's coming.
The original plans for Blade's daughter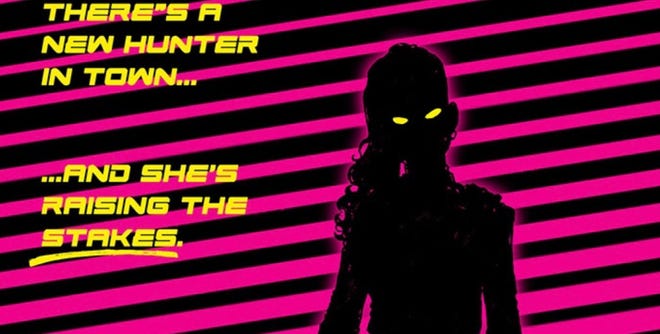 This is not the first time Marvel Comics has tried to introduce the daughter of Blade. In 2015 Marvel announced a series called Blade the Hunter as part of their 'All-New All-Different' publishing initiative. The title would've been written by Tim Seeley and penciled by Logan Faerber. The premise involved a teenage girl named Fallon Grey who discovers that Blade is her father. The series would've followed the father-daughter team as they fought monsters and butted heads.
The announcement of the title generated some controversy, with fans noting that a comic starring two black leads was being handled by a white creative team. The backlash caused Tim Seeley to walk away from the project, which effectively ended Blade the Hunter before the first issue was published. Fallon Grey never appeared in a comic, and the character was abandoned. During an interview with Newsarama, Seeley shared his reasons for quitting the title. "I felt like it was me screwing this up. I couldn't help but feel like a black woman might write this stuff better than me."
What's next for Bloodline?
Bloodline: Daughter of Blade #1 ends with Blade preparing to travel to Atlanta. He couldn't have picked a better time, since Brielle will soon find herself grappling with the unforgiving hunger that plagues all vampires. In an interview with Marvel.com, Danny Lore teased how the father and daughter would play off of one another. "She is meeting this person who is incredibly intimidating and weird, but is trying not to be a jerk to her. He's just kind of built that way, but he cares."
It's worth noting that Brielle is the latest in a long line of next generation heroes Marvel has been introducing. Perhaps Brielle will become a premier character like Riri Williams or Kamala Khan. Keep your eyes peeled to Popverse as we continue to bring you the latest news on Bloodline, and all of her Marvel Universe co-stars.
---
Want more? Make sure you've read all our recommended best Marvel comics.