The Mandalorian's Katee Sackhoff will keep playing Bo-Katan "as long as she's alive"
The fan-favorite Star Wars, Battlestar Galactica actor took to the stage at Emerald City Comic Con 2023
Star Wars fans at Emerald City Comic Con 2023 got quite the treat on Sunday afternoon, as The Mandalorian's Nite Owls — the group of elite Mandalorian warriors led by Katee Sackhoff's Bo-Katan — flew into the Main Stage at the Seattle Convention Center Summit in their first joint convention appearance (and you can watch it right here!).
Sackhoff took the stage alongside Mercedes Varnado and Simon Kassianides — the former casually carrying her IWGP Woman's Title championship belt over her shoulder, just to remind everyone just how awesome she truly is — to answer fan questions about their careers, Star Wars lore, and their own backgrounds with the legendary franchise as part of the This Is The Way: The Mandalorian Cast Panel. But perhaps most importantly, Sackhoff revealed just how she moved from the animated galaxy far far away into something a little more… alive.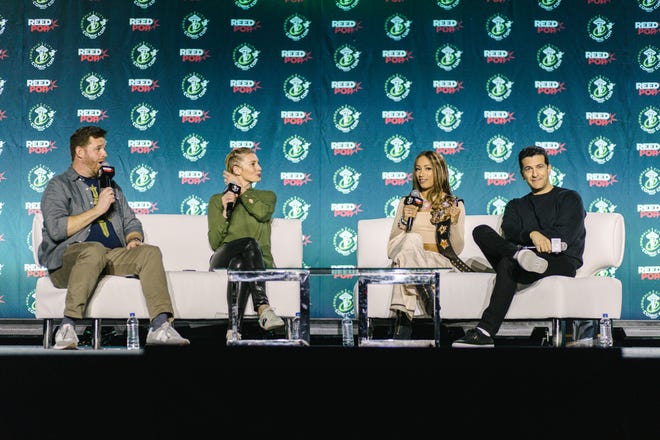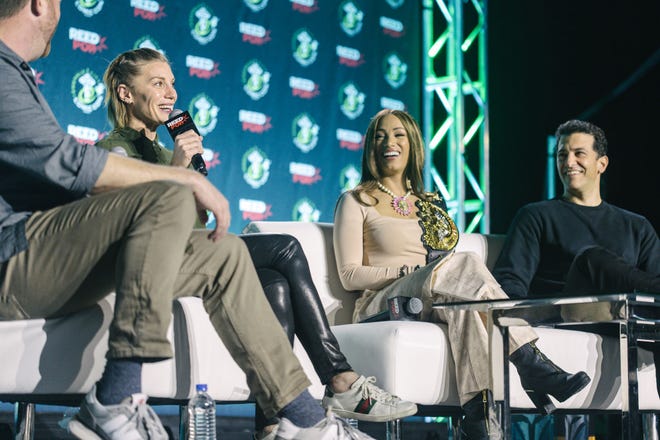 While Bo-Katan is far from the first animated character to make the leap into live-action — technically, the first of those would be Boba Fett, who showed up as a cartoon in the Star Wars Christmas Special before he appeared in '80s The Empire Strikes Back, although the most high-profile example today would be Ahsoka Tano, who went from a character in the Clone Wars animated series to having her own live-action Disney+ show on its way later this year — she is the first who was played by the same actor in both mediums.
"I think I'm the first, which is amazing," Sackhoff says, before quickly adding that, if she was wrong, she didn't want fans upset at her. "Being in Clone Wars and Rebels was a dream come true for myself," she continued.
As to how the character ended up in The Mandalorian, Sackhoff explained that it's in part down to the power of gentle persuasion. "Working with [Clone Wars showrunner/Mandalorian co-creator] Dave Filoni just changed me, he's just such a special individual. I saw him at Star Wars Celebration in 2018, and I kind of cornered him jokingly." According to her version of the story, she didn't threaten Filoni, as much as firmly reminded him that Bo-Katan was, almost certainly, still alive in the time period of The Mandalorian, should he ever want to do anything with that information.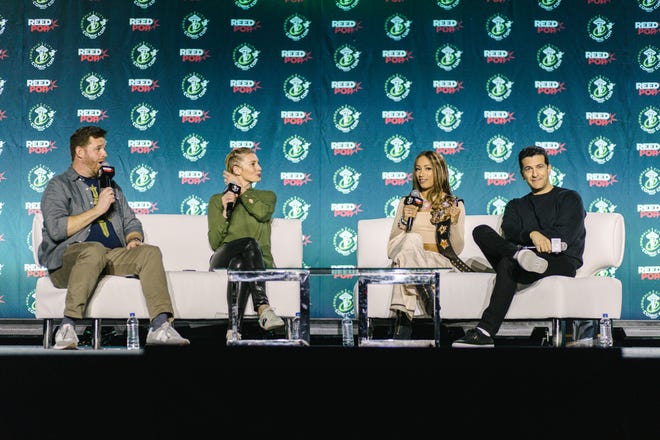 "I never dreamed that it would actually happen," she admitted of joining the cast of the live-action show. But she plans to stay with Bo for the long run, she told the crowd to cheers. "As long as she's alive, I'll be there. Still be there."
---
Everything Popverse was up to recently at Emerald City Comic Con.