Bodysuits: cosplay your way with a tutorial based on your skill level
New? No problem. Pro? Let's go. Here are three options to create your own bodysuit.
There are several key components that cosplayers tend to need for most costumes, and one of those components is a bodysuit. Bodysuits tend to pop up as the foundation to many designs – but they can also be added by the cosplayers themselves as a structural part of a costume that holds and affixes other textiles and/or armor pieces.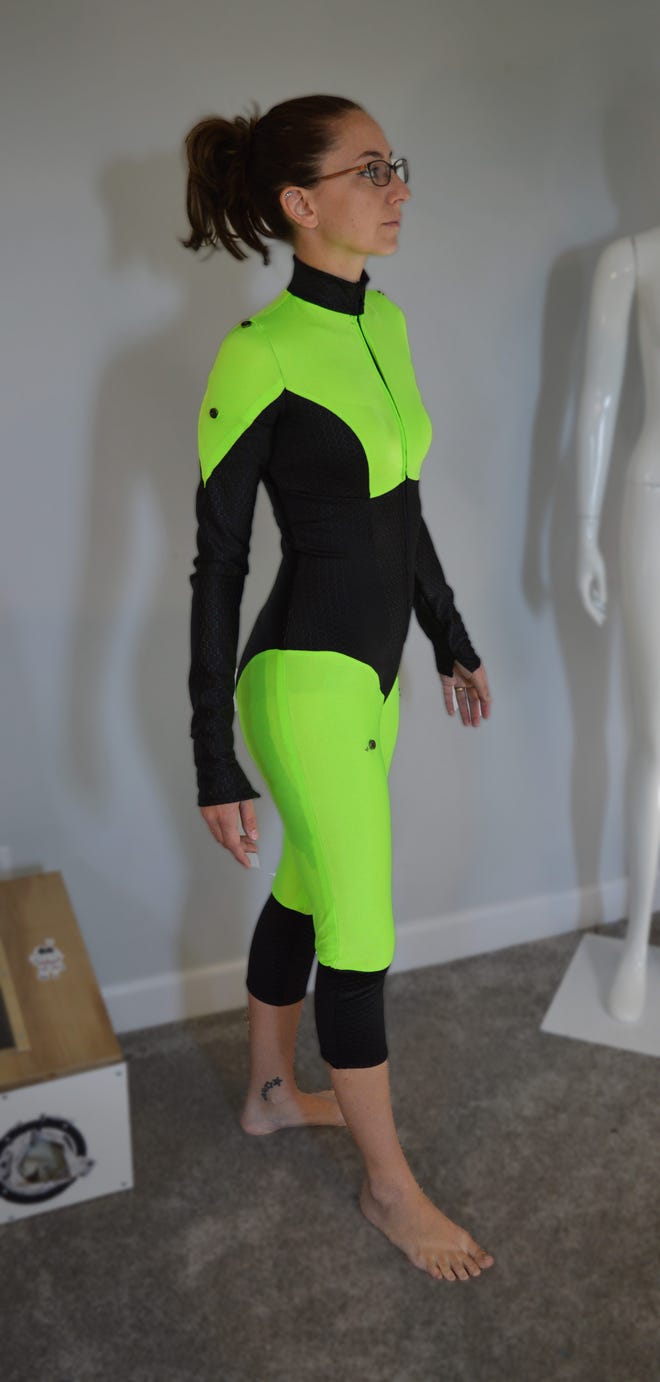 As such, developing a tried-and-true plan for crafting a bodysuit can help cut down on overall workload as well as streamline the process. To do this, plan to carve out some time (about a day or two!) to really delve into bodysuit pattern creation. The end result will be a solid bodysuit pattern that fits YOUR body and that may be reused time and time again as a key pattern in your cosplay arsenal.
Before we start, there are several ways to draft a bodysuit pattern. I have narrowed them down to my three favorites, ranked from easiest to hardest. Check them out:
Easy: Use a pre-existing garment to create a pattern.
While this method is the easiest, you will need to sacrifice a garment that fits you for the sake of creating your bodysuit pattern. The reason to do this versus buying a completely new bodysuit for each cosplay is that there will come a time when the bodysuit colors and patterns don't exactly match anything on the market.
With this, you'll end up with a sewing pattern that will allow for you to purchase the right fabrics for the resulting bodysuit you desire! Truly, it may be cheaper in the end to buy fabrics versus a new bodysuit for each cosplay, but the real benefit is in the accuracy for your cosplay.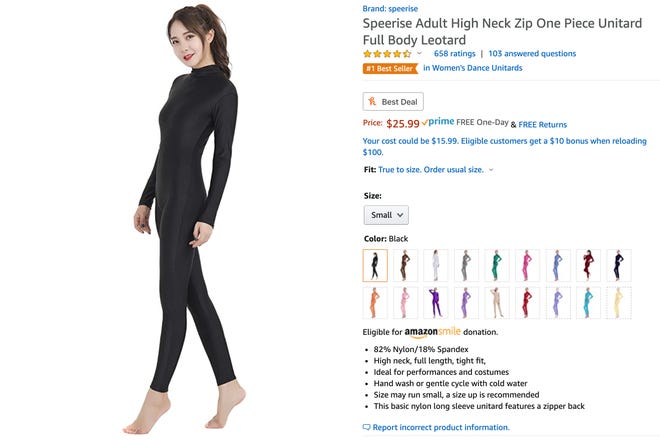 First, find a FORM FITTING bodysuit – I recommend perusing Amazon for a bodysuit that has long sleeves and long legs. You want your final sewing pattern to include both, and you can omit legs/arms/etc as needed.
Cut the garment along the seamlines – typically at the sides, crotch, shoulders, and the back/underside of arms and legs. Flatten your pattern pieces on heavy cardstock and trace. Then, measure out 5/8" seamline allowance around every edge.
Don't forget to label each piece! Now you have a drafted pattern of a bodysuit that has been proven to fit you, and you can use it time and time again with different fabrics as needed. You will always need to make sure the fabric choice for your bodysuit matches your original garment (4 way stretch means you need a 4 way stretch for all future garments made with this pattern) for a good fit.
Medium: Purchase a pattern and modify.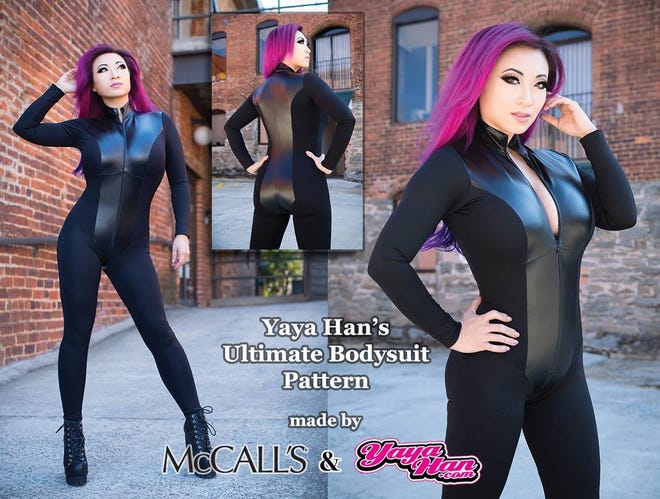 If you're looking for something perhaps a little more fitted or with more pattern pieces, then purchasing a pattern like Yaya Han's ultimate bodysuit pattern is the way to go. This pattern *may* fit you right out of the box, but in all likelihood, you'll need to modify it at the lengthening/shortening cross cuts and/or make a mockup to see where other modifications need made.
For this, always make sure to use your measurements, line those up with the guidelines on the packet to get your size, and then cut accordingly. Don't just guess here!
Once you've made your mockup, try it on. For me, I could tell immediately that I'd need to add four inches to the length. The left image below is my mockup, the right is final and is clearly much longer in the torso.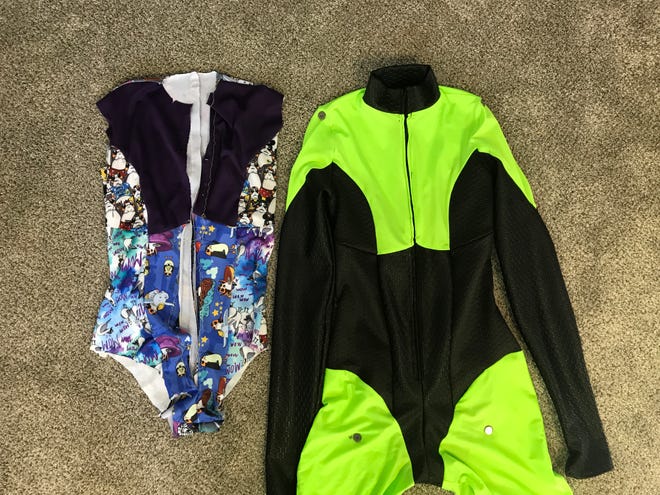 Then, edit your original pattern accordingly and make a new mockup. While this does take some time and eats up quite a bit of fabric, the result will be well worth it, as your final pattern can then be used endlessly for all of your future bodysuit needs.
Hard: Duct Tape Pattern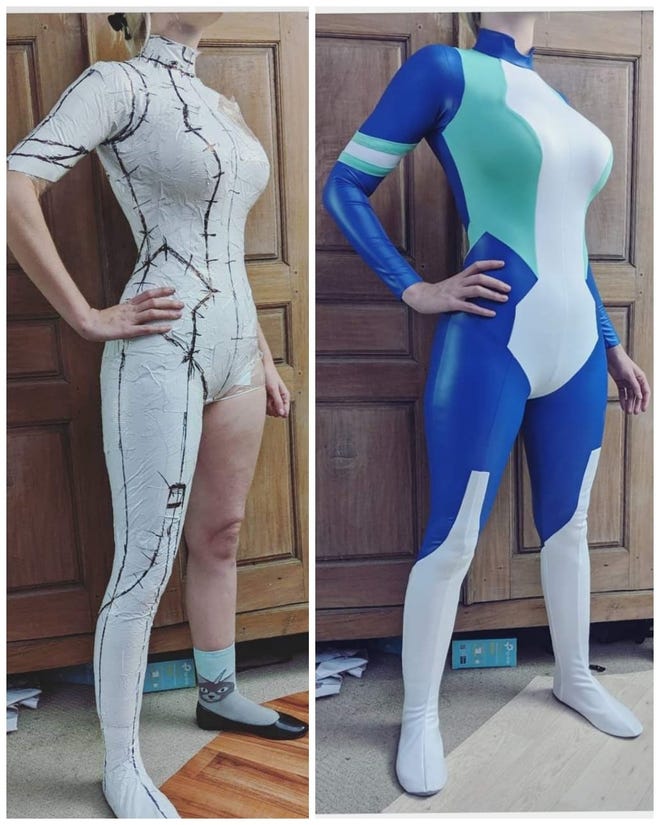 This one is the most time consuming and perhaps difficult, but it is best for those with muscle undersuits or who want truly the most precise fit for their body shape. This can also be done for specific bodysuit styles that need special design cutouts, but then you will likely never reuse that style again.
You may have had experience with a Cling Wrap and Duct Tape pattern for various armor pieces before, but with this, you'll end up covering the entirety of your body.
First, find a helper! You will absolutely need one to wrap and cut you out of the wrap.
Second, wrap your body in a layer of Cling Wrap. Then, lightly press a layer of Duct Tape over top, starting with a line down each future seam (the sides, middle front/back, the backs and undersides of arms, etc) to stabilize your form. Don't pull the Duct Tape taught, as this can squish your body underneath and distort the future pattern. Instead, lay Duct Tape gently on top and cover every exposed section.
TIP: You can cover your entire torso, but you really only need to do one leg/arm, as this will just be mirrored for the other side!
Once you are covered, have your partner draw seamlines directly onto your Duct Tape with a Sharpee. Depending on the style of bodysuit you are creating, you can also draw design seamlines to be cut out and used exclusively for one bodysuit pattern/design.
After each seamline is drawn, have your partner gently cut along the lines. The blocks you cut out will become your new pattern pieces, but remember to flatten each piece onto cardstock and draw out your seam allowances.
In the end…
Choosing which method to use can depend on your skill/comfort level as well as your needs for the bodysuit. While the easiest method may be quick and simple, it does lack the capabilities for utilizing various fabric choices or even being the best fit. On the other hand, the most difficult options can be very time consuming and may only be used for one specific cosplay.
For me, I've found that modifying a pattern gives me a good fit and a resulting pattern that can be used endlessly, if only modified slightly for different design elements.