NFL Hall of Fame player Brian Dawkins shares the origin of his 'Weapon X' moniker, and shares a cover with his namesake Wolverine
Philadelphia Eagles legend Brian Dawkins shares the name he had before 'Weapon X', and what it means to be a fan and a celebrity
If you say the name 'Wolverine' to some people, they visualize the tenacious Marvel Comics character with six adamantium claws and a personality just as sharp and deadly. But for others, they picture football player Brian Dawkins.
Dawkins is a NFL hall of famer, with a 16-year run as a playmaking safety for the Philadelphia Eagles and the Denver Broncos. It's there, early in his career, that he earned the nickname 'Weapon X' (as in Wolverine), and it's a name he adopted on the field to become a weapon in the hands of his coaches.
And now, the NFL's Weapon X will be standing beside Marvel's Weapon X in a special Wolverine #22 variant cover available exclusively on Popverse's sister site, the Haul.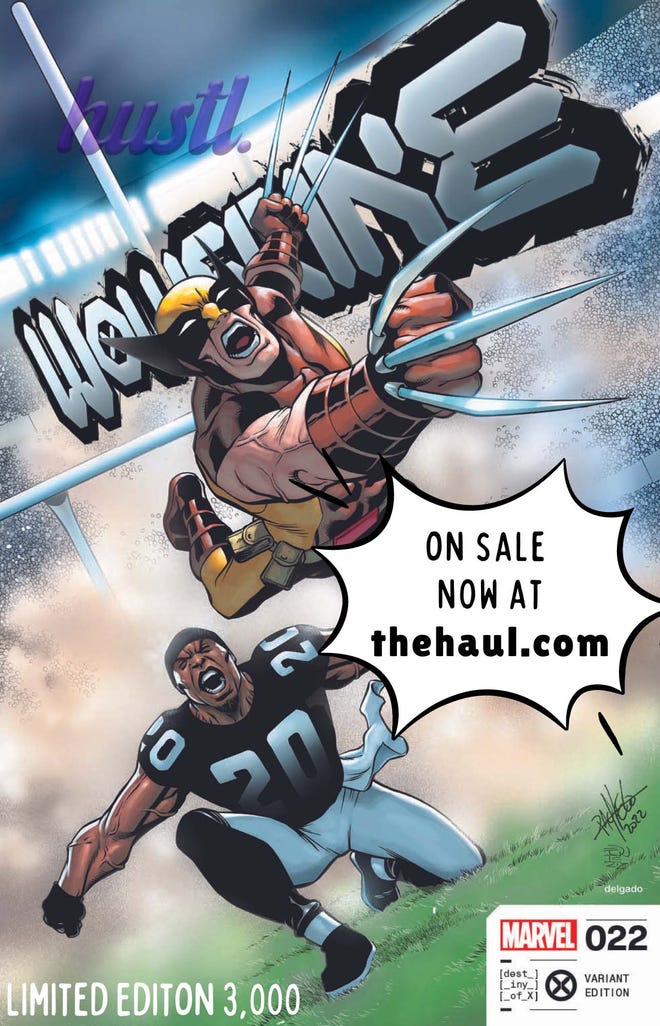 "Evoking the Berserker Barrage tenacity of Wolverine allowed me to transform into another personality when I stepped on the field," Dawkins tells Popverse. "Being featured side-by-side with Wolverine on the cover of a Marvel Comic... WOW... ARE YOU KIDDING ME! Never dreamed that big. It's a tremendous surprise & truly a special honor!!"
The Wolverine #22 variant cover is drawn by veteran superhero artist Carlos Pacheco.
"It has been an absolute pleasure to combine in one image the strength of two of today´s heroes for young Americans, a legendary football player and a powerful Marvel character," says the variant cover artist Carlos Pacheco. "To be chosen for this project is something that I didn't expect but has made me proud, and I hope you liked the result."
This special Wolverine #22 variant cover is being sold in partnership with hustl., a sports and entertainment company that specializes in unique collectibles such as these. The Brian Dawkins Wolverine #22 variant cover is limited to 3000 copies, and is being sold for $30 each.
"Fans know how much Brian loves Marvel and how he embodied Wolverine's ferociousness when he took the field," says hustl.'s chief operating officer Keri Harris. "So for us it was a natural fit for them to team up together on this limited edition variant."
For Popverse, this became a good reason to talk comics with a legitimate comics fan and NFL Hall of Famer - it's kind of hard to find that crossover, but we have. In our phone conversation with Dawkins on Monday, we met a humble man who was aware of his successes but kept an honest heart - and a love of comics. He's one of us, and he's also one of the greatest pro football safeties of all time.
Popverse: Brian, thanks for doing this today. We're big fans of Wolverine, and I'm a big fan of yours – especially your time at the Eagles. We're here today talking about a special variant to Wolverine #22 featuring you and Wolverine, once again. How does it feel to be forever identified with Marvel Comics' Wolverine?
Brian Dawkins: Wow. Are you kidding me? To be forever linked with Wolverine is a tremendous, tremendous honor.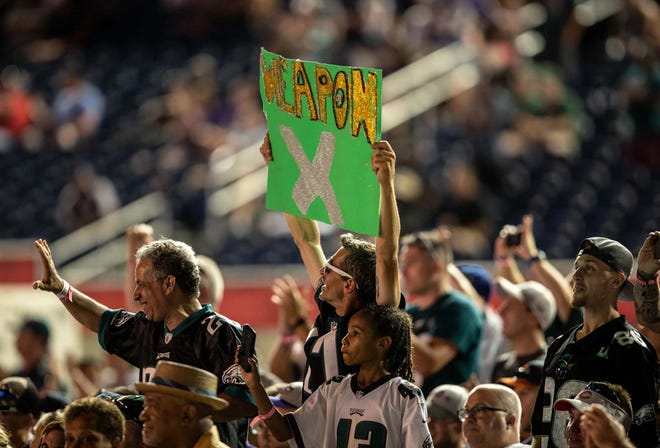 To this day, it still blows me away that when people come up to me, they say 'Weapon X.' A lot of times, instead of my name, they say 'Weapon X.' Just to have that connection, like you stated, and for it to be something so many individuals continue to think about really blows my mind.
When do you first remember learning about Wolverine, as a fan?
It was in the '80s, and maybe even late '70s, with the comics. And I remember watching the X-Men animated series from the '90s. I watched it a whole lot. After watching Wolverine there, I went back to the books and sought him out in particular. In fact, I became pretty picky about it; if it didn't have Wolverine, I probably wasn't going to read it.
There is something there with his tenacity – the tenacity in his fighting, but also in what (and who) he fought for. For the people he loved, he's going to fight and potentially die for those people. And he also has a dark side to him; he has some things that maybe he's not proud of.
A lot of that spoke to me, especially as I got older and went through some of the stuff I went through.
I appreciate your perspective. For some Wolverine is pigeon-holed as a loner, but its not so in the actual comics – he believes in his friends and family, and would do anything for them. So he can be a loner, and be a real team player like you have been.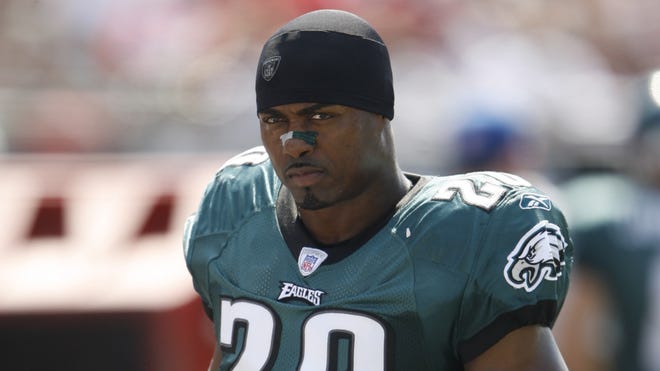 So, playing football and being labeled as 'Weapon X' – did that ever feel too juvenile or 'cartoony', especially in the locker room?
I am forever a kid. That's one thing the people who know me will tell you: I will never let go of being a kid.
People calling me 'Weapon X' still baffles me; it surprises me. But it's also a pleasure to hear every time. It's a strengthening thing for me; every time I hear that, it energizes me because I respect the character so much. I respect the imagination that goes into him, and all the people who created him and grew him into what he's become.
And I especially respect the depth of the character, as you brought up, because that's just a big part of it. But I also respect his animalistic side – that bezerker rage – he fought with. It's his ability to be a relentless weapon at any given time. And tnd that fit with how I played the game.
In football, I wanted to be a weapon on the field – and that's how the coaches used me. I can affect the game in many ways, and they put me in the right position to do that most effectively.
There are so many parallels between myself and Wolverine, and it became more than 'just a cartoon.' With the Weapon X moniker, I was able to broaden my perspective a bit and use it to make myself better.
A lot of things have happened in Wolverine's life; some dark stuff, and stuff from his past, and the stories have been about him trying to combat that – and in some cases getting therapy from Professor X to overcome things. I've gone through things, and I've had to get therapy in my life, so again, there's a lot of parallels that people may or may not have truly understood. You understand a little more now because of this interview, but there are so many parallels between myself and Wolverine that I grasp onto.
I appreciate that you see the nuances to the Wolverine character, and can go beyond the fact he's an amazing-looking character with knives on his hands.
I also appreciate that you acknowledge how therapy has helped you in life. I have a therapist, and I think everybody needs therapy from time to time. I appreciate that you acknowledge it, that it's helped through, and that you're sharing that with us.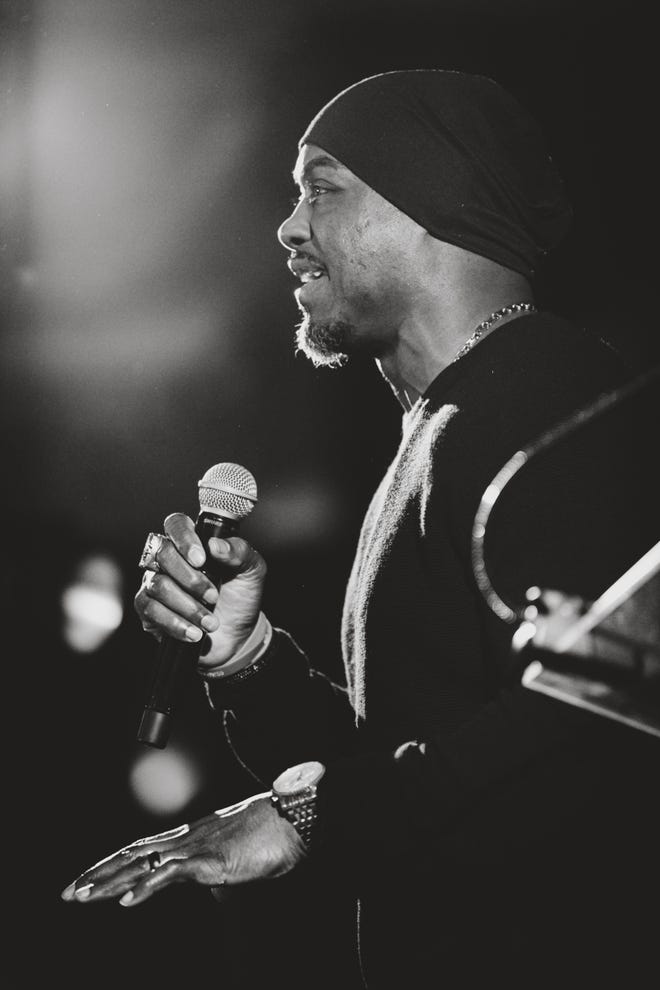 I didn't plan on asking this, but let's get into it since you brought it up. How does it feel seeing fictional characters go through therapy and admit they need help? I ask that as a fan, but also as someone who has fans – and you're here, a celebrity, talking openly about therapy.
Therapy has been very important for me. I'll tell you though, I didn't do it with Wolverine in mind. But getting therapy, and helping other individuals get therapy, is something I encourage. For me, I was literally getting to the end of myself.. at the bottom, in a pit of darkness. I realized then that I had to do something different, and through the urgings of my beautiful wife Connie and my coach at the time, Emmitt Thomas, I did it. We did it. They helped me.
It's hard to take that step, to get help, but I did.
But here's the thing about therapy; it's not one of those things where I need to go get on a megaphone and shout to everybody, 'Hey, I'm getting therapy!' No, the real reason is for yourself. But it's moved people to think about it in their own lives when we decide to talk about it.
On the other end of it, and on the other side of it, I've gotten it together and I've strengthened myself. I'm not telling anyone they have to get therapy, or how they should do it; I'm just telling people how I did it. What I'm saying is that it's available for you if you need it, and it's between that therapist and you. And then if you want to share it with somebody, then you share it. If not, you don't. You can keep it with you, to yourself.
Sometimes it's about going to a therapist, but other times it's about having people in your corner; that's what I've now developed in my life. I have a group I call 'My Blessed Pack.' My Blessed Pack is a group of five individuals I know that I can call, at any given time, and we can have some tough conversations if I need to. Or sometimes it's just me calling them and saying 'Hey!', or texting and asking them to 'say a prayer for your boy. I'm going through a little something. Just pray for me.' And I know they're going to pray for me; they're going to send me some scriptures. There's going to give me some words of encouragement, and an opening to talk. That's an empowering thing.
So again, now I don't necessarily need to go to a therapist anymore because I know I have these people in my corner. I have people so we can put our minds together, pray together, and figure out some things that way. It's an empowering thing to have the help you need for the tough spaces that life puts you in.
I really appreciate the way you frame. Having a support system for yourself, and cultivating that; whether its through a therapist, through friends and family, something.
And that goes back to Wolverine; he's known as a loner, but he's a member of so many teams. And no matter what team he's on, he's often the 'playmaker,' as it were.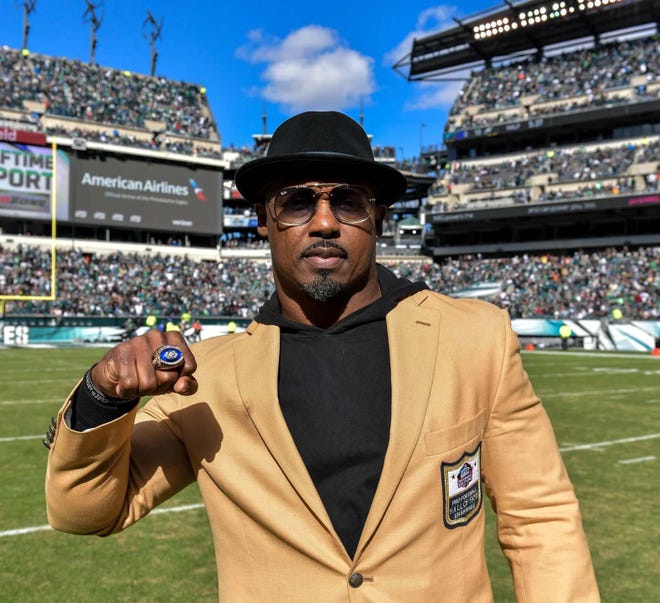 Do you remember the first time someone put the 'Weapon X' name on you? Was it back at Clemson?
No, it didn't happen until the National Football League. I was a big collector of Wolverine figures, and early in my career I had all of them in my locker.
Let me back up. Before 'Weapon X', I had another name I used for myself – a persona that I took on before I went on the field. I've always felt that 'Brian Dawkins' never played a down in the National Football League; it was always an alter ego. And for a long time at the beginning of my career in the NFL I called that part of me 'Idiot Man.' So it was like 'Idiot Man did that…' or 'Idiot Man did this…' I was no longer Brian Dawkins; I was Idiot Man.
But during that time I was collecting all these Wolverine figures and putting them in my locker – Wolverine, Weapon X, Patch, they were all there. Then one year when we made the playoffs, and we were going into the NFC Championship game against the Rams.
That was the 2001 season, Eagles versus the St. Louis Rams.
Yeah. Somehow my figurines made their way to the press, and they began asking me about it. 'So why do you have all these dolls?'
[Laughs]
'First of all,' I told them, 'They're not dolls. They're action figures.' So that's where it started. After that, the press continued to ask me about the character, and I explained some of his complexities and characteristics. I told them how I love that, and how it empowered me a little bit. And so they put two and two together, and the name caught on.
So for me, BOOM! Instead of calling myself 'Idiot Man,' I became Weapon X.
That's quite the origin story, Brian. What did, and does, your family think about you having this moniker?
They know me, so they know I still watch cartoons. I still watch cartoons to this day. I'll watch cartoons with my kids, sometimes; not too much, because they watch a whole lot of anime and I don't understand it. But I still watch cartoons.
I'm still a kid at heart in a lot of ways, and I can see that they're proud of me.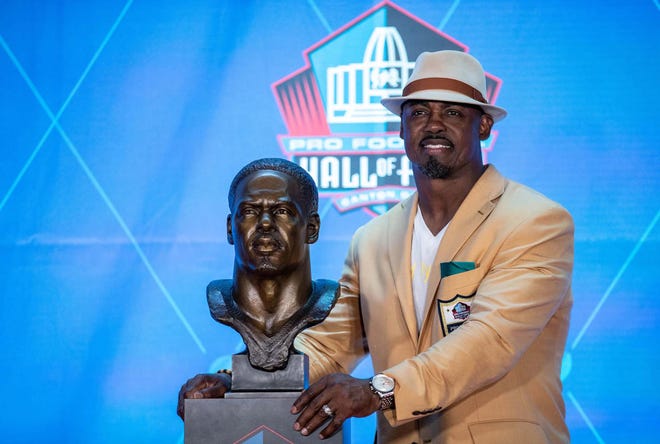 So what does it feel like to be a Marvel Comics cover figure? I know players get a kick about being on the front of Madden, but you've been on the front of a Marvel comic a few times now. I remember for your final game, Marvel created a new poster of you as Wolverine as a send-off.
This is actually the third time I've been drawn with Wolverine in mind. There's been a couple of renditions; one when I was a player with the Philadelphia Eagles, one when I retired, and now this one. But this one, for Wolverine #22, is the first time the artist drew both of us together at the same time.
A team-up!
Yeah! [Laughs]
It's the first time Wolverine and I have shared the same picture. Again, I didn't dream this big. I never saw this as something that could ever happen to me, but here I am – on the cover of a Marvel comic, the same comics I read growing up. I can't even begin to think of another word, but just… WOW!.
I appreciate your humbleness to all of this and appreciate that you've never lost your own fandom even after being a celebrity and one of the greatest football players of all time. How important is it for you to continue being a fan, after all this success?
And that's the thing about it with me. I see success, and I choose to see success, through my teenage eyes.
I think about myself when I was in high school, and not a lot was expected of me. And now I see what I've been able to do, and that part of me is proud of me. The young me is saying, 'Wow, you're doing those things.' I allow myself to see the success that I have in my life through those eyes.
It's been a very humbling thing to look at things through that lens.
Has becoming known as 'Weapon X' affected how you read, watch, and enjoy Wolverine stories?
Well, because I'm older now, and wiser, I can deep dive into the different complexities of the character more freely. So I can read and re-read the different battles he's fought, and the ways that he's shown his courage in the midst of some of the worst conditions. Obviously, he loses control from time to time, but that kind of comes with the character.