Buffy: Spike and Dru's chemistry "picked right back up" in Slayers according to Juliette Landau and James Marsters
Juliette Landau and James Marsters agreed that their characters' undeniable chemistry remains.
It may be true that it has been a while since one of Buffy the Vampire Slayer's fan-favorite couples have seen one another. However, Spike (James Marsters) and Drusilla (Juliet Landau), aka 'Dru,' nevertheless saw that their chemistry "picked right back up" when reunited thanks to the Audible Original Slayers: A Buffyverse Story, which is available now.
Appearing together on the Slayers panel at New York Comic Con 2023, both Marsters and Landau agreed that playing opposite one another as the iconic vampiric lovers could be considered the undead equivalent of riding a bicycle.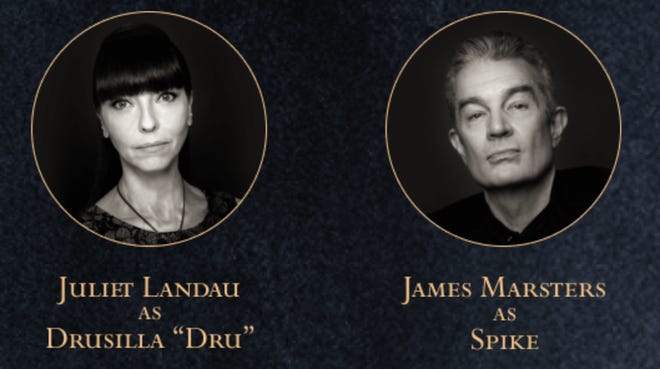 Landau recalls that, in spite of the fact that the performance was for audio, she and Marsters were able to see each other during recording. "It was great, because we did get to see one another, even though it was through glass," said Landau. "But we do have an incredible acting chemistry, and that just really picked right back up in terms of Spike and Dru."
Marsters quickly agreed. "There's this one scene where you're trying to tempt me over to your side," said Marsters. "And I could start to hear your voice crack, and it just brought me there. And then my voice kind of cracked. It's the weirdest thing about acting, there's this one moment, I just say the word 'Dru.' But there is a whole history..."
"200 years of history," interjected Landau, referencing the characters' centuries long romance. Marsters agreed, and continued, "And it's all there. I didn't have to work at it. I didn't have to plan it."
Before Marsters could continue, Landau slipped into character as Dru, calling Spike's name and commenting on the size and temperment of the audience. "Just don't go meet them tonight," replied Marsters in character as Spike, referencing Dru's violent reputation.
You can relive every moment of the Slayers panel right here at Popverse by clicking this link.