Cardcaptor Sakura: How to watch all the shows and movies in order
In the world there are a lot of fascinating things... including Cardcaptor Sakura, the CLAMP manga turned MADHOUSE anime franchise
This year marks the 25th anniversary of the anime adaptation of CLAMP's classic magical girl manga Cardcaptor Sakura (1998). Its premise involves a ten year old girl named Sakura Kinomoto who discovers a magical book of Clow Cards hidden in her father's library. When she accidentally sets all the cards free, she is appointed the role of Cardcaptor by the book's magical guardian Keberos and sets out to recapture all the cards.
Not only is Cardcaptor Sakura known for its magical hijinks, but also its feel good slice-of-life moments involving family, female friendships, and LGBTQ characters and themes. Since the original anime's run, the series has gone on to influence other magical girl anime such as Magical Lyrical Nanoha (2004) and has received a manga and anime sequel called Cardcaptor Sakura Clear Card (2018).
Despite receiving an infamous English dub, the popularity of the Japanese version endures today. Not only has the original manga has also been reprinted into omnibus editions, but characters from the series have also made appearances in CLAMP's alternate magical universe manga Tsubasa Reservoir Chronicles (2003). If you haven't watched Carcaptor Sakura before, then here is a guide.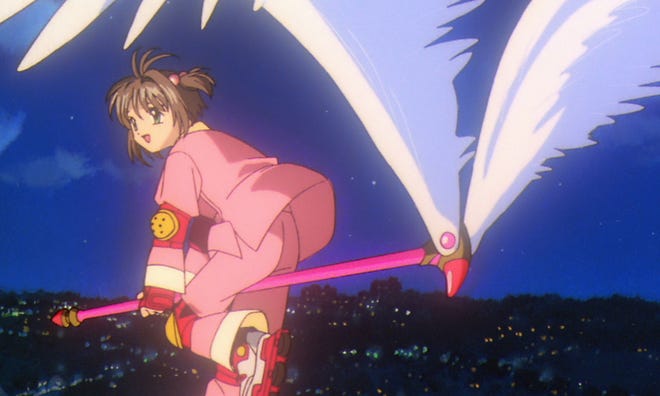 Consisting of episodes 1-35, this season features Sakura's debut as a Cardcaptor while also introducing other secondary and supporting characters such as Sakura's best friend Tomoyo, Sakura's rival Syaoran, and Sakura's family members. Sakura manages to capture several Clow cards such as the Fly card, the Sweets card, and the Sword card.
At the same time, Syaoran also claims nine of the cards for himself despite not officially capturing them by signing his name onto the cards. We also see key details about certain character relationships, such as Sakura's older brother Toya being able to see ghosts and certain magical things and Sakura having a crush on Toya's friend Yukito.
Other notable aspects of this season are Tomoyo's handmade magical girl outfits that are made for Sakura and the growing relationship between Syaoran and Sakura. By episode 32, Syaoran has gone from being antagonistic toward Sakura to respecting her as a Cardcaptor and falling in love with her. This season as well as the rest of the series is available to watch on Netflix, Crunchyroll, and Tubi.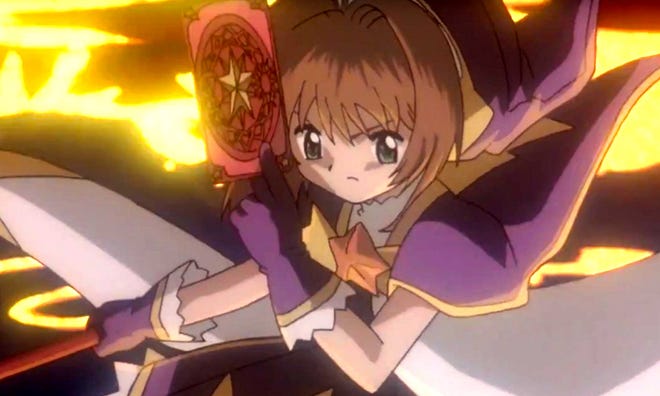 This movie is set between the first and second seasons of the anime series. It features Sakura and her friends going to Syaoran's home country of Hong Kong and encountering the angry spirit of a woman who was hurt by the Clow Cards' creator Clow Reed. It doesn't involve Sakura capturing any new Clow Cards, but it serves as a nice diversion. It is available to stream on Crunchyroll.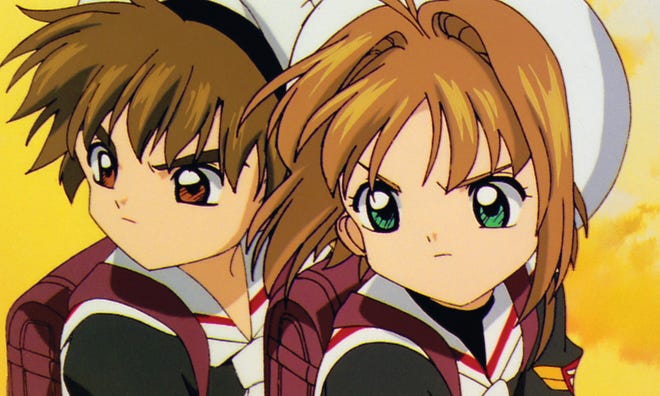 Going from episodes 36-46, this season features Sakura collecting the remaining Clow Cards before taking the test to become their new master. Despite being only ten episodes, it packs a lot of neat everyday and magical moments.
One notable episode is 'Sakura's Dizzy Fever Day', when Sakura gets sick and uses the Mirror card to make a double of herself to stay in bed while the real Sakura goes to capture a Clow card. However, Sakura's brother Toya knows that Sakura is gone even if he doesn't quite know why. Nonetheless, he doesn't say anything to the fake Sakura or the real Sakura out of respect for his sister's privacy. This episode also features a visit from Sakura's deceased mother Nadeshiko in ghost form, who cures Sakura's fever.
Then, there is the work that goes into catching the final Clow Card and then undergoing the test to become their new Master. Not only does it take two episodes to catch the card, but the person responsible for administering the test ends up being someone very close to Sakura. As a result, Sakura has a hard time with the test until she gets a little unexpected help and learns to empathize with the person testing her. This allows her to finally pass the test and become Master of The Clow Cards.
Consisting of episodes 47-70, this final season features trouble stirring with the arrival of new characters: a ten year old boy named Eriol Hiiragizawa that transfers into Sakura's 5th grade class and a teenaged girl named Nakuru Akizuki that transfers into Sakura's brother's class in high school. These two characters and one other cause a series of magical incidents that force Sakura to summon a new staff as Master of The Clow and turn the Clow Cards into Sakura cards imbued with her own magical powers.
At first, Sakura becomes really tired from transforming cards but eventually she changes enough of them that this doesn't happen anymore. Another notable thing is that following the revelation about Yukito in the previous season, he starts feeling really tired no matter how much he sleeps and becomes in danger of disappearing entirely.
By the final episode, all the Clow Cards have become Sakura cards and there are quite a few revelations about Clow Reed as well as the romantic feelings of certain characters.. This causes Sakura to learn a poignant lesson about romantic love as she bids farewell to Syaoran with the promise to see him again someday.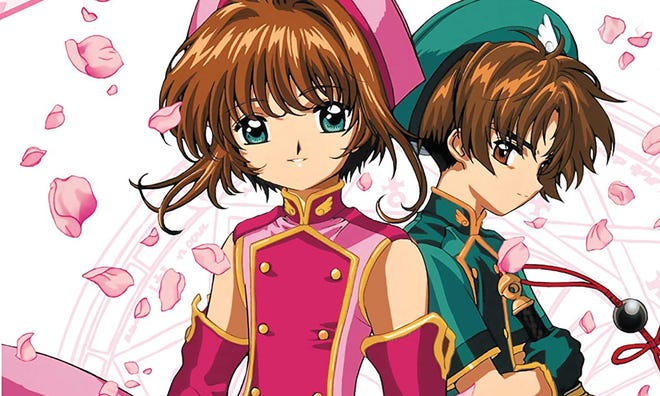 Serving as a proper conclusion to Cardcaptor Sakura, this film features the return of Syaoran to Sakura and a new Clow Card appearing when Eriol's house is demolished to make way for a theme park. This film features Sakura using an unnamed card that she created at the end of the final episode of Cardcaptor Sakura and Sakura finally confessing her feelings to Syaoran. Like the previous movie, it is available on Crunchyroll.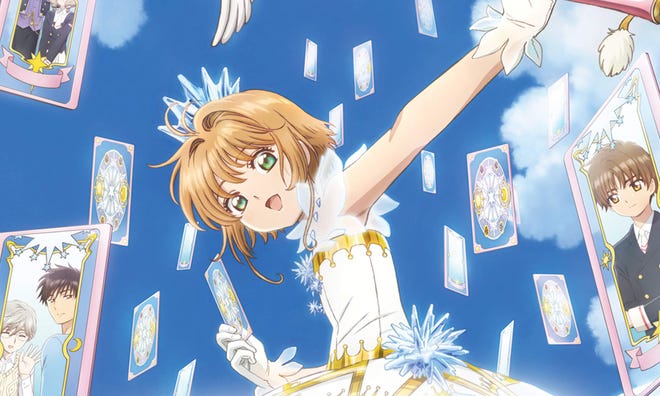 Serving as the sequel to Cardcaptor Sakura, this series premiered in 2018 and is adapted from the ongoing manga series of the same name. It is currently available to stream on Crunchyroll and Funimation.
Prior to the official start of the series, an original video animation called 'Sakura and The Two Bears' premiered in 2017 and serves as a prologue episode that bridges the gap between the original series and the new one. It can also be considered the true ending to Cardcaptor Sakura, as this OVA adapts the manga's original ending to the series.
When the series properly starts, Sakura is now a junior high student and Syaoran has moved back to Sakura's hometown. However, Sakura notices that her Sakura Cards have turned blank after having a strange dream. Following another strange dream, Sakura receives a new staff and is attacked by powerful winds. Using the new staff, she captures the winds and they turn into a card with a transparent design aka a Clear Card.
For 22 episodes, Sakura continues collecting Clear Cards while continuing to have mysterious dreams alongside an unknown girl. The final episode ends on a cliffhanger and it is currently unknown whether the series will continue. However, viewers wanting more can always read the manga.
From Cardcaptor Sakura to its sequel series, Sakura Kinomoto has managed to charm viewers of all ages. Heartwarming and exciting, Sakura and the stellar cast of characters are magical in more ways than one.
---
Anime in movie theaters: Crunchyroll executive Mitchel Berger explains how Dragon Ball Super and other anime are making it big on the big screen.