Archie Comics adds a new character to the Riverdale mythos: Cassie Cloud
Meet the colorful new addition to the Archie Comics family: Cassie Cloud
For over 80 years, Archie Comics has created an idyllic (and sometimes demonic) view of high school life with Archie Andrews and the Riverdale gang. Although in some ways they seem frozen in time, they've been adding new characters all along the way, such as the more recent cast member Kevin Keller.
And now, they're adding another major new character to the Archie mythos.
Meet Cassie Cloud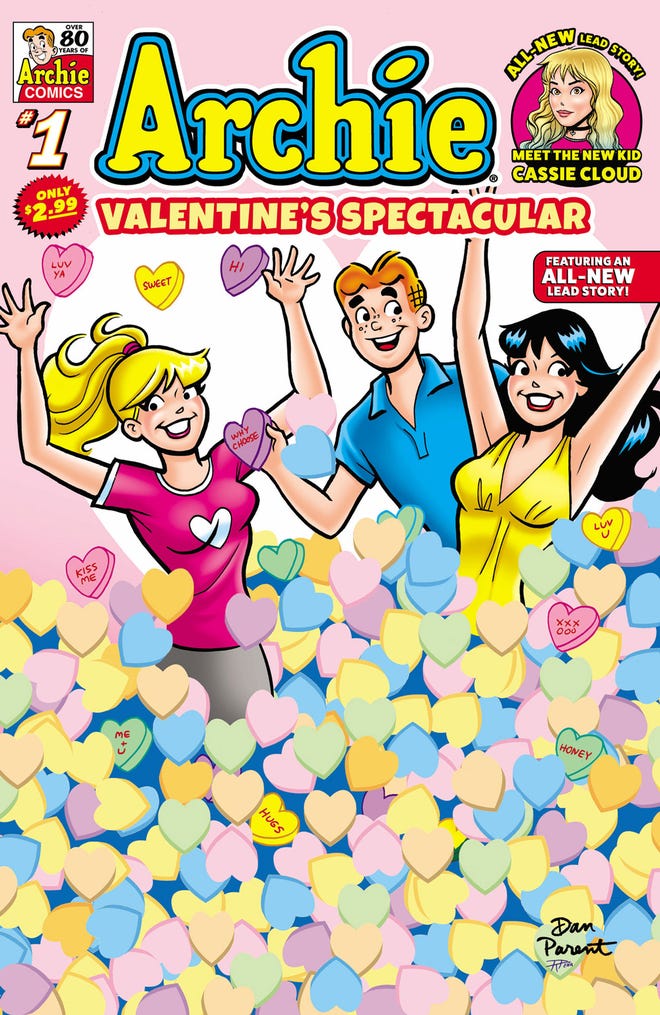 There's a new student in the halls of Riverdale High School, and her name is Cassie Cloud. She's easy on the eyes (as the student body quickly notices), but she's not one to hang out with the cool cliques - instead she's more inclined to be with the bookish types.
When can you meet Cassie Cloud? February 1, 2023's Archie Valentine's Spectacular anthology in a story called 'More Than Meets the Eye.'
(No, this isn't a discreet Transformers crossover.)
"Cassie Cloud is tall, confident, funny, and catching all the guys' attention—much to the chagrin of the girls," reads Archie's description of Archie Valentine's Spectacular. "But she doesn't seem interested in the most popular guys in school — instead she's been hanging with the likes of Randolph, Dilton, Toño, Raj and even Prankenstein."
That's the RPG players group of friends, including some from the well-liked 'New Kids' story from Alex Simmons and Dan Parent, which spawned several additional stories.
"What can Archie and Reggie do to get her attention, without catching the ire of Betty and Veronica?" the new story's description concludes.
'More Than Meets the Eye' is the lead story in Archie Valentine's Spectacular, followed up with several romance-themed story reprints from the company's 81-year history. This new story is written by the company's senior director of editorial Jamie L. Rotante, and drawn by the team of Bill Golliher and Jim Amash. Glenn Whitmore and Jack Morelli are onboard as colorist and letterer, respectively.
How did Archie create Cassie Cloud?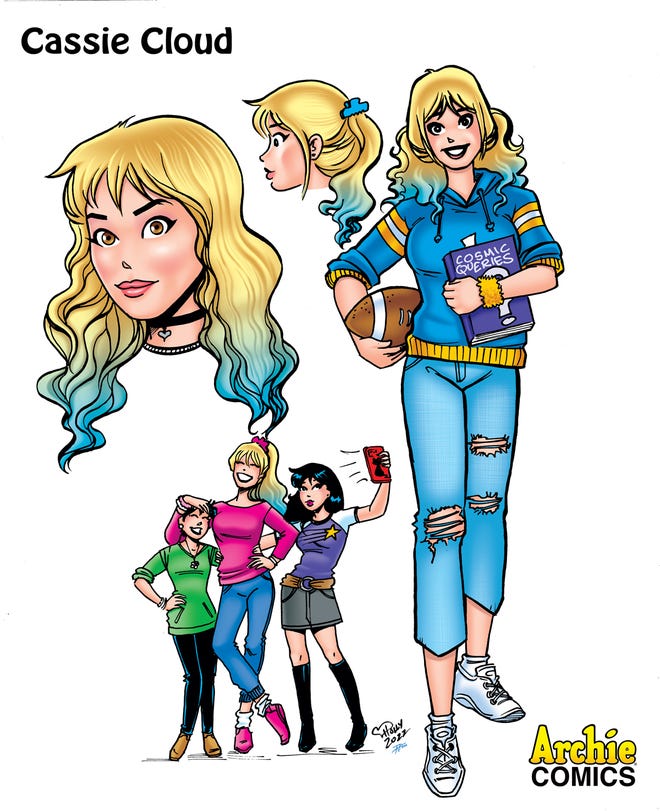 "It's always an honor to be in on the ground floor with the development of a new character. Archie EIC Mike Pellerito really wanted to have more body diversity in the cast, and we don't have a tall female character aside from Ethel," says Rotante. "I based her personality on a few tall ladies I know personally and admire, and Mike helped come up with the idea to make her stand out even more with striking blonde and blue hair."
Cassie Cloud was designed by Holly G!, a familiar face in Archie Comics as well as on the more adult-oriented BroadSword Comics.
"Cassie jumped outta Jamie's script and into my heart!" Holly G! tells Popverse. "I felt she was the kinda gal that would wear a crown and make sure the other gals' crowns were on straight. Though her head is in the clouds, she is so grounded. A reliable friend, she'll remind you that you are enough, not whatcha wear or how well you do in this or that; you are unique and it's time to celebrate that!"
Archie Comics wants more short kings
According to Archie's editor-in-chief Mike Pellerito, Cassie Cloud is also dovetailing into the idea of 'short kings' - as in, short men who don't feel insecure about their height.
"I'm always looking for trends we can incorporate in the comics; Jamie, who is both a great editor and writer, had the concept for Cassie, and we paired it with the 'short kings' trend. So, we get to introduce a great new character and bring back Raj, Dilton, and everyone's favorite, Randolph."
Pellerito says they spent a lot of time honing Cassie Cloud and her debut story, with plans for her to be a big part of Archie's future.
"We spent a lot of time getting just the right tone for the story and the new character, and Holly G took it in the perfect direction, visually," says Pellerito. "The new characters are created through a lot of collaboration, and without a doubt, this story benefits from that teamwork, so now we have a great new kid in Riverdale for fans to love!"
Or as Rotante tells us, "Who WOULDN'T want to be Cassie Cloud's friend?!"
Cassie Cloud debuts February 1, 2023 in Archie Valentine's Spectacular.
---
Love Archie? Read how one young woman grew up an Archie super-fan.