Chainsaw Man English dub cast and director discuss the "bloody" good series
"So just go werewolf mode, right?"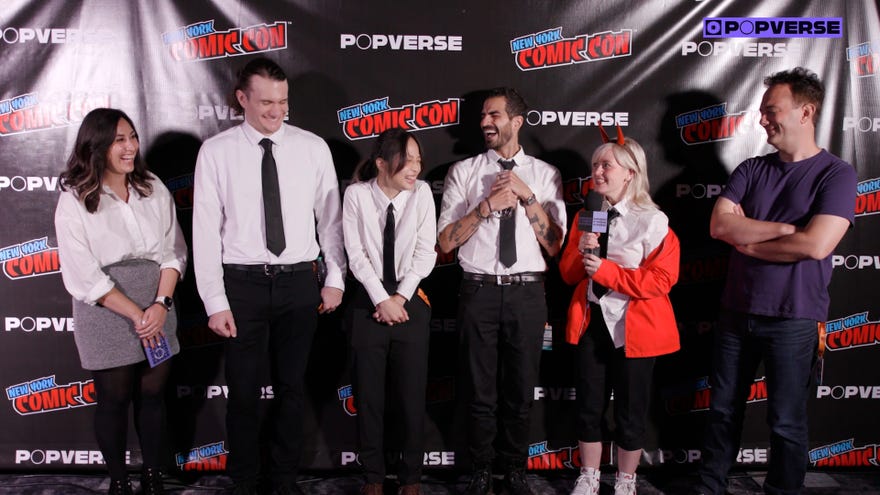 Devil hunters! The Fall 2022 anime season saw the premiere of one of the most highly anticipated series of recent times, Chainsaw Man. Chainsaw Man follows Denji, a character working off the debt left to him by his father. When a job to work off that debt leaves Denji with a fatal outcome, Denji merges with Pochita, his (absolutely adorable) devil companion and transforms into a devil-human hybrid and will later team up with a group of devil hunters to take out violent devils.
Fresh off of the premiere of the first English dub episode, Popverse's Veronica Valencia caught up with ADR director Mike McFarland, and the English dub cast Ryan Colt Levy, Suzie Yeung, Sarah Wiedenheft, and Regan Murdock at New York Comic Con to discuss the series.
"My favorite thing actually about recording this episode," says Ryan Coly Levy, "was during that whole final section, anytime I'd do a take, I would then hear Mike, and he'd be cackling laughing in between because I was just getting so unhinged, and we were like "so just go werewolf mode, right?" And he was like "yeah yeah."
Here is our full interview with the English dub cast and director of Chainsaw Man:
Want more Chainsaw Man? You can watch the New York Comic Con spotlight panel featuring the cast here!