Christopher Paolini teases many more books to come in the Eragonverse
At NYCC Christopher Paolini says new book Murtaugh is "the beginning" of a whole new series of Eragon books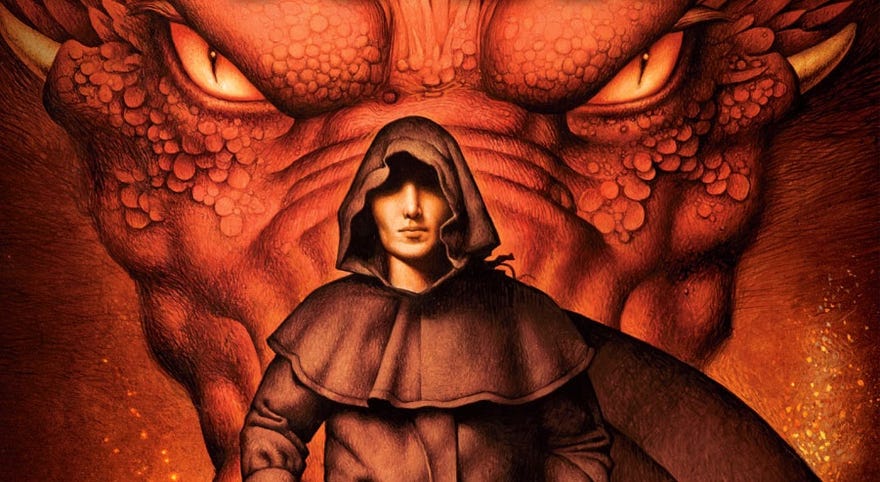 At the Eragon 20th Anniversary Celebration at NYCC, author Christopher Paolini read from his new book Murtagh, his first novel set in the Eragonverse in 12 years. While explaining the origins of the new book, Paolini said, "People have asked me, is this the start of a new series or is this a standalone, to which the answer is yes."
"I have every intention of continuing to write stories in this world moving forward," Paolini went on to say. "Personally I would just love to bounce between my science fiction universe and the world of Eragon for the rest of time, but we'll see how that goes."
Over the course of the fan Q&A, Paolini went on to give many hints as to future Eragon books. Asked about whether there's an overarching plot to the witch Angela's appearances in The Inheritance Cycle, Paolini said "She appears here and there, but there is an actual plot happening with her, and I have an entire book planned about her." He also confirmed that it was Angela who appeared in his science fiction novel To Sleep in a Sea of Stars.
Asked about whether there might be even more Eragon and Saphira in the future, Paolini said, "Just this week, I got the first idea ever of another book from Eragon's point of view." He also noted he hasn't said whether or not Eragon and Saphira appear in Murtagh.
Paolini also confirmed more Roran Stronghammer to come, and more dragons, too: "There's one in particular I told my editor about two nights ago, which I think will be a very different kind of dragon/rider relationship."
Additionally, he revealed that the two strangers Eragon blessed in Brisingr are "the stars of their own book... I did a couple of things like that, slipping in characters I want to write stories about in the series." His new book Murtagh, he said, "is the beginning of attempting to answer some of those questions and some of that world building."
Murtaugh will be published November 7 by Knopf Books for Young Readers.
---
Popverse will be providing wall-to-wall coverage of New York Comic Con 2023, with an all-star crew of writers, editors, and video producers there all four days (and nights), as well as in advance of the show. You can follow along to this coverage as well as the panels we're streaming with our
NYCC Popverse coverage guide
.