Which classic slasher villain would be the ideal lover... at least, according to author Chuck Tingle
Pinhead? Michael Myers? Ghostface? Which horror icon would win the Match Game from Hell?
No good slasher movie franchise is complete without an iconic villain to appear again (and again) throughout the series to brutally murder their victims and terrify audiences. Even murderous tendencies don't stop legions of viewers from affectionately glomming onto their favorite slasher villains and forming passionate, affectionate fan bases around them, however. Sure, they're cold hearted killers, but perhaps all they need is… love? If you've ever looked at Freddy, Jason, Leatherface, and the like and thought "I can fix him!", then horror, comedy, and erotica author Chuck Tingle had the dating game for you at Flame Con 2023.
Clad in his signature boxy pink mask, sunglasses, and pink suit, Chuck Tingle kicked off his convention panel with a "Slasher Dating Game" for the audience to determine which classic slasher villain would be the ideal lover, complete with a hilarious slideshow. Each slide in the game highlighted the pros and cons of dating these notorious silver screen killers, as well as their love language, favorite dating app, and kinks. Tingle noted that the game combines all three of his "trinity of maligned genres:" comedy, horror, and erotica.
Contestant Jason Voorhees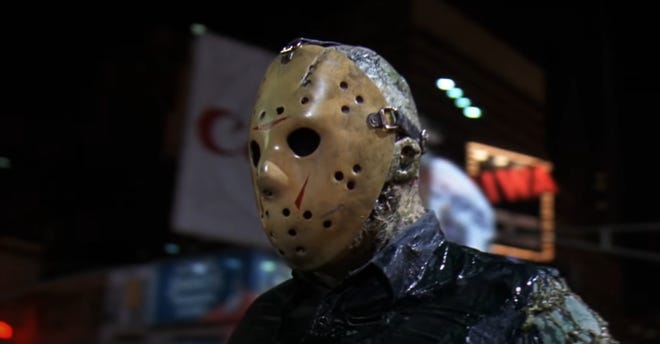 Up first was Jason Voorhees of the Friday the 13th franchise. Tingle lauded Jason as a "rugged outdoorsmen" (most Friday the 13th films take place primarily in the woods) and a "sports enthusiast" (due to his signature hockey mask) while also noting the luxuries of both his lake house and Manhattan residence. The cons of dating him include his "overbearing mother-in-law" (his mother, Pamela Voorhees, was the villain of 1980's original Friday the 13th, and continues to inspire his murder spree throughout the franchise).
Naturally, then, Jason's love language is Acts of Service (if you consider murder a service), and due to all the time he spent at the bottom of the lake throughout the original Friday the 13th, his favorite dating app is Plenty of Fish. And of course, due to his extensive mommy issues, Tingle determined that Jason's kink would be MILFs.
Contestant Pinhead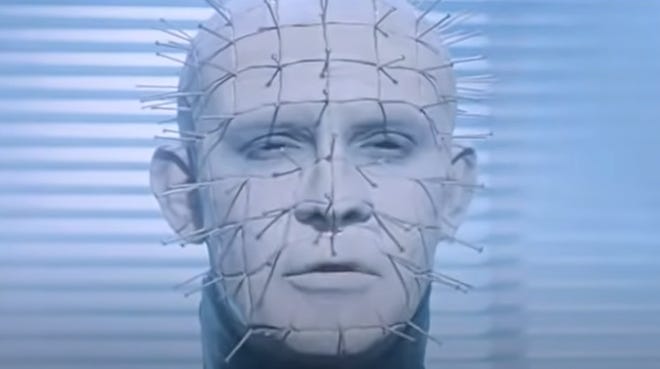 Up next was Pinhead, the spiky-headed lead Cenobite of Clive Barker's Hellraiser franchise. The pros of dating him include that he "showers you with attention and gifts" and "enjoys puzzles" (the Hellraiser franchise is all about strange contraptions that end up ruining their users' lives), as well as the fact that he's an "explorer in the further regions of the bedroom experience" (the Cenobites are cosmic "explorers" of the furthest reaches of pleasure and pain… mostly pain). The cons of dating Pinhead include his status as an "angel to some, demon to others," and that he seriously "needs to work on respecting hard limits and boundaries."
Unsurprisingly, his love language is "gifts," and due to the extreme kinkiness of his particular brand of horror, his preferred dating app was declared to be Fetlife. And due to his love of terrifying gizmos and gadgets, his kink is not just domination, but toys.
Contestant Ghostface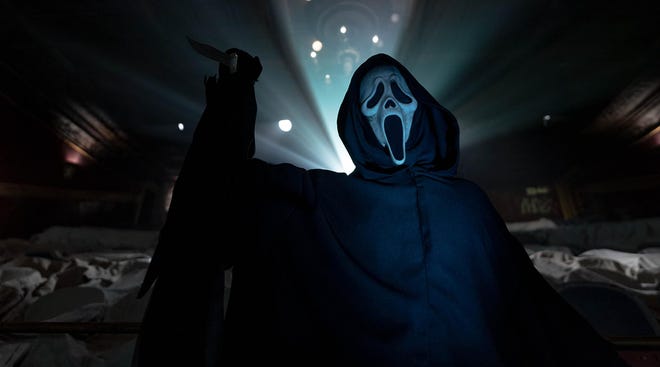 Next up was Ghostface of Wes Craven's Scream franchise, who got a big response from the audience which Tingle attributed to the fact that he "recently moved here" in Scream VI, the latest installment. As any longtime fan of the Scream series knows, Ghostface's identity changes from film to film, but they share some common traits that would help potential suitors determine if Ghostface is their ideal slasher lover. The first "pro," for example, is that he's a "great communicator," as fans have seen during the various moments in each Scream film in which Ghostface spends extensive time on the phone with his victims. Plus, he's a movie buff ("what's your favorite scary movie?")
As for the cons, Ghostface "needs to learn that some things can be said over text," plus he "falls down and gets hurt all the time" (unlike the other slashers in this game, Ghostface is never implied to have any supernatural powers). Plus, since the Ghostface identity constantly changes (and there are often multiple Ghostfaces in a single Scream movie), it's hard to tell which Ghostface you're ever with.
Due to Ghostface's chatty nature, their love language is Words of Affirmation, while their favorite dating app is Bumble. For similar reasons, his kinks include phone sex and submission.
Contestant Michael Myers
The penultimate contestant was one of the original iconic slashers, Michael Myers of the Halloween franchise. His personality as the "strong, silent type" was noted as one of his pros, as is the fact that he's "incredibly loyal" and "always remembers anniversaries" (considering his obsession with Laurie Strode, played by Jamie Lee Curtis). Plus, his mask—famously a modified William Shatner mask—adds "celebrity swagger."
Unfortunately, since Myers is completely mute, he's "very slow to open up," and "doesn't really have his own thing going on." His love language is Quality Time (since he tries so hard to find Laurie), and due to his celebrity obsession, his favorite dating app is Raya. And since we've seen so much of Michael Myers ominously watching people through the bushes or windows, it's easy to see that his favorite kink is that he "likes to watch."
Contestant Leatherface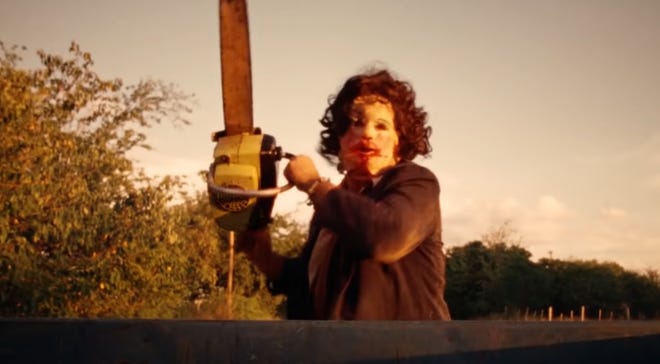 The final contestant was arguably the first true slasher villain, Leatherface of The Texas Chainsaw Massacre franchise. Tingle commended him as a "family man" with "southern charm," plus he "knows all about skincare and fashion (he even sews his own outfits)" - which is a reference to the fact that Leatherface wears a woman's skin over his own. Murder aside, his cons were listed as "vegetarians and vegans need not apply" (he comes from a family of cannibals), and that since he's from Texas, he's "probably conservative."
Owing to his excessive violence, Leatherface's love language is Physical Touch, while his dating app was determined to be Feeld. Naturally, since he loves playing dress-up so much, his kink is role-play.
So who is the winner?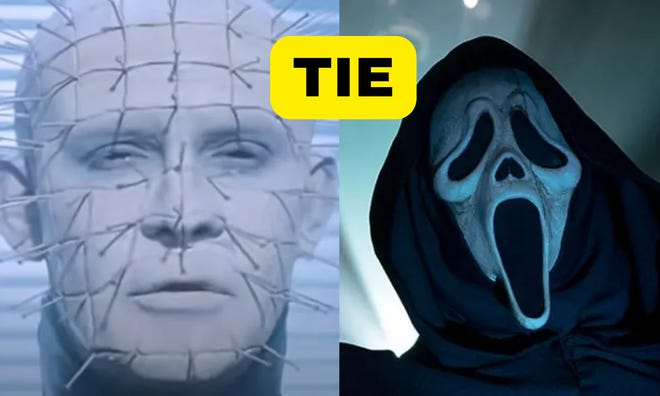 Based on applause for each character from the audience, Tingle determined that it was a tie between Pinhead and Ghostface. But Tingle determined that Pinhead was "probably the queerest slasher," which garnered some affectionate cheers from the Flamecon crowd. It was a funny, irreverent game that perfectly set the stage for a deeper discussion of what Tingle is trying to achieve in the horror genre.
---
Romance author Chuck Tingle on how his audience "saved" him .