Chucky: Get dolled up and watch your friend to the end's movies and TV show in order
Looking to watch the Child's Play movies and spinoff SyFy series this Halloween? Let us show you how
In the 1980s, there was a boom of "inanimate object turned killer" horror movies. Just about everything got the treatment; there were evil tomatoes, evil trucks, even an evil elevator. But standing astride them all is one horror creator, Don Mancini, whose 1988 film Child's Play would introduce the world to serial-killer turned doll Chucky.
Over the years, Chucky has become a cultural icon, appearing in commericials, on mountains of merchandise and, of course, in an onscreen franchise that's lasted over thirty years. With Halloween coming up, it's a great time to get into that franchise, and yet, navigating three decades of horror can seem daunting.
Fortunately, the Child's Play saga is a simple one to dive into. To find out where to start, keep reading.
Let's begin with something simple.
How to watch Chucky in release order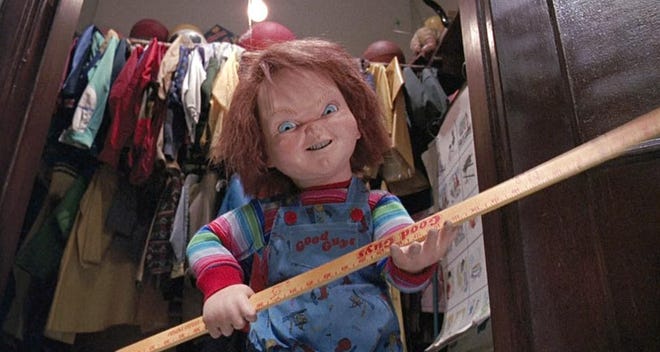 Chucky has appeared, officially, in eight films, five shorts, and one eponymous TV show. To watch all of this in order of release, all you have to do is follow this very easy list:
But say you don't watch movies for their release order. Say you're more into continuity, into making sure there's one cohesive story that the movies move you through. In that case, might I interest you in...
How to watch Chucky in chronological order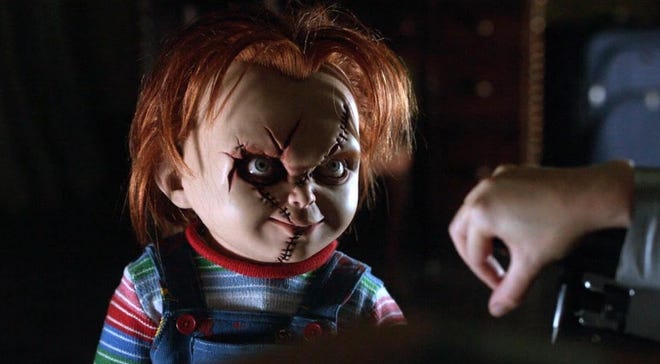 Unlike some horror franchises (*cough* Halloween *cough*), the adventures of Chucky flow pretty linearly from their beginnings in the 90s to present day. However, there is one minor, one major break in continuity, see if you know what I'm talking about as you check out this order:
Child's Play (1988)
Child's Play 2 (1990)
Child's Play 3 (1991)
Bride of Chucky (1998)
Seed of Chucky (2004)
Chucky's Vacation Slides (2005)
Curse of Chucky (2013)
Cult of Chucky (2017)
Chucky: Season One (2021)
Chucky: Season Two (2022)
Did you catch it? The release order and chronological order of the Chucky franshise are nearly the same, except for Chucky Invades and his most recent big screen outing. Before we move on, let's take a moment to look over the two over those and go into why they don't fit the continuity above.
Chucky Invades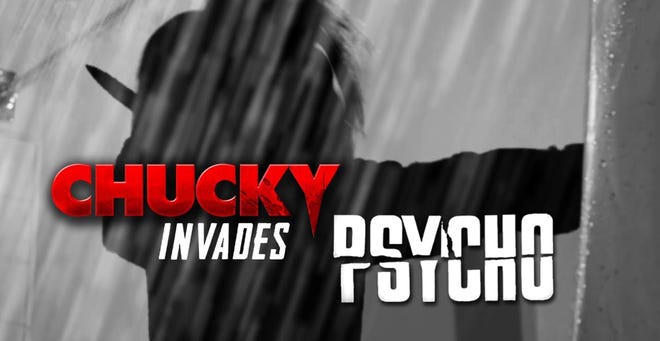 To be entirely fair, Chucky Invades doesn't fit any continuity whatsoever, and it was never meant to. Chucky Invades is a series of commericals made as part of the promotional campaign for the Curse of Chucky DVD. The shorts weave the titular doll into iconic horror films including The Purge, Mama, Psycho, and my personal favorite, Drag Me to Hell, obfuscating continuity even within the movies it spoofs.
But again, that was just to sell DVDs. If you want a real, committed break in the Chucky chronology, however, go ahead and check out...
The Reboot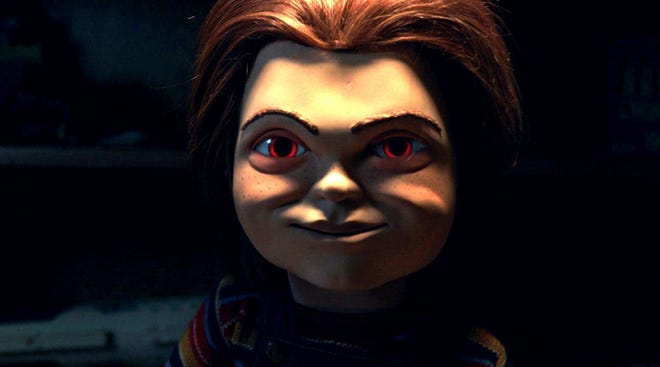 Like so many 80s and 90s franchises, Hollywood came knocking on Chucky's door asking for a reboot, and director Lars Klevberg answered. In 2019, the Child's Play reboot came to theaters with some notable differences from the OG material.
First of all, Chucky's mastermind, primary caretaker, and biggest advocate Don Mancini was not involved. Second, the film changed the reason behind Chucky's killer motivations; while the original movies saw serial killer Charles Lee Ray transfered into the body of a doll through black magic, the new bloodthirtsy plaything was an AI gone wrong. And finally, the reboot swapped out Chucky's original voice, Brad Dourif of Lord of the Rings fame, for the Joker himself, Mark Hamill.
While the 2019 movie was moderately successful with audiences and critics, the reboot would end there. When Chucky appeared next on screen, it was for TV, and much of the old magic was restored. Don Mancini took his seat in the pilot's chair, Brad Dourif returned for vocal duties, the black magic horror was back, and even some of the cast of the films (including fan-favorite Jennifer Tilly) returned to their roles.
Alright, now that you know Chucky's full history, it's about time to get that marathon started, no? I certainly think that's the case, meaning the next most important question you'll need answered is...
Where do I watch Chucky?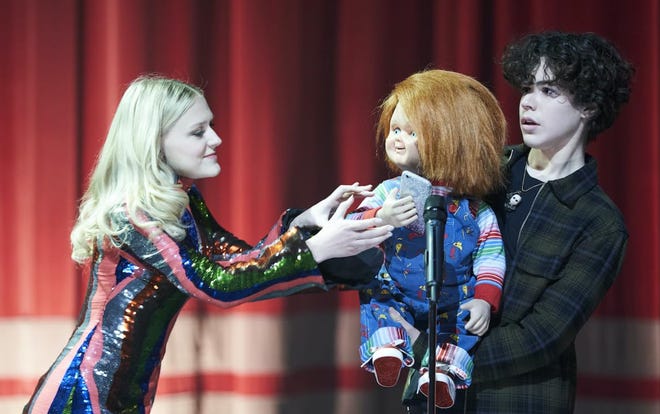 The first Child's Play is available on Max, as of now, it's the only Chucky on that platform. For the most part, you can binge Chucky with a Starz subscription, which gets you access to Child's Play 3, Bride of Chucky, Seed of Chucky, Curse of Chucky, and Cult of Chucky. Chucky Invades is available to watch in full on the Rotten Tomatoes Trailers YouTube Channel.
When you're ready to move on to the TV show, I'd recommend getting a Shudder subscription. Not only will you find the first two seasons of SyFy's Chucky, you'll find plenty of incredible horror content.
Unfortunately, you're going to have to go the renting route if you want to watch either Child's Play 2 or the Child's Play remake of 2019. And if you want to see Chucky's Vacation Slides, you're going to have to pick up a DVD or Blu-Ray copy of Seed of Chucky. The horror short is only available as features on the physical copies of those films, and nowhere else.
Once you get to the end of those cumulative 23 hours, 24 minutes of delightful doll depravity, you'll only have one question on your mind. That is, of course, when will there be more? Here's everything I could find on that subject.
Will there be more Chucky movies?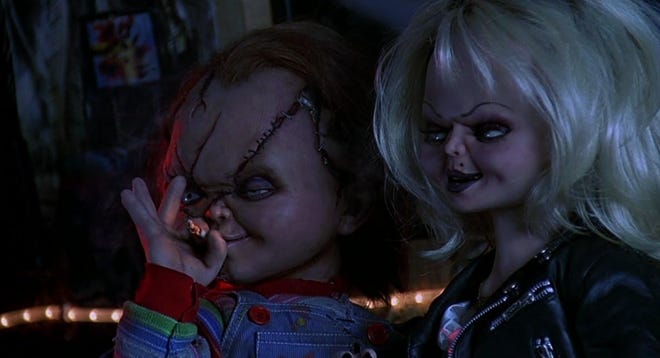 As of this writing, there are no plans for more films set in the Chuckyverse, especially seeing as how the TV show picks up where Cult of Chucky left off. The good news, however, is that there is more Chucky on film - this time, in a documentary.
Living with Chucky, released in 2023, explores the franchise through the eyes of the people who made the franchise and some of its most talented fans. Not only are Mancini, Dourif, and Tilly interviewed for the film, but legendary director John Waters also makes an appearance. Living with Chucky is available to rent, or to stream with a Screambox subscription.
But if what you really want is more fictional exploits of America's second worst doll after Tickle Me Elmo, you'll have ask the question...
Will there be a Chucky: Season 3?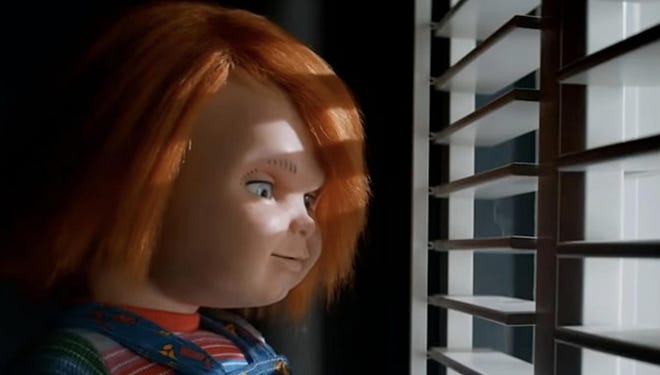 Great news, horror hounds. Not only is Chucky: Season 3 a reality, it is almost available as you're reading this article. The season, which sees the return of all your favorites plus series lead Zackary Arthur as Jake Wheeler, returns to SyFy on October 4, 2023.
Happy Halloween to us.
---
There was never a movie, to my knowledge, that starred a killer ice skate. There is, however, another horror icon that made hockey gear scary. Check out our Friday the 13th watch order to see what I mean.