Clementine is the perfect crossover between Tillie Walden and The Walking Dead
Clementine is, thankfully, still a Tillie Walden book
Perhaps the most exciting thing about Clementine Book One is that it's very much a Tillie Walden comic, as much as it's a graphic novel set in the Walking Dead universe and featuring a pre-existing fan-favorite character. In fact, despite the many different elements that come together in the graphic novel what makes the book truly special is just how much of a Tillie Walden book it is.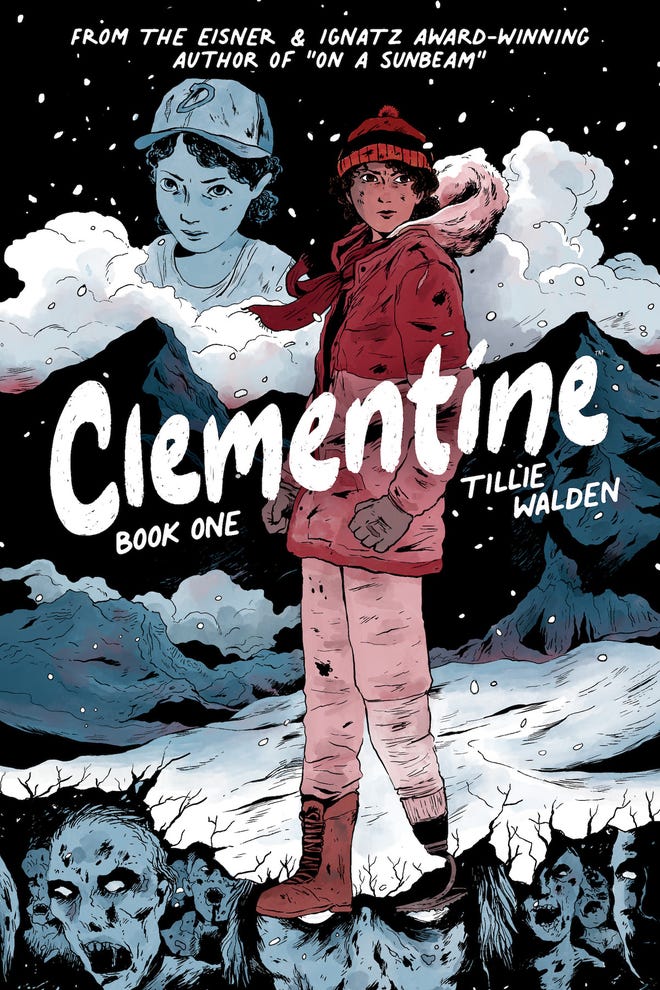 It's not simply that Clementine eschews the pacing, aesthetic, and attitude of Robert Kirkman, Charlie Adlard and Tony Moore's original The Walking Dead for something different – the book also feels very different, tonally, from the Telltale Games Walking Dead game series where the character got her start; to a certain extent, though, that almost was to be expected given the different formats. What Clementine is, isn't merely a book that sits firmly into the contemporary trend for Young Adult books – it's actually the debut book from Skybound's new Young Adult imprint Comet – but something that sits neatly inside the back catalog of one of the most acclaimed young creators in comics today.
Kirkman's respect for Walden is clear not only in entrusting her to create the first major Walking Dead comics project since the conclusion of the original series (No offense, Rick Grimes 2000), but in his pull quote on the cover of Clementine, which starts bluntly, "Tillie Walden in the future." He's not alone in thinking that, however; in a career that's only seven years old, Walden has won two Eisner Awards as well as an LA Times Book Prize – and all for different projects; impressively prolific, Clementine, which clocks in at 256 pages, is her eighth book since her 2015 debut, The End of Summer, with many similarly clocking in past the 200-page mark.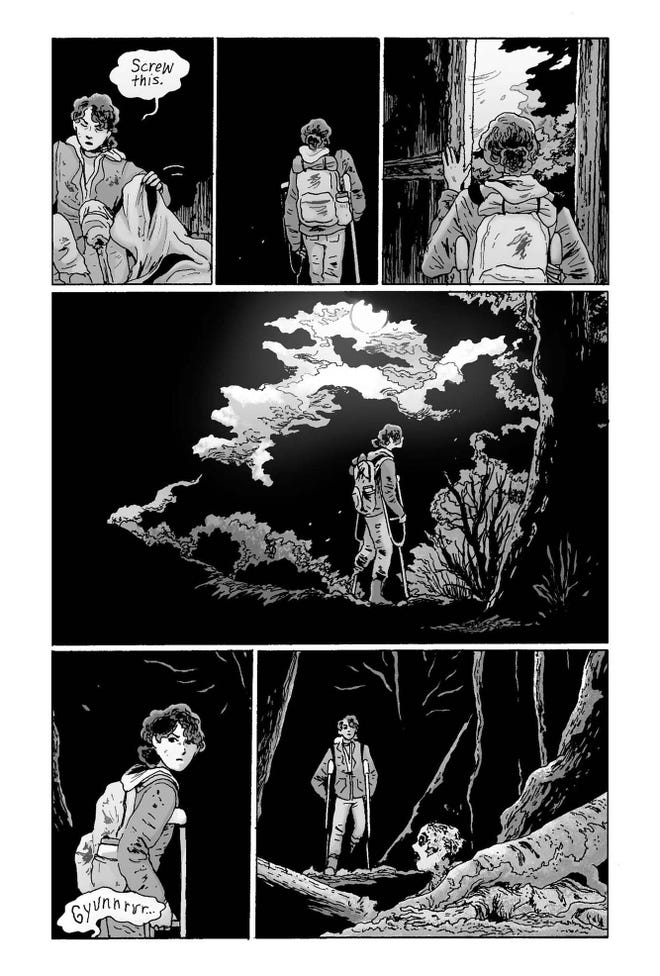 While Clementine is the first time Walden has written and illustrated a property that she didn't create herself – it's also her first series, which is projected to run three volumes – it's a book that is immediately recognizable as her work, even beyond her distinctive illustrative style, and a sense of pacing that owes more to manga than the American superhero industry model of the original Walking Dead comic. (Clementine's very deliberate, silent sense of timing is arguably more filled with existential dread than Kirkman and Adlard's series; there's an argument to be made that it's more successful as a horror comic, as a result.)
Clementine is that rarest of things: a crossover project that holds the potential not only to bring new fans to the Walking Dead, but to Walden herself: filled with the themes and obsessions that keep popping up in her work, and explored in a manner that feels entirely uncompromised by playing with other people's toys.
One of Walden's greatest strengths as a creator may be the way in which her work manages to express abstract, complex emotions with seeming ease. In particular, there's a constant longing threaded throughout her work: some kind of melancholic loneliness, although that's an inexact description; there's a recurring feeling that protagonists are searching to belong, whether it's to a particular person, a social group, or something far more difficult to name.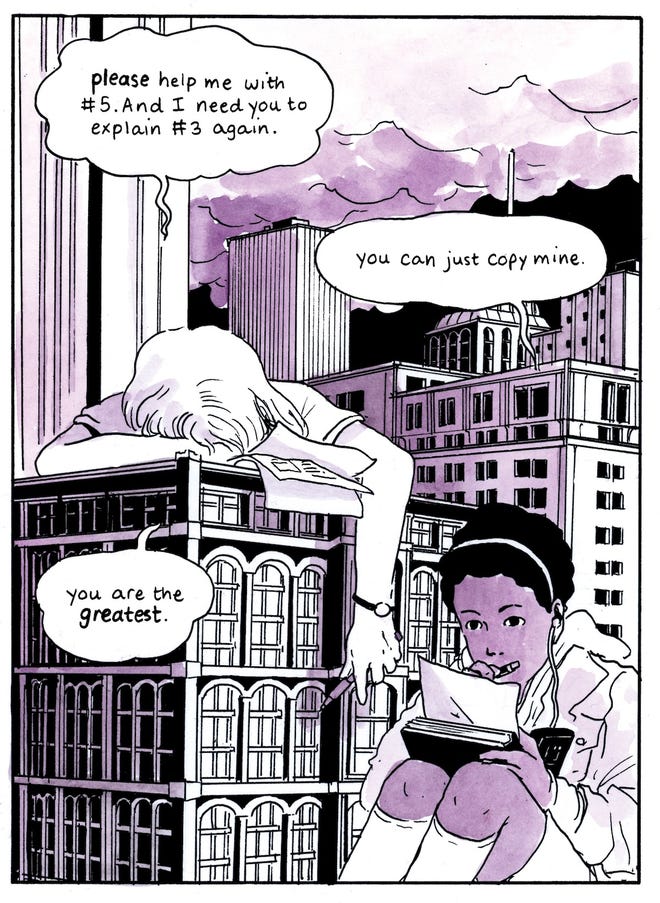 Walden's second book, 2015's I Love This Part, explores this by creating its narrative from what's left unsaid as the reader follows the arc of a relationship viewed from fragments of conversations and visual metaphors. The result is something unexpectedly powerful, with Walden inviting the reader to become her collaborator by filling in the blanks for themselves; it's arguably the clearest distillation of one of Walden's obsessions as a creator.
2017's Spinning – the book that arguably made Walden's reputation in terms of the wider comic book industry, and responsible for her first Eisner in 2018, for Best Reality-Based Work – approaches this same idea differently. What started as a memoir of her experience as a figure skater at a young age ultimately becomes as story about her coming of age creatively and romantically, even as her relationships with friends and family change as she moves across the country; here, then, is the idea of longing to belong in her own life, with all the depth and emotion that implies.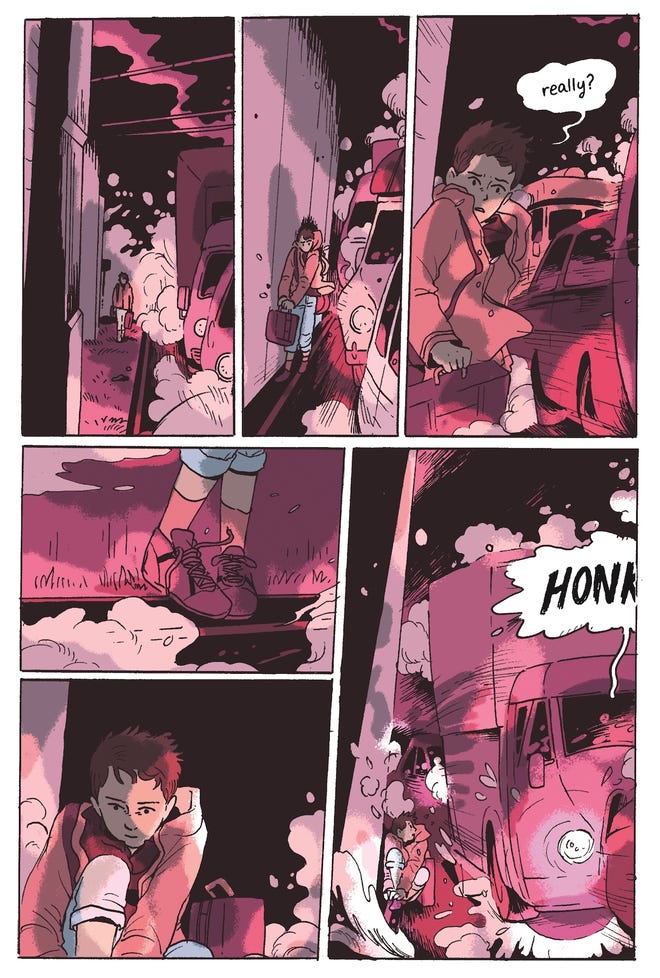 The absence at the heart of Clementine is vast: a longing for the world as-was, for companionship, and for peace, none of which are easily available in the zombie-filled world of The Walking Dead. In many ways, it's the perfect setting for Walden, offering both a genuine emotional core as well as a (melo)dramatic vehicle to propel the story forward; the use of genre as a story engine and emotional metaphor is something that Walden has plenty of experience in, with The End of Summer, A City Inside, On A Sunbeam, and Are You Listening? all factoring in fantastical elements to some degree.
In each of these, as with Clementine, the strong genre ingredients – whether it's space travel, giant animals in fantasy settings, or a zombie outbreak that has decimated humanity – are placed secondary to the human story at the forefront, and offered up as quiet, background details that build the alien world surrounding the very recognizable, empathizable, emotional journey at the center of things. The Walking Dead has always been rooted in metaphor, but where Walden differs from Kirkman et al is in her desire to use that metaphor sparingly and instead focus on the way in which it powers the narrative that she's truly invested in. Those looking for a lengthy, scary zombie battle in the book will be disappointed; this is a book about something else entirely, and it's all the better for that.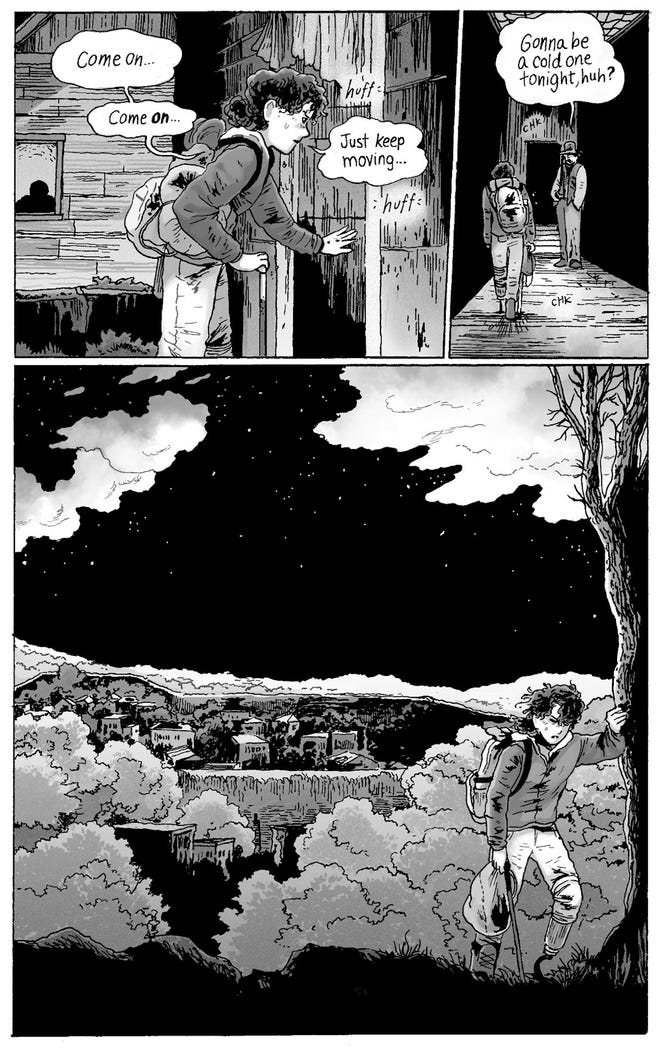 Indeed, Clementine is not really a zombie story, as such; for those looking to classify it in some particular way, it's perhaps better described as a road trip of sorts – which, in itself, offers another mirror to Walden's earlier work. Just as Clementine is literally traveling across America as she searches for where she belongs, the characters in Are You Listening? – her 2019 graphic novel that won the following year's Eisner for Best Graphic Album – are driving across the landscape on the run from their previous lives as they fall in love; similarly, On A Sunbeam features the crew of the spacecraft Aktis as they travel across the galaxy, with Mia, the story's protagonist somewhat more directionless in her own life.
The idea that characters literally move to (and, often, through) new destinations even as they're emotionally journeying is a central idea that comes up again and again in Walden's work. No wonder she's primed for a story about a restless survivor looking for a new home in the aftermath of a traumatic event; it's a space that's already familiar to her, and one that she's honed to a fine art by this point in her brief-but-already-packed career.
By finding – and, in some cases, creating – common ground between the Walking Dead and her earlier work, Clementine acts as the perfect vessel in which to bring her existing fans and newcomers into Kirkman's larger Walking Dead universe. With any luck, the fact that she's created a book that slots so neatly into her own portfolio will mean that Walking Dead fans impressed by the first Clementine volume will make the trip in the opposite direction as well, and discover the many worlds that Walden has brought to life before this point. Clementine Book One is, unmistakably, a Tillie Walden book; if there's any justice, it's one that will create new Tillie Walden fans as a result.
---
Get inside the mind of Clementine Book One's author with Popverse's 8000+ word interview with Tillie Walden.