Our Favorite Geeky Amazon Prime Day 2020 Deals
We've rounded up some of our favorite deals especially for you, our fans.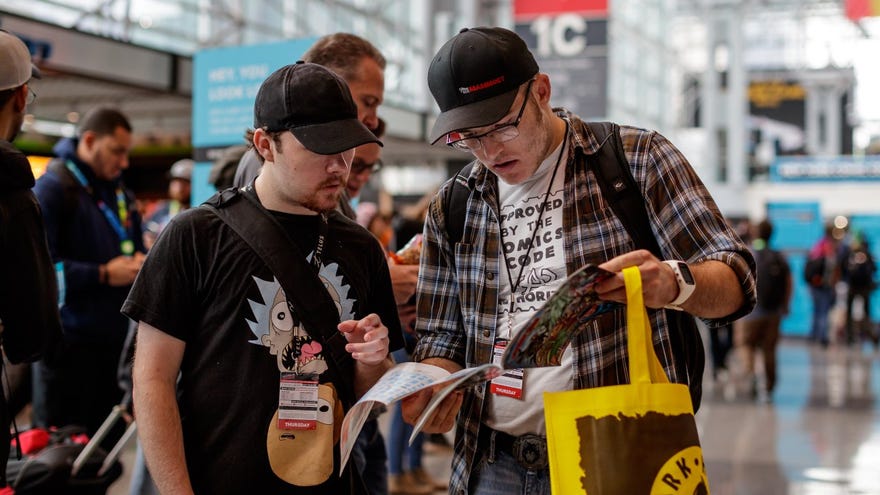 We love a good deal and Amazon Prime Day is all about deals. It's the two days of the year where Amazon puts thousands of their products on sale, some going for even lower prices than Black Friday.
There are so many products to choose from - it can be overwhelming knowing what to purchase and if the best deals are actually the best deals. We've collected our favorite deals and products with a geeky, nerdy, pop culturey angle. You won't find instant pots or robot vacuums here. Think of it as our own little shopping guide, curated for you (and not your grandmother).
If you want the full rundown of everything available for Amazon Prime Day 2020, check out our friends, Jelly Deals. They have all of the biggest and best deals available. Make sure to follow them on Twitter as well so you don't miss anything. And make sure to check back here throughout the next two days, we'll be updating our list as more products get added!
Here are our favorite Amazon Prime Day 2020 deals.
Electronics
Some of our favorite deals in electronics for Amazon Prime Day 2020 include a deal on a subscription to channels like Starz (where you can watch shows like Outlander and American Gods) as well as a variety of Apple and Amazon products. Turn your home into a Smart House with the Amazon Echo and listen to music and shows (or just take Zoom calls) in style with Apple AirPods.
Amazon Products
Echo Dot (3rd Gen) - Smart Speaker with Alexa - $18.99
Echo Show 5 Kitchen Bundle - down to $44.99
Kindle Essentials Bundle (including Kindle, now with a built-in front light, Amazon Printed Cover, and Power Adapter) - $89.97
Kindle - Now with a Built In Front Light - $59.99
Headphones
Apple AirPods Pro - $199.00
Apple AirPods With Charging Case - Wired: down to $114.99 / Wireless: $149.98
Sony WH-1000XM4 Wireless Noise Canceling Headphones - $298
TVs & Subscriptions
Two Month Subscription to Prime Video Channels (like Starz and Showtime) - $0.99
Roku Premiere (HD/4K/HDR Streaming Media Player) - $27.00
Other Electronic Deals
Fujifilm Instax Mini 11 Instant Camera -$59.95
Gaming
If you're like us, you want to play all of the best video games, but for the best prices. If you've been looking to get your hands on a Nintendo Switch (which will make for a great holiday gift), now's the time! Be patient, if it appears to be out of stock, there's a chance it will come back.
Video Games
Nintendo Switch Online 12 Month Family Membership + SanDisk 128GB MicroSD Card for Nintendo Switch - $39.99
You can get a $10 credit if you purchase $40 or more in Amazon gift cards.
Nintendo Switch - Animal Crossing: New Horizons Edition - $299.00
Super Mario Party - Nintendo Switch (Digital Code) - $39.99
Marvel's Avengers: Earth's Mightiest Edition (Xbox One) - $173.31
Sega Genesis Mini - $49.97
Resident Evil 3 (PlayStation 4) - $49.99
The Last of Us Part II (PlayStation 4) - $39.99
Fire Emblem: Three Houses (Nintendo Switch) - $39.99
The Legend of Zelda: Breath of the Wild (Nintendo Switch) - $39.99
PowerA Enhanced Wireless Controller for Nintendo Switch - The Witcher 3 - $34.99
Check out the other colors & versions on this listing as well!
Cooler Master MM710 53G Gaming Mouse - $39.99
HyperX Cloud Flight S - Wireless Gaming Headset- $119.99
ALIENWARE AW3420DW Curved 34 Inch WQHD 3440 X 1440 120Hz Monitor - $849.15
Tabletop
Dungeons & Dragons Dungeon Master's Guide - $33.42
Icewind Dale: Rime of the Frostmaiden - $29.97
Fantasy Creature Mini Action Figure Playset (98 pieces) - $18.95
D&D Dice Set - $7.19
7 Piece Metal D&D Dice Set - $14.39
Dice Case With Dice Rolling Tray - $23.99
Wood Dungeon Master's DM Screen - $39.99
Board Games
Sweet Existence, A Strange Planet Party Card Game - $14.99
Exploding Kittens - $12.99
Throw Throw Burrito - $22.49
Hail Hydra Marvel Hero Board Game - $8.75
Risk - $20.99
Toys
Funko POP! Star Wars Movie Moment: The Last Jedi - Kylo and Praetorian Guard -$19.99
Books/Comics
You are definitely going to want to check out the books deals taking place on Amazon Prime Day. Many books are buy 2, get one free, including favorites like the Percy Jackson series, new releases like Midnight Sun, and many Dungeons & Dragons books.
Percy Jackson and the Olympians 5 Book Paperback Boxed Set - $21.01
Midnight Sun- $16.79