This Month in Comics History, February 2023 - Robin dies, Hägar sets sail, Garfield ditches Garfield and more
Webcomics enter a softer world, Superman enters the Silver Age, and we follow The Way of the Househusband.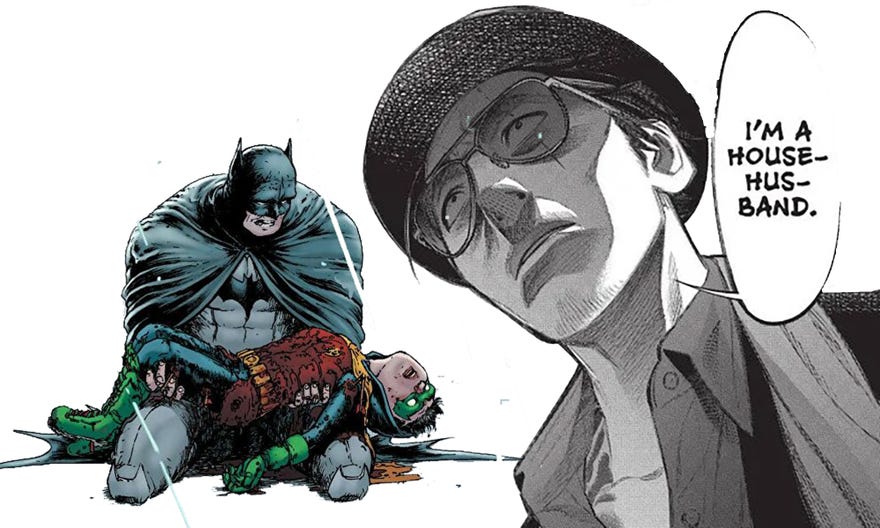 Historically, the winter months have been considered 'The Slow Quarter' for the comics industry. But even at its lowest point, you can't stop sequential art from building ever onward in sequence. This time in This Month in Comics History, we're celebrating the anniversaries of some essential webcomics to the turn of the 21st century, expansions in the ranks of the Justice League and Avengers alike, the entrance of hugely influential creators into the comics industry, and works of manga which defy both genre and gender roles.
2018, 2013, 2008, 2003, 1998, 1973, and 1948 may have been the years of Avengers: Infinity War, Iron Man 3, The Dark Knight, The Matrix Reloaded, Saving Private Ryan, The Exorcist, and The Red Shoes (respectively), but for most of American cinematic history comics have been growing right alongside them. Let's take a look back to see how far we've come. Onward, to the past!
Five years ago back in February 2018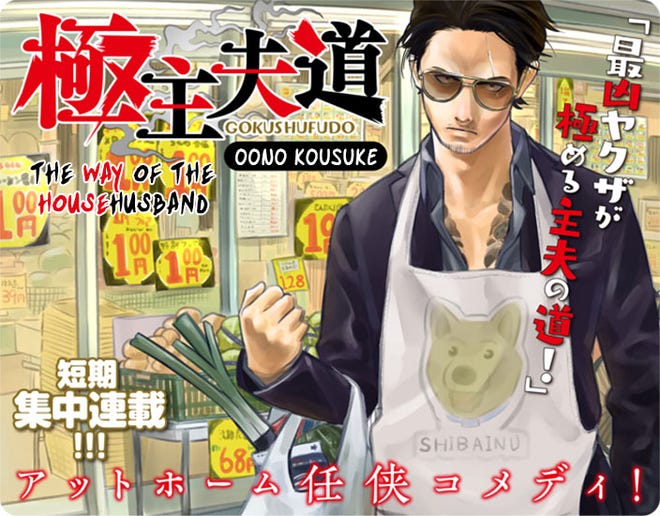 Manga artist Kousuke Oono breaks barriers with a very nontraditional story of a former yakuza boss who retires to be a family man in The Way of the Househusband. While series protagonist 'Immortal Dragon' Tatsu cuts an imposing figure, the terror he evokes in his enemies is eclipsed by the boundless love he holds for his wife and stepdaughter. This often hilarous and frequently heartwarming manga has already spawned anime and live action adaptatations.
Also happening this month back in 2018...
Tom Taylor and Mahmud Asrar launch X-Men Red as a counterpart to X-Men Gold and X-Men Blue, featuring a new team led by the resurrected Jean Grey. Their mission: above board recognition of the mutant race by the United Nations.
DC's Milk Wars crossover event brings the offbeat heroes of Gerard Way's Young Animal imprint in contact with the Justice League of America and their allies against the metafictional alien forces of narrative homogenization.
Peter Parker: The Spectacular Spider-Man reaches its landmark 300th issue.
Tameko's serialized manga My Androgynous Boyfriend exposes a wide audience to the burgeoning subculture of genderless fashion.
10 years ago back in February 2013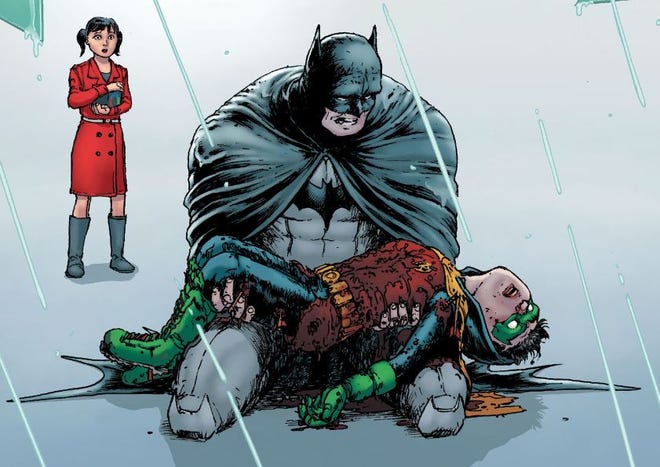 Beginning the end of their eight-year Batman saga, Grant Morrison kills off the Robin they introduced into Batman's life at the start of it all, Damian Wayne. In Batman Incorporated #8, an encounter with The Heretic- a figure revealed later to be Damian's own flash-grown adult clone- ends in the fifth Robin getting run through with a sword, launching Batman on a quest for revenge against The Heretic's master and Damian's own mother.
Also happening this month back in 2013...
In what may be the most egregious variant cover stunt of all time, Justice League of America relaunches with 52 different variant covers of the team carrying the flag of each US state, plus Washington DC and Puerto Rico.
Cyclops, Magneto, and Emma Frost join forces for a new extremist incarnation of the X-Men with a relaunched Uncanny X-Men #1.
Inspired by Phase 1 of the Marvel Cinematic Universe, the new Secret Avengers roster forms with a relaunched series featuring MCU mainstays Black Widow, Hawkeye, Nick Fury Jr, Maria Hill and Phil Coulson.
Daisuke Ashihara introduces us to the new 'Neighbors' of Mikado City in the Weekly Shonen Jump manga World Trigger.
15 years ago back in February 2008

Irish technology manager Dan Walsh launches Garfield Minus Garfield, an internet sensation which examines the quiet desperation of the comic strip cat's lonesome owner Jon Arbuckle by removing Garfield and his dialogue from real Garfield comics and changing nothing else. The project would eventually see recognition and endorsement from Garfield creator Jim Davis himself.
Also happening this month back in 2008...
Stephen King's son Joe Hill makes his mark in comics with Gabriel Rodriguez and IDW in Locke & Key, a multi-generational story told across time and space of doors and how they open. Locke & Key would be adapted into a Netflix series in 2020.
Korean webtoon Welcome to Convenience Store debuts on WEBTOON, a slice-of-life comedy about a shift of part-time retail workers. The strip's subsequent success has inspired a mobile game and multiple animated series.
Marvel relaunches the X-Force series in the wake of the 'Messiah CompleX' X-Men event, with a new team under Wolverine's guidance.
Art Baltazar and Franco Aureliani launch Tiny Titans, an award-winning children's series depicting the young heroes of the DC universe attending primary school together under the guidance of Principal Deathstroke and Lunch Lady Darkseid. (Aww yeah.)
20 years ago back in February 2003

Joey Comeau and Emily Horne launch A Softer World, a contemplative webcomic which placed short poetry over a series of artistically shot sequential photographs. With a more thoughtful approach to the webcomic medium which sought to provoke thought and instrospection as often as a quick punchline, A Softer World helped broaden the boundaries on the expectations of what can be delivered through the webcomic medium.
Also happening this month back in 2003...
Masaki Segawa's Basilisk manga debuts in Young Magazine Uppers, an adaptation of Futara Yamada's 1958 novel The Kouga Ninja Scrolls. This tale of two warring ninja clans and their elite warriors each with unique deadly skills, and the forbidden love between their once-betrothed heirs, would soon be adapted into an essential anime series.
Batman and Superman have their most iconic clash since Frank Miller's The Dark Knight Returns in Batman #612, the fifth chapter of Batman: Hush wherein Superman is entranced by Poison Ivy.
Action Comics hits its landmark 800th issue, looking back at Superman's greatest inspirations.
Zatanna super-fan Paul Dini gets his first crack at the character in the comics with the Vertigo special Zatanna: Everyday Magic, illustrated by Rick Mays.
25 years ago back in February 1998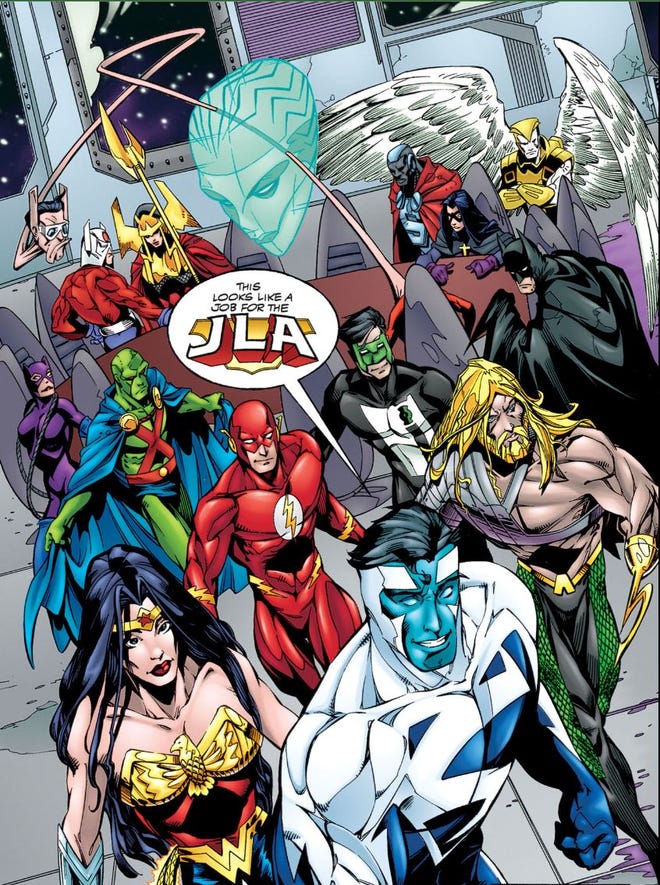 In the wake of an attack on the JLA Watchtower by the villain Prometheus, Barbara Gordon becomes the new communications hub for the Justice League as Oracle in JLA #17, elevating the former Batgirl to the center of the superhero community at large. In the same issue, Orion and Big Barda join the team as representatives of New Genesis, expanding the Justice League's cosmic reach well beyond Earth.
Also happening this month back in 1998...
Early surrealist webcomic Pokey the Penguin mysteriously appears at yellow5.com, delivering absurd non-sequitur comedy ostensibly about a penguin who lives on the wrong side of the world.
Filmmaker Kevin Smith enters the comic book publishing world with a treatment of his breakout indie darling, Clerks: The Comic Book, from Oni Press.
The two-month "Behold! The Millennium Giants" runs through every Superman title, forcing the momentarily separated Superman Red and Superman Blue to join forces against a race of enormous super-powered beings seeking to cleanse all life on Earth.
Alan Moore begins what was intended as a 12 issue run on a relaunched Youngblood series for Image Comics. He only makes it to three.
50 years ago back in February 1973

Dik Browne's Hägar the Horrible comic strip debuts to immediate success, depicting the misadventures of its hapless titular viking, his incompetent crew, and his domineering wife. The strip is circulated in nearly 2,000 newspapers today across 12 languages through King Features Syndicate, and continues to this day written by Dik's son Chris Browne since 1988.
Also happening this month back in 1973...
Black Widow is officially inducted into the Avengers in Avengers #111.
Meanwhile, Elongated Man is officially inducted into the Justice League of America in Justice League of America #105.
Roy Thomas, Gerry Conway, and Neal Adams' post-apocalyptic war hero Killraven makes his "power-packed premiere" in Amazing Adventures #18.
It's Clobberin' Time when Captain Mar-Vell battles The Thing in Captain Marvel #26.
75 years ago back in February 1948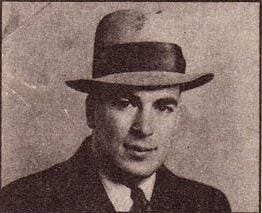 Mort Weisinger begins his editorial supervision of DC's Superman line, starting with Action Comics #119. Under Weisinger's tenure, Superman's world would expand to contain Supergirl, Brainiac, the Fortress of Solitude, the Phantom Zone, the Bottled City of Kandor, and the connection between Kryptonian powers and a yellow sun.
Also happening this month back in 1948...
In Batman #46, Batman and Robin travel back in time for a team-up with the "Batman" of the 15th century… Leonardo da Vinci.
Marvel's Wild West #1 features the debut of Western heroes Tex Taylor and Arizona Annie.
Weekly Scottish newspaper The Sunday Post begins publishing their "Fun Section," bringing strips like Oor Wullie, The Broons, and Nero and Zero to Scottish audiences.