The Best Star Trek Comics That Tie Into the Movies and TV Series
To boldly go…
For the first time in a long time, we have plenty of Star Trek content and there's even more on the way.
Star Trek: Lower Decks wrapped its first season in October, Star Trek: Discovery is midway through its third season, and Star Trek: Picard Season 2 is coming in the near future. CBS has promised we'll eventually see the adventures of Captain Christopher Pike and his Enterprise crew with Star Trek: Strange New Worlds (stardate TBD).
It truly is a great time to be a Star Trek fan. If you're like me, you just can't get enough Trek. Since I'm a comic fanboy as well, I'm happiest when two of my favorite things combine to become even more awesome (kinda like chocolate and peanut butter). Exploring the galaxy in ways the films and TV never have, below are some of the best adventures of our favorite Starfleet crews captured in comic book form.
Collectors may be interested in Eaglemoss—a publisher that is reprinting virtually every Star Trek comic. When completed, the spines combine to form a masterpiece featuring the series' iconic starships.
Browse Eaglemoss
The prices below were accurate at the time of publishing, but some of these comics may be available in digital formats on comiXology.
Browse comiXology
Star Trek: Early Voyages (Marvel Comics) by Ian Edginton, Dan Abnett, Patrick Zircher, Michael Collins and Javier Pulido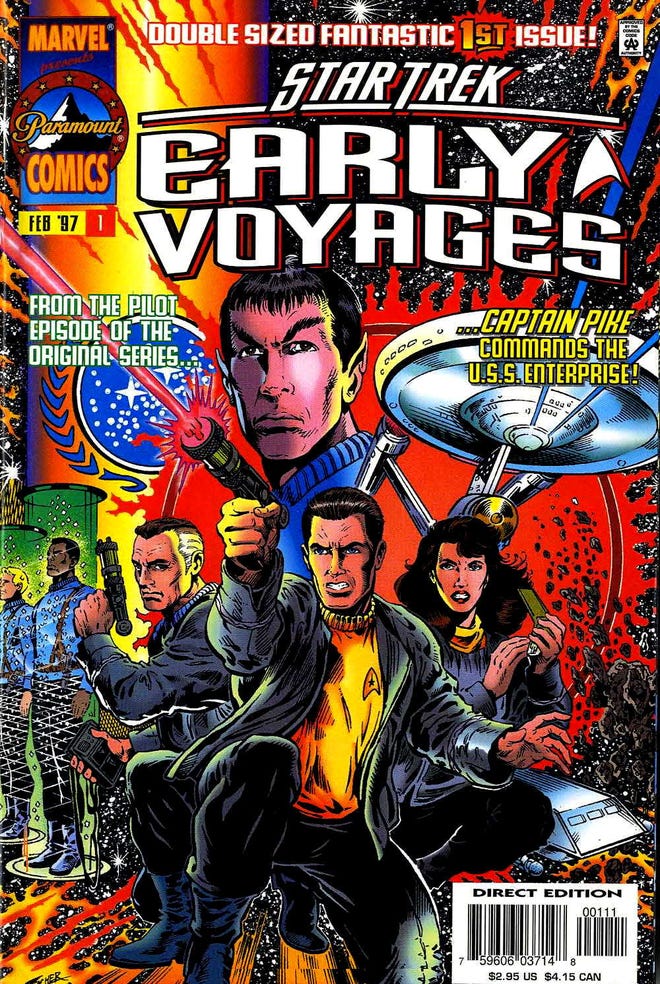 Collected in Star Trek Omnibus Volume 2: The Early Voyages
Before James T. Kirk, the U.S.S. Enterprise was commanded by Captain Christopher Pike. Over the years, Pike rose quickly to legendary status among Star Trek fans—even though he only appeared in a two part story in the first season called 'The Menagerie,' which used recycled footage from the unaired pilot 'The Cage'.
We learned a lot about Captain Pike in Season 2 of Star Trek: Discovery, but for a long time before that, much of his past remained a mystery. Star Trek: Early Voyages was a short-lived Marvel series that filled in the gaps with some wonderful stories about the five year mission of Captain Pike and his crew, including a young Vulcan science officer you might've heard of: Mr. Spock.
Star Trek Debt of Honor (DC Comics) by Chris Claremont, Adam Hughes and Karl Story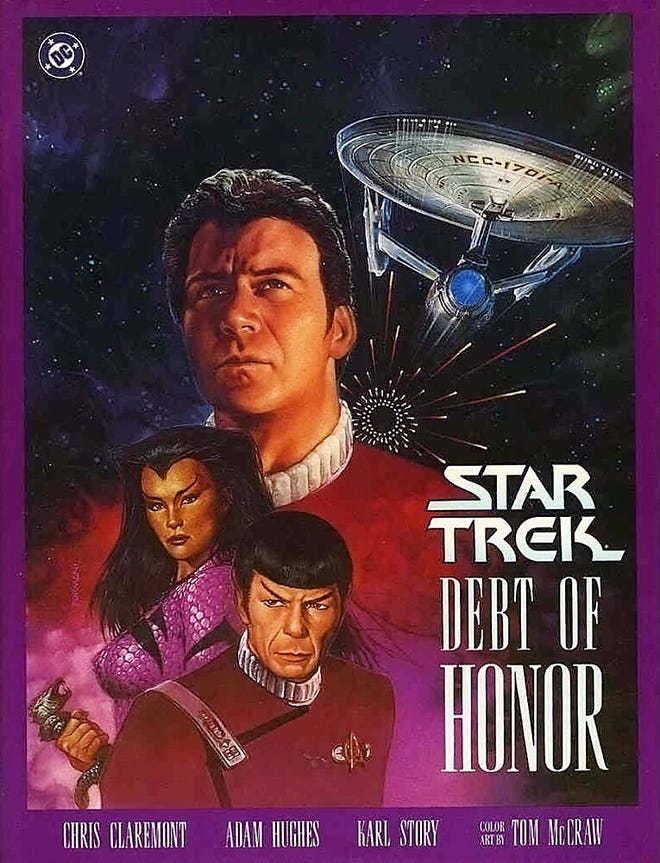 In Star Trek: Debt of Honor, legendary X-Men comics writer Chris Claremont tells a classic story of Captain Kirk and the crew of the Enterprise.
Kirk discovers a hidden and ancient alien race that is endangering the federation and the entire galaxy; he must team up with an old flame, Romulan Commander T'Cel (and the Klingons!) to take down the threat and save the day. Beautifully drawn by superstar Adam Hughes early in his career, this is a must-have for comics and Trek fans as it has the best of both Worlds!
It's also loaded with easter eggs and Star Trek history.
Star Trek: Discovery – Succession (IDW) by Kirsten Beyer, Mike Johnson and Angel Hernandez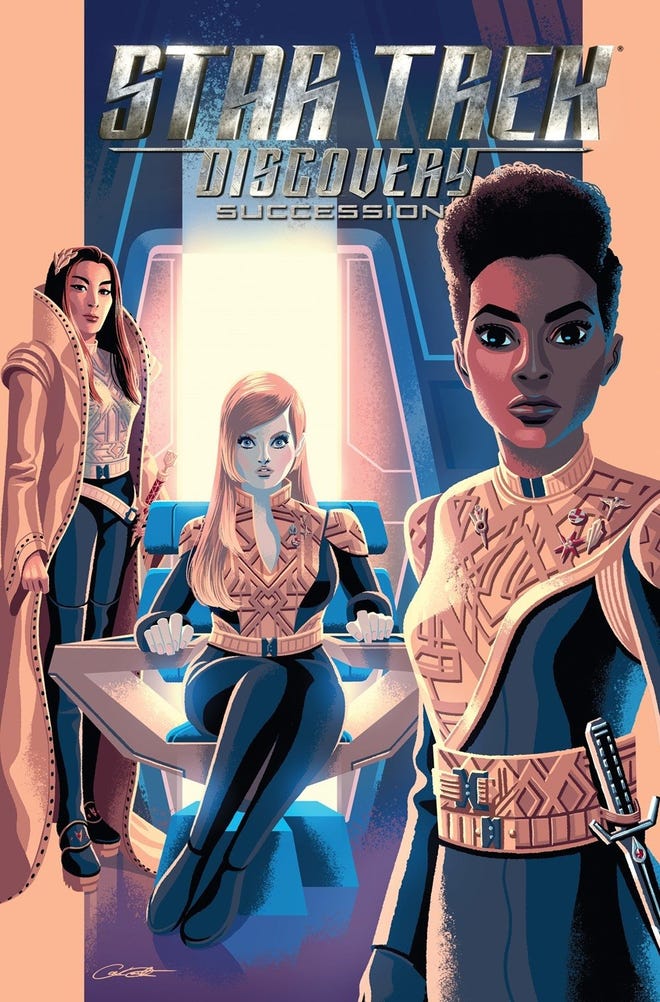 'Mirror, Mirror' is one of the greatest episodes of the original series and we've gotten to visit the Mirror Universe many times in Star Trek's 55-year history through TV series, books, and comics.
Disco (Star Trek: Discovery for the uninitiated) merges something old with something new as it presents Starfleet's first encounter in this timeline with the Terran Empire.
While the adventures of our favorite evil doppelganger universe in the series are interesting and fun, there are a few plot holes that needed filling. One of the biggest holes is: who took over the Terran Empire when Emperor Georgiou crossed over to the Prime Universe? Series executive producer Kristen Beyer writes the tale filled with political intrigue and classic Trek kick-ass action!
Star Trek / Legion of Super-Heroes (DC Comics/IDW) by Chris Roberson and Jeffrey Moy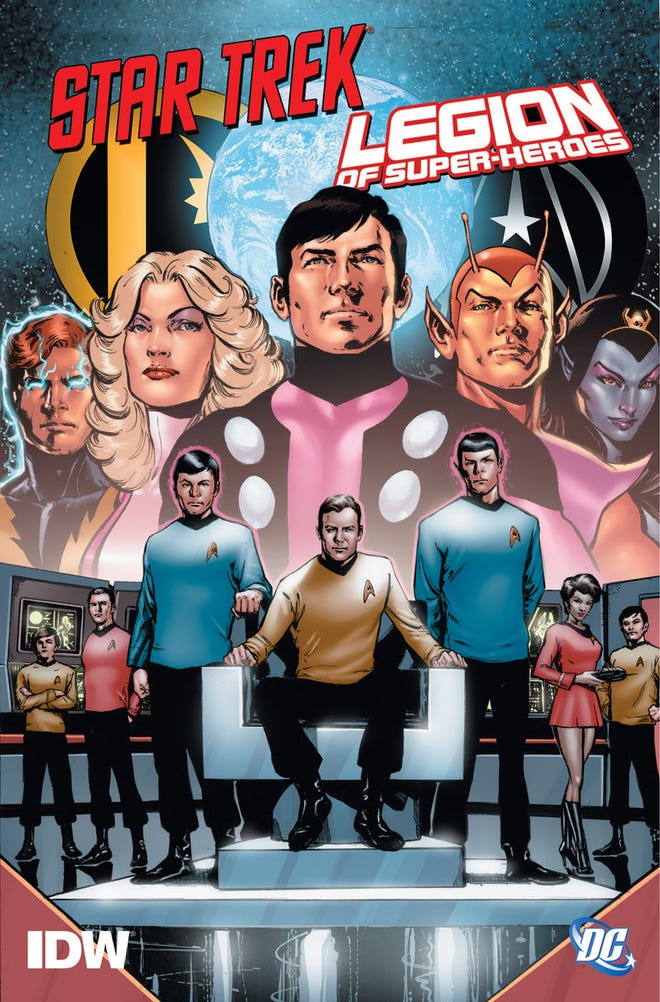 Star Trek Comics have had some great crossover comics throughout the years – Dr. Who, Planet of the Apes, Green Lantern and even the X-Men.
But what could be better than merging the pseudo-utopian futures of both the 23rd and 31st century? Some of our favorite Legionnaires find themselves in the unfamiliar 23rd century while time unravels around them.
They need to team up with the crew of the Enterprise to travel up and down the timeline to get back to their own century and correct history for both universes.
Star Trek: The Next Generation - Mirror Broken (IDW) by Scott Tipton, David and J.K. Woodward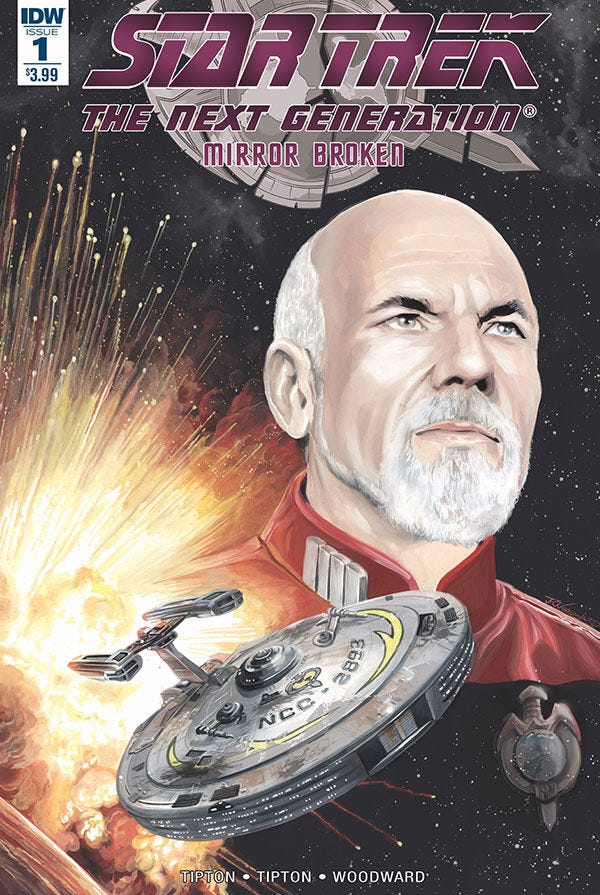 Still looking for more tales of alternate dimension, Star Trek comics ventured where the Next Generation TV series never did: showing us evil counterparts of 1701-D crew.
The ruthless Jean-Luc Picard learns of the Empire's new galaxy class ship, the I.S.S. Enterprise and nothing is going to stand in the way of him taking the ship for his own.
To destroy strange new worlds, to enslave new life and new civilizations, and to conquer the galaxy for the glory of the Empire and himself!
Star Trek: Khan - Ruling in Hell (IDW) – by Scott Tipton, David Tipton and Fabio Montovani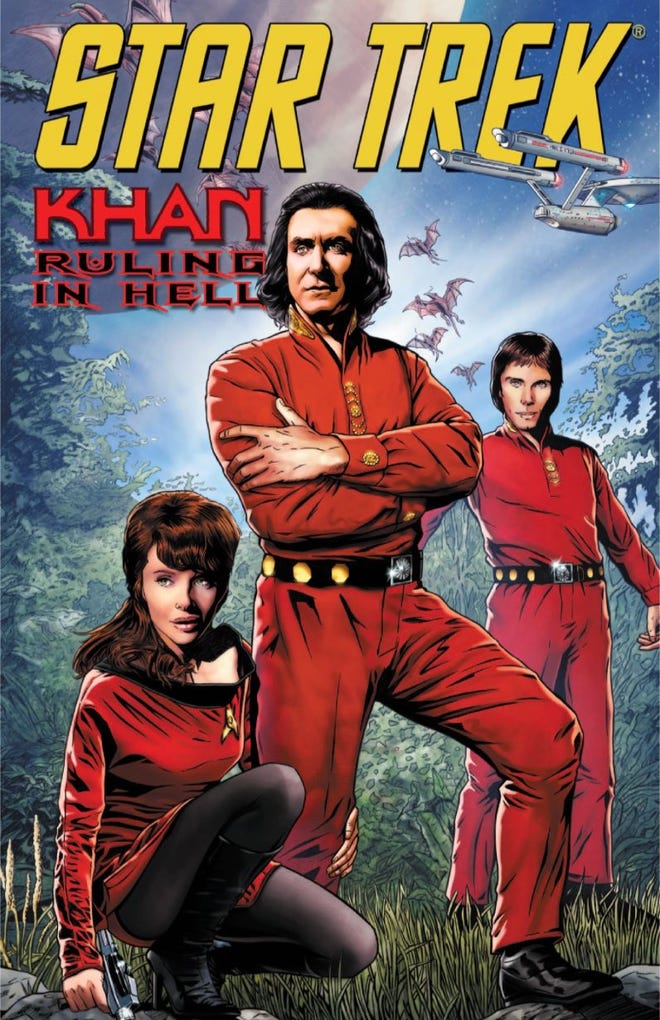 Khan Noonien Singh is arguably the greatest Star Trek villain of all time. His appearance in the original series episode 'Space Seed' set the stage for what would be the greatest Star Trek film of all time, The Wrath of Khan. That's not an opinion—that's fact. Look it up, no one will disagree.
What drives Khan to madness after Kirk drops the crew of the Botany Bay off on Ceti Alpha V? This story fills in the gaps between the episode and the film; Khan plans to avenge himself upon Kirk and after years of suffering, we learn why he feels 'revenge is a dish best served cold'!
Star Trek: Boldly Go, Vol. 1 (IDW) by Mike Johnson and Tony Shasteen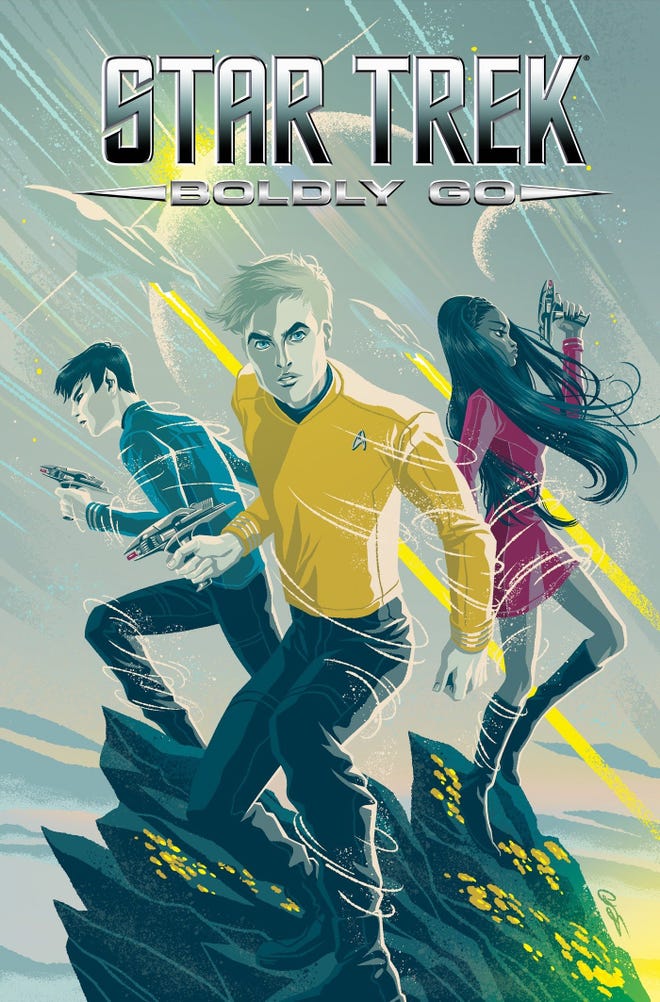 IDW's Boldly Go series has just what you are looking for, if you're a fan of the Kelvin timeline.
Taking place immediately after the events of the movie Star Trek Beyond, we find Kirk and the rest of the former Enterprise crew scattered to the corners of the galaxy. We also get to explore Beyond's breakout star Jaylah, learning more of her backstory. The Federation and Starfleet are faced with a new danger the likes of which has never been seen before: the Borg! Can Kirk reunite his crew in time to save the Galaxy…or is resistance futile?
Want more geeky recommendations? Sign up for our newsletter and join our Discord server.