Comic Sketch Duel: Chrissie Zullo vs Christopher Uminga
Tune on April 30 for an epic battle.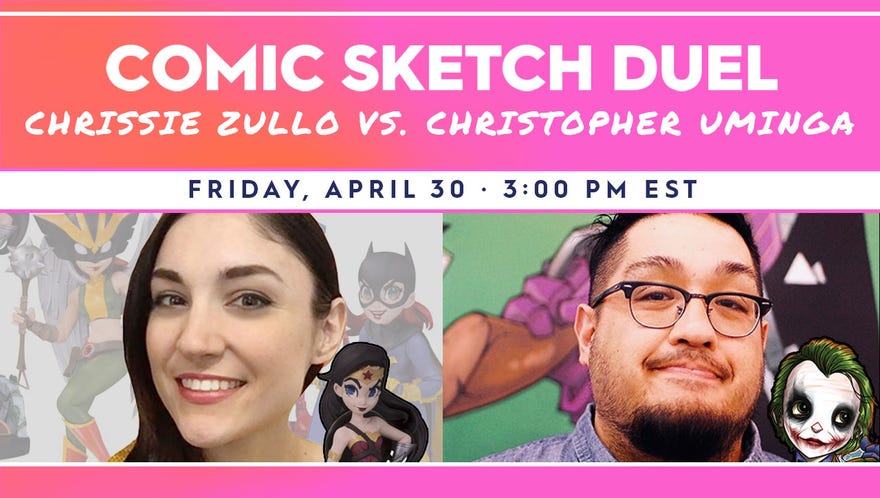 While you're eagerly awaiting ticket on sale dates for 2021's physical shows, we've got entertainment that doesn't require you to wear real clothes. Comic Sketch Duels are a cornerstone of our physical shows, and the premise is simple: two comic artists enter the THUNDERDOME, but only one leaves alive.
jk
What is a Sketch Duel?
Two comic artists take prompts from fans: Batman riding a water buffalo in space, Spider-Pig hopping on goombas, and illustrate them. Fans decide the winners, and a few lucky fans leave with unique pieces of art and some really good stories.
We're hosting a Sketch Duel between Chrissie Zullo and Christopher Uminga. You can watch these two battle it out drawing your weird and wacky suggestions! The Human Torch eating ice cream? Batman crossed with Super Mario?? The possibilities are endless!
If you watch the sketch duel and hear the CODE WORD, make sure you use it to enter to win on this page, you will be eligible to win the pieces that these two creators create as part of the Sketch Duel!
How to Watch the Sketch Duel
The sketch duel was live on April 30, but you can still watch it right here and listen for the code word to enter to win, right here.
Fill out the form below to be entered to win the unique art created by Chrissie and Chris during the Sketch Duel. You can find the code word by listening while you watch the duel!
About the Competitors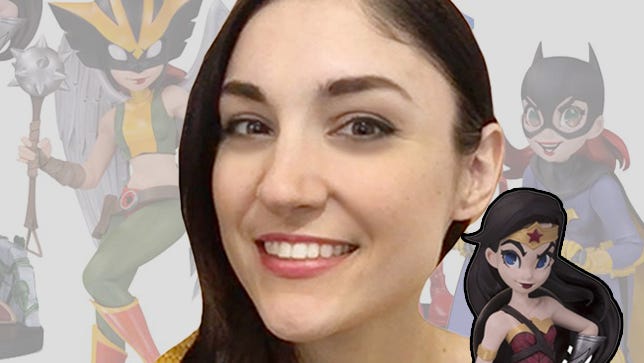 Chrissie Zullo is best known for her work on DC Collectibles. Follow Chrissie Zullo on Twitter, Facebook, and Instagram.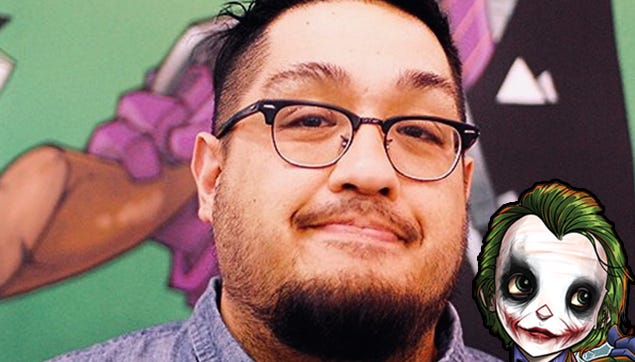 Christopher Uminga is best known for his work on DC Collectibles. Follow Christopher Uminga on Twitter and Instagram.
Enter for a Chance to Win
Fill out the form below for a chance to win the art that Chrissie and Chris churn out during this head-to-head competition. Make sure you have the code word before submitting, otherwise you won't be eligible to win. (Submitting this form won't take you off this page)
I wish to be entered into, and I agree to the official rules for, the Comic Sketch Duel Art Giveaway.
NO PURCHASE OR PAYMENT OF ANY KIND IS NECESSARY TO ENTER OR WIN THIS SWEEPSTAKES. VOID WHERE PROHIBITED. Open to U.S. residents of 50 US & DC, 18+ years. Limit 1 entry per person. Odds depend on # of elig. entries. Begins 3:00 PM EST on Friday, April 30 and ends 11:59 PM EST on Friday May 7. Prizes: "Sketch Duel" sketches. ERV: $100. Sponsor: Reed Exhibitions, a division of RELX Inc. Full rules: https://bit.ly/2QxpclQ